Microsoft recently introduced Windows Subsystem for Android or better known as WSA. It is a feature that allows users to run Android apps on their PC without using an emulator. However, inside the WSA is a cool feature known as Advanced networking. This post will share how to enable or disable WSA Advanced Networking in Windows 11 or Windows 10.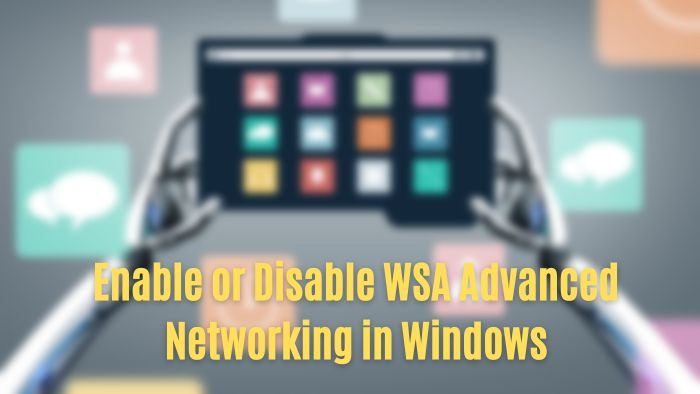 What is WSA advanced networking?
Using this feature, you can allow your installed Android apps (on PC) to communicate with other devices on your network. It allows Android apps to connect to other devices on the same network as your Windows PC.
So when the feature is enabled, you can enjoy different features like playing content wirelessly, controlling your PC using your phone, playing music on a speaker connected to the same network, and more, using compatible apps.
Enable or Disable WSA advanced networking in Windows 11/10
To start using the feature, follow the below steps:
Go to Windows search, type Windows Subsystem for Android, and launch Windows Subsystem for Android Settings.
Now under the System menu, look for the Advanced Networking option and toggle it on to enable the feature.
Similarly, if you face any network issues, toggle Advanced networking off, and you are good to go.
According to Microsoft, if you are experiencing network issues in your mobile apps, turning this feature off may help, as it will not allow apps to access other devices on the network.
That was all for how to enable or disable WSA advanced networking in Windows 11. Now go ahead and try the feature out and see how it is working for you. If you get stuck at anything, feel free to comment below.
What is Windows Subsystem for Android (WSA)?
Windows Subsystem for Android allows Windows 11 PCs to run Android apps. With this feature, Microsoft allowed users to run Android apps without needing an Android emulator or virtual machines.
WSA allows users to run Android apps directly on their PC and offer them access to a wide range of mobile apps through Amazon Appstore. Additionally, the feature comes with Linux kernel and Android OS 11.