One of the most popular cross platforms browsers in the digital world is Google Chrome. It is a high-speed, user-friendly search engine developed by Google is compatible with various operating systems like Microsoft, Linux, Mac, Apple, etc. Chrome gets updated by Google periodically and its latest version includes a new feature called Tab Groups Auto Create that you can activate using a flag in the Chrome browser.
This feature organizes multiple abs used by the user in the web browser. It reduces the clutter created due to browsing various websites simultaneously in the same or different window. This is a remarkable feature of the visual arrangements of numerous tabs available in Google Chrome. The tabs can be organized by designating colors to the respective groups.
Enable Tab Groups Auto Create in Chrome
Tab Groups Auto Create feature in Google Chrome can be given eight different colors, user can also designate names to the group as per their convenience. It can also be automated reducing the labor of creating it again and again. In order to enable this feature on your Windows 10 PC, follow these steps:
Launch the Google Chrome browser.
Go to the chrome://flags page.
Search flags for Tab Groups Auto Create.
Click on the drop-down arrow and change the value from Default to Enabled.
Restart your browser to apply the changes.
Start creating new tab groups for the subject having the same topic.
This feature automatically creates groups for user, if tab groups are enabled.
To enable Tab groups auto-create in Google Chrome, open the Chrome browser first and make sure you have updated to the latest version of the browser.
In the address bar, type chrome://flags, and press enter.
Then go to the search box, type Tab Groups Auto Create and you will see the related flag in the Experiments section.
Alternatively, you can type the following text code in the Chrome address bar and press Enter to open the flag directly.
chrome://flags#tab-groups-auto-create
Now click on the drop-down menu, next to the Tab Groups Auto Create, and select the Enabled option.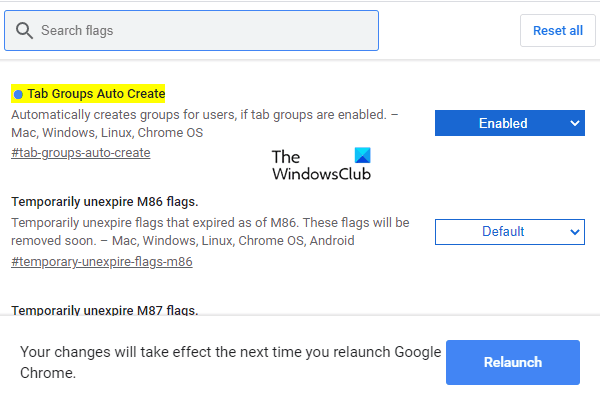 Next, click on the Relaunch button so that the changes will take effect the next time you restart the browser and now you are ready to go.
The browser will automatically create Tab groups from now onwards. However, you can delete the tabs from the existing groups.
Most importantly, new tabs can be added to the existing tab groups. Open a new tab, right-click on it, choose to Add to the existing group, and then select its name. The order of the Tab groups can simply be rearranged by dragging the tab groups one after another.
Hope this helps.