This post explains how to enable Spotify Web Player in your browser. Spotify is a popular music streaming service that lets you listen to your favorite music or podcasts. It has a huge library of songs that you can browse through using the song title, album name, or the name of the artist. You can also find songs based on a preferred music genre. From discovering music to creating playlists and adding your own music to its library, Spotify has a lot to offer.
Spotify is available as an app for mobile and other devices, and as a web player that can be launched in your preferred browser. Spotify Web Player comes in handy when you're using a friend's computer or your work computer, or simply if you find it more convenient to listen to your favorite songs using your browser than installing a music app.
How to enable Spotify Web Player in your Browser
Enabling or using Spotify Web Player is quite simple. You just need to create a Spotify account and you're all set to access the music catalog offered by one of the leading music streaming services. If you already have a Spotify account (free or premium), you can use your login details to sign in to the Spotify Web Player.
Here are two ways to enable Spotify Web Player in your browser:
Enable Spotify using Opera's built-in player.
Enable Spotify using the Spotify website.
Let us see these in detail.
1] Enable Spotify using Opera's built-in player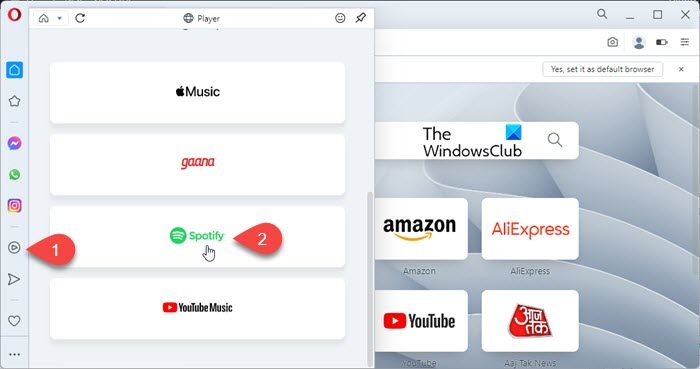 Opera is a modern-age internet browser that comes loaded with built-in features that eliminate the need of adding extensions to further enhance the browser's capabilities. 'Player' is one such integrated feature that's present in Opera's sidebar. It allows Opera users to play music and podcasts using Apple Music, Gaana, YouTube Music, and Spotify. Here's how you can use Opera to access the Spotify Web Player:
Launch the Opera browser.
Click on the Player icon in the sidebar on the left.
Scroll down and click on the Spotify option.
Click on the Sign up/ Log in option.
Use your Spotify account credentials to sign in to Spotify.
You will see the main interface of the Spotify Web Player. Start using Spotify on the web.
If you use Opera as your default browser and you have a free subscription to Spotify, Opera's built-in ad-blocker may help in blocking Spotify ads.
Also Read: How to see Spotify listening history on Desktop and Website.
2] Enable Spotify using the Spotify website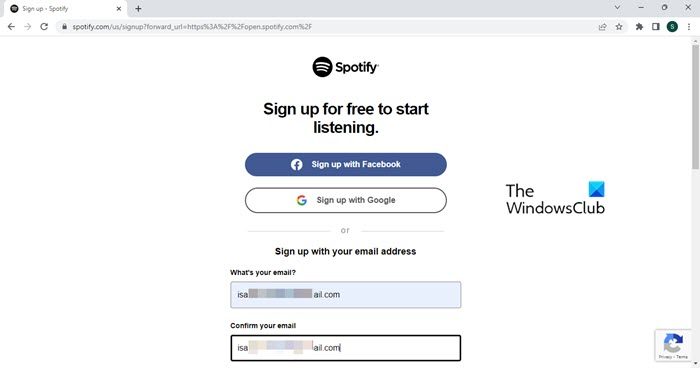 If Opera is not your preferred browser, you can still enable the Spotify Web App.
Launch your preferred browser.
Go to the Spotify website.
Repeat steps 4 to 6 as explained in the above section.
Enjoy music on Spotify Web App.
This is how you can enable Spotify Web Player in your browser. Hope you find this useful.
Can I listen to Spotify on web browser?
Yes, you can enable and listen to Spotify on web browser. Enable it in your browser by opening the Spotify website in a new browser tab and then using your credentials to log in to your Spotify account. If you don't already have an account, you can create one instantly using the Sign up option. You can sign up with Spotify using your email, phone number, or Google or Facebook account.
Why won't Spotify play on my web browser?
If Spotify Web Player is not working on your Windows 11/10 PC, the service may be temporarily down. If the problem persists for hours, check for browser compatibility issues or try clearing cookies and cache. Also, try opening Spotify in private browsing mode. It may not be working due to restricted access to certain services on public networks.