A tweet from billionaire Elon Musk – "Use Signal," was all it took to make the whole world take a decision. Elon's tweet came after WhatsApp had publicized the changes to its privacy policy after the app's update. These changes made the public feel like their privacy was at risk, and thus he tweeted, "Use Signal". Today, I will be explaining to you how you can enable a screen lock on Signal and also change the security PIN for the app.
Signal messaging app is an Open-Source not-for-profit messaging service. Apart from the standard texts and multimedia messages, one can also make audio and video calls on this app. All the messages sent on this app are encrypted from the get-go, with the keys stored at the communicators' end. Users can set Signal as their default texting app, and can also set timers to their messages if they want their messages to be deleted after any time between 5 seconds and a week.
How to enable Screen Lock on Signal
Most apps require their users to download an external app lock, if need be, but not Signal. It has an in-built Screen Lock that uses the phone's pin code or any biometric authentication that the user may have set up; a fingerprint or an iris scan for example.
The first step in the process is to have a screen lock of some sort on your phone. The functionality hasn't yet been made available on Signal's desktop version.
After ensuring the above, open Signal on your phone and head over to setting (on the top left corner on the screen).
Click on 'Privacy,' the third option in the list.
Turn 'Screen Lock' setting on.
You have now enabled a screen lock on your Signal app. You can also set a timeout for this screen lock, or manually lock Signal up by pulling the notification tray down and tapping on 'Lock Signal.'
Read: Signal app Tips and Tricks.
How to Change the PIN on Signal
In most messenger apps, shifting to a new device or a different server can lead to a loss of contacts, messages, etc. The signal app sports a PIN, which allows users to restore their contacts and settings. Users should keep in mind that this PIN isn't linked with the chat backup on Signal, and thus can't help with the same. The PIN setting is also solely stored on the user's end, and if lost, Signal can't help in retrieving it. You can also use your PIN as a registration lock, to restrict someone else from registering your number under their name.
Below is how you can change your Signal PIN:
Head over to Settings on the top left corner.
Scroll down till you reach 'Change your PIN'.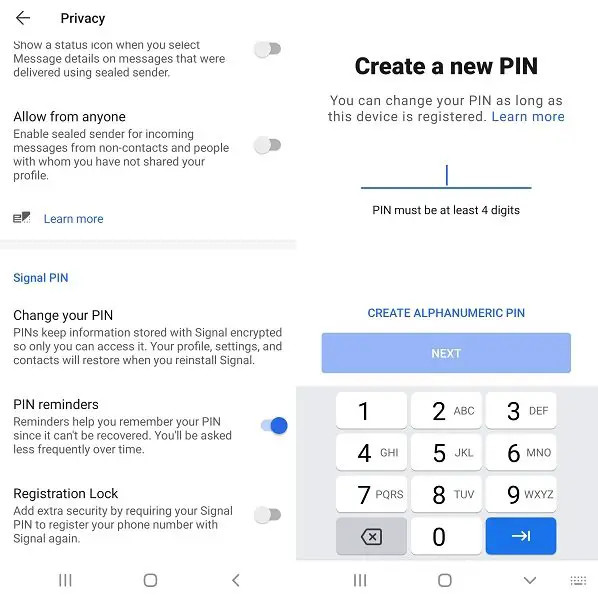 Click on it and type in your PIN.
You can choose to set a numeric or an alphanumeric PIN for your device. Since Signal doesn't keep a record of your PIN, it has a reminder wherein you have to re-enter your PIN at periodic intervals. This is their mechanism of helping you remember it.
These reminders arise in the intervals of 12 hours, 1 day, a week, etc. There is no character limit to the PINs set by users, though it is advisable to not keep it too long, since if lost once, you may stay logged out of your account for quite some time.
I hope this post was able to solve your queries about Signal's privacy settings.