It would be really complicated to manage all the tabs if you commonly use to open multiple tabs at a single time. But if you're a Chrome user, here is something good for you. The new updated Google Chrome has come with a new feature of the search tab button to manage this lengthy job. It is a small drop-down icon located at the title bar and you can activate it by using the Ctrl+Shift+A keyboard shortcut.
This simple search button can help you find the tab by just writing the tab's name in the dialogue field. You can also have a look at all the opened tabs with just a click. This fine addition to the Chrome browser can make things difficult for a group of users not interested in working on multiple tabs at the same time. Read this post if you want to enable or disable the search tabs button from the Google Chrome title bar.
Enable or Disable Search Tabs Button in Chrome
This feature is set as default in the new Chrome browser, if you want to turn this feature on then follow the below process:
Open the Google Chrome browser.
Go to the chrome://flags page.
Search flags for Enable Tab Search.
Click on the drop-down arrow and change the value from Default to Enabled.
Relaunch the browser to save the changes.
Let's now see them in detail:
To enable the search tabs in Google Chrome, open the Chrome browser first and make sure you have updated to the latest version of the browser.
In the address bar, type chrome://flags, and press enter.
Then go to the search box, type Enable Tab Search, and see the related flag in the Experiments section.
Alternatively, you can type the following text code in the Chrome address bar and hit Enter to open the flag directly.
chrome://flags/#enable-tab-search
The web page with an option of Enable Tab Search will open on the window.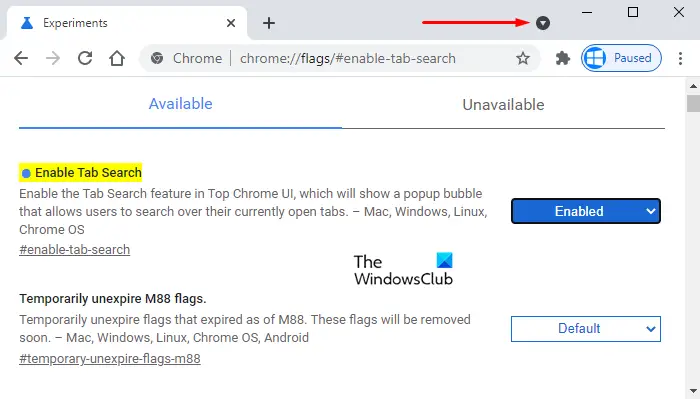 Next to the corresponding flag, click on the drop-down menu, and select the Enabled option.
Then click on the Relaunch button so that the changes will take effect the next time you open the browser and now you are ready to go.
If you ever need to disable this feature, simply open the Enable Tab Search flag in the Chrome browser and switch it to Disabled. Click the Relaunch button to apply the changes you made.
Related: Enable Rich Address Bar Autocompletion Suggestions in Chrome browser