Windows OS has once again stepped up to the plate, and introduced WDP as a way to declutter and simplify managing the devices. With this powerful tool at the user's disposal, time is not the issue anymore. In this article, we will see what it is and how you can enable or disable Device Portal in Windows 11.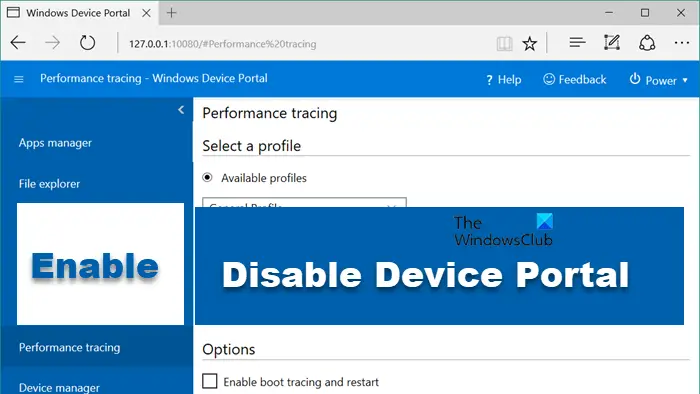 What is Windows Device Portal?
In the Windows operating system, Windows Device Portal, also known as WDP is a functionality that comes integrated into the OS. It is designed to help users configure and administrate device settings and accomplish various kinds of tasks through the network or USB connectivity. Apart from this, we can also tweak things when accessing the local device via the web browser.
Enabling this particular tool beholds greater diagnostic advancement as we need them for troubleshooting and monitoring the real-time performance of Windows gadgets. Following are the advantages of Windows Device Portal.
WDP helps in the effective management of device settings, just like the Windows Settings app.
This tool makes observing and manipulating active processes running on the device quite hassle-free.
A lot of time, apps suffer through launching issues. WDP will now be handling all the related processes, such as installing, deleting, launching, terminating, and whatnot.
It is also known for making internet surfing experiences far more enjoyable by enabling alternating WiFi profiles, offering signal strength insights, and presenting detailed ipconfig information.
These are not the only perks of Device Portal; instead, there are some other advantages. That is why, we recommend using this feature.
Well, before looking up how to enable the Windows Device portal, make sure that the Developer Mode is activated. If this feature is disabled, then Device Portal won't work. If you don't know how to do the same, follow the steps mentioned hereinafter and you won't face any issue.
How to enable Device Portal in Windows 11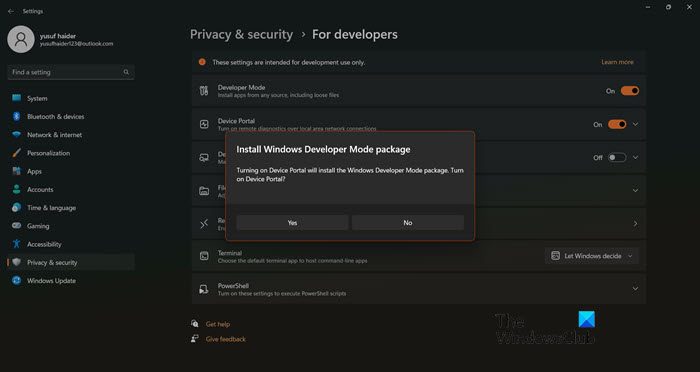 Before enabling the Device portal, it's necessary to turn on the Developer mode. We have mentioned the steps to enable Developer Mode and Device Portal below. If you already have enabled Developer Mode, skip the first three steps.
Click Win + I to open Windows 11 Settings, scroll down, and click Privacy & Security.
Now, switch to the Security Section, and expand the For Developers menu.
Try to locate the Developer Mode heading, and once you do, click on it and switch the toggle to the ON mode.
Once Developer mode is enabled, enable Device Portal which should be right below it.
Upon the initial activation, this will ask you to download the Windows Developer mode package. Follow the on-screen instructions to do the same.
Now, you can switch on/off the Authentication feature. To use this, you'll be required to set up a username and a password for accessing the Device portal. Additionally, the connection address will be present there. Now use the local host address to log in, and voila, you are all set up.
Read: How to set Dev Drive as Trusted or Untrusted in Windows 11
How to disable Device Portal in Windows 11
To disable the Windows Device portal, follow the steps mentioned below:
Click Win + I to open Settings, or go to the Start Menu, and search for Settings.
Once the Settings is opened, select the Privacy and Security tab.
Click on the Fore developers menu, and then switch off the toggle key of the Device Portal.
You can also disable the Developers mode if you want to.
This will do the job for you.
Read: How to Setup a Dev Drive on Windows 11 for Developers?
Does Windows 11 have a device portal issue?
A lot of users in recent times have faced issues where they cannot enable the Device Portal, even after turning on the Developer mode. However, some were successful in doing so but on the Windows 11 Pro or Enterprise version, and not on the Home edition. These issues generally happen within an operating system and are rectified through updates, and patches by the developer. If you are in a similar condition, regularly look up the official Microsoft resources, forums, and tech news for information.
Read: Use Developer Tools to clear Site Data for a particular website.