Google Slides allows users to embed videos, but not everyone knows how to do this. The good news is we know how to get this done in the easiest way possible, and it's all made better due to the features Google put in place.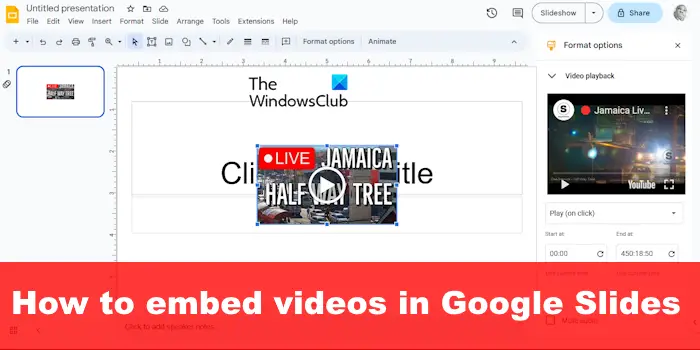 One of the reasons some users of the platform want to embed YouTube videos inside of their Google Slides presentation is to add flair and to deliver information they cannot explain properly.
How to add YouTube videos to Google Slides
To embed videos in Google Slides via YouTube, take these steps:
Open Google Slides
Open the presentation
Next, click on the Insert tab
From the drop-down menu select Video
The Insert Video window will open
Paste the YouTube video URL here
Click on Insert.
The first thing you want to do here is to open Google Slides if you haven't done so already. If you're not sure how, well, let us talk about it.
Launch your browser and visit docs.google.com. You may be asked to sign in using your Google credentials.
The next step is to open a new presentation or one you've created prior.
Click on Blank to open a new presentation right away.
Alternatively, you can have a look at the list of saved presentations for the specific one you want to work with and select it.
Now that you've begun editing your presentation, we must make moves to ensure a YouTube video can be embedded without issues.
To do this, click on the Insert tab. Right away, a dropdown menu will make an appearance.
From the menu, please select Video and wait for the Insert Video window to load.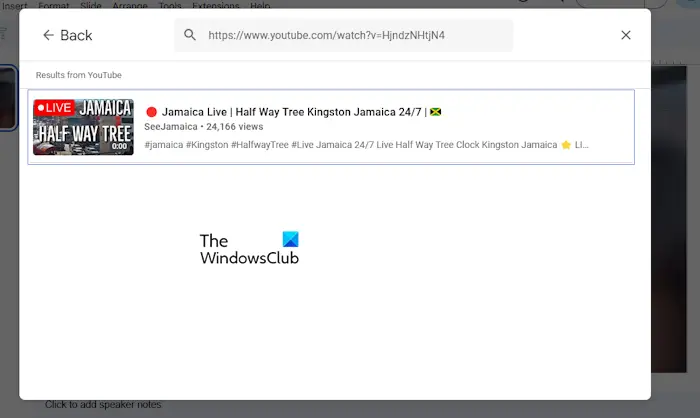 It's now time to add your preferred YouTube video to your Google Slides presentation.
You can copy the video link from the official YouTube website, then paste it into the search box. Or, if you know the name of the video, simply type it into the search box, then hit Enter.
After searching or using a pasted URL, you will see the video from within the results window.
Click the video to select it, then click the Insert button at the bottom-right corner of the window.
The video is now a central part of your Google Slides presentation.
READ: How to change the Theme and Theme Color in Google Slides
How to add upload videos to Google Slides
It's not only possible to embed YouTube videos in a Google Slides presentation but also your local MP4 videos as well. Before you begin, ensure the video is already uploaded to Google Drive and then take these steps:
Go to Google Slides presentation
Open the video you want to embed
Navigate to Google Drive
Click on Insert
Select the video from the drop-down menu
Begin by opening your web browser and navigating to the official Google Slides website.
After you've done that, sign in if you haven't done so already.
Click on Blank to open a new presentation. Or you can open one you've created and saved before this.
The next step here is to click on Insert.
Select the Video option from the dropdown menu. When the Insert Video window appears, please click on the Google Drive tab.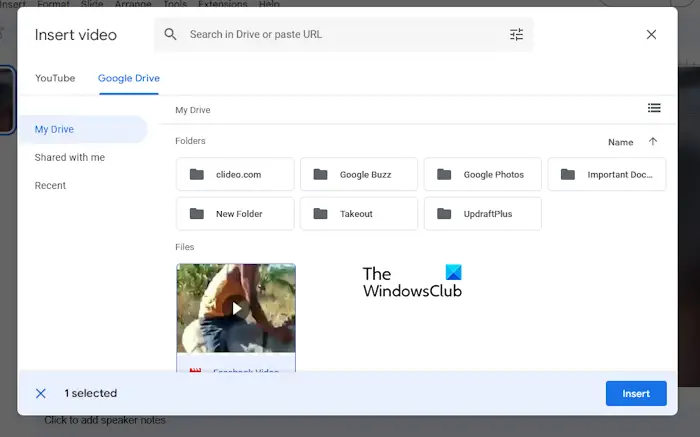 The final step, then, is to select the video from the list, then hit Insert to add.
You can also use the search box to find the video by searching or using a URL.
READ: Best Google Slides Add-Ons for presentations
Can Google Slides play embedded videos?
Yes, it is possible to play embedded videos directly within Google Slides, ad it's easier than you might think. You can embed YouTube videos with ease, or choose to upload your own, which is best for your needs.
READ: How to lock an Image or Object in Google Slides
Can you embed MP4 in Google Slides?
Users can embed MP4 videos in Google Slides with ease. As long as the video is available on your computer, you just have to upload it to the slide, and that's it, you can play it wherever, and whenever granted an internet connection is available.