This article lists some of the best Google Slides Add-Ons for presentations. Google Slides is giving tough competition to PowerPoint, which has been the winner of presentation software for years. The cloud-based software offers a bunch of exciting features that make creating, presenting, and sharing presentations easier. It allows multiple users to collaborate on the same presentation in real-time, and use its online editing capabilities to work on a presentation when you don't have a computer. Google Slides also offers plenty of add-ons that help you add more to your presentations.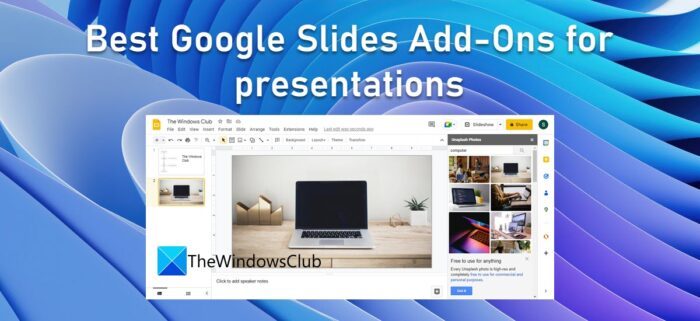 Best Google Slides Add-Ons for presentations
This post talks about the best Google Slides Add-Ons that are worth checking. You can use these add-ons to optimize your presentations and gain an appreciation for all your hard work:
LucidChart Diagrams
Unsplash Photos
Hypatia Create
Flaticon
Slido.
Now let's take a look at the add-ons.
1] LucidChart Diagrams
LucidChart Diagrams allows you to create flowcharts, vein diagrams, mockups, network diagrams, organizational charts, etc. It is a useful tool to illustrate a process, an idea, or a workflow to your viewers. You can create charts through drag and drop and then insert those charts in Google Slides. It comes with a free plan that offers access to unlimited object counts, freehand drawing, icon finder, magic shapes, a variety of templates, and a lot more – pretty much enough for creating basic diagrammatic representations for your Google Slides presentations.
Also Read: Create flowchart in LucidChart and import it into Microsoft Word.
2] Unsplash Photos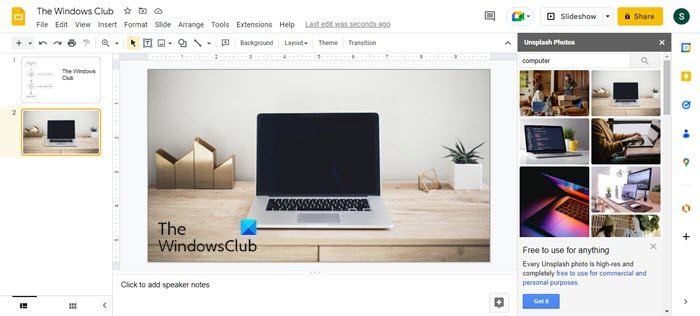 Unsplash Photos is one of the leading online resources to find free stock photos in high resolution for personal and commercial use. It has an extensive library of images where you can find photos from different categories. With the Unsplash add-on, you won't need to go to specific websites to download photos. Rather, you would be able to browse through a collection of photos or find specific photos using search keywords and insert them in your presentation right from a sidebar on the Google Slides screen. Another advantage of having the add-on is you can decide which image is going better with the theme of your presentation with just a few mouse clicks.
3] Hypatia Create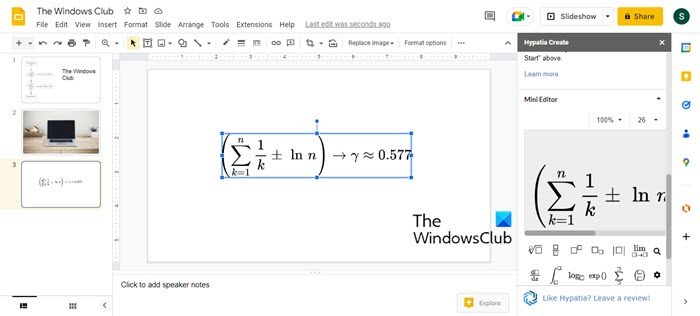 Hypatia Create lets you insert mathematical equations in your Google Slides presentations. It offers a wide range of calculus and analysis symbols that you can use to write complex equations with a few mouse clicks. Hypatia also offers a mini editor that sits by the side of your Google Slides screen and allows you to update equations in a jiffy. This is a must-try add-on for anyone who uses algebra, calculus, geometry, trigonometry, or statistics while working on Google Slides.
4] Flaticon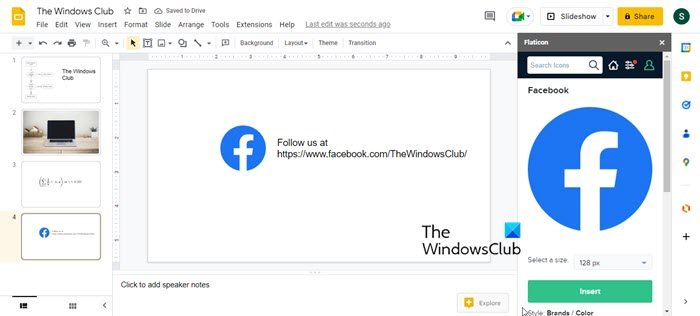 Flaticon is an icon finder add-on that lets you search and insert vector icons in Google Slides presentations. It has a large database that you can access to use free icons, including social network icons, SEO and marketing icons, logistics icons, etc. You can pick an icon from the suggested options or search for a particular icon using a keyword. For black icons, you can choose a different color matching the theme of your presentation. Like other add-ons, Flaticon can be accessed via a sidebar on your Google Slides screen.
5] Slido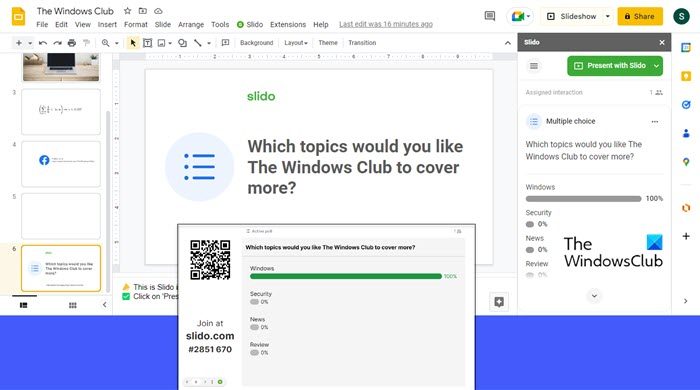 Slido is another useful Google Slides add-on for presentations. It allows you to add quizzes and polls to your slides to interact with your audience in real-time and get insights into what they are thinking. The participants join the quiz or poll by scanning a QR Code or typing an event code that's being shown on the slide and then send their respective votes using their laptops or mobile devices. They also have the option to edit a vote if required. This is a great add-on for virtual events and conferences.
This sums up the best Google Slides Add-Ons for presentations. Hope you find these useful.
Are there add-ons for Google Slides?
Yes, Google Slides allows you to optimize your presentations through add-ons, which you can download and install from Google Workplace Marketplace. These add-ons not only let you add more features to your presentations but also allow you to connect with other third-party apps and integrate your Google Slides data into other Google Workplace applications, such as Google Sheets and Google Docs.
How do you uninstall or install Google Slides add-ons?
To install a Google Slides add-on, all you have to do is:
Go to Extensions > Add-ons > Get add-ons.
Click on the desired add-on.
Click on the Install button.
Allow access to use Gmail account.
Enjoy your add-on!
To uninstall the add-on, go to Extensions > Add-ons > Manage add-ons. Then click on the options icon (three vertical dots) and select Uninstall.
Read Next: Prevent Laptop from going to Sleep during a Presentation.