Microsoft Word has a feature that is called Track Changes, and its purpose is to allow you to see the changes made in a document by another person. It's great for folks who want to collaborate on a single Microsoft Word document through the cloud.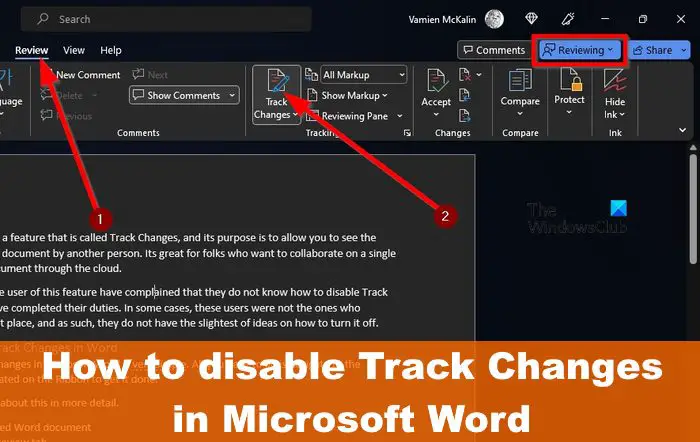 Now, some first-time users of this feature have complained that they do not know how to disable Track Changes after they've completed their duties. In some cases, these users were not the ones who enabled it in the first place, and as such, they do not have the slightest idea of how to turn it off.
How to disable Track Changes in Word
Disabling Tracked Changes in Microsoft Word is very simple. All you have to do is navigate to the Tracking section located on the Ribbon to get it done. Let us discuss more about this in more detail.
Open the Word document
Got to the Review tab
Disable Track Changes
1] Open the Word document
Begin by opening the document that you and a third party are collaborating on.
You can open the document by launching into Microsoft Word, then from there, select the document from the list.
Alternatively, you can choose to browse for the document if it cannot be found on the list.
2] Got to the Review tab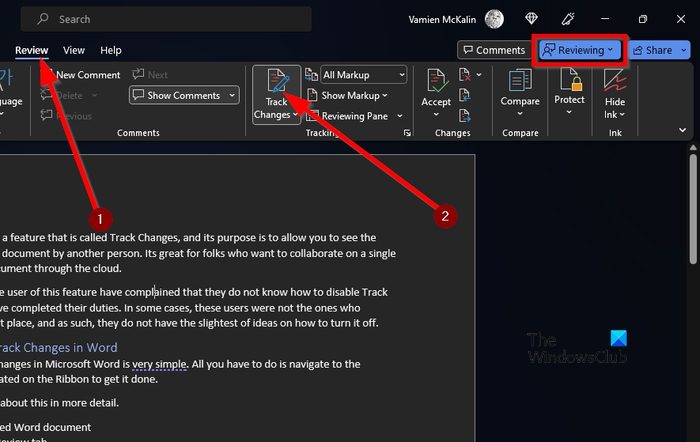 After opening the relevant document, you must look at the tabbed area.
You should come across Review after a short moment.
Please select it to reveal a bunch of cool features.
3] Disable Track Changes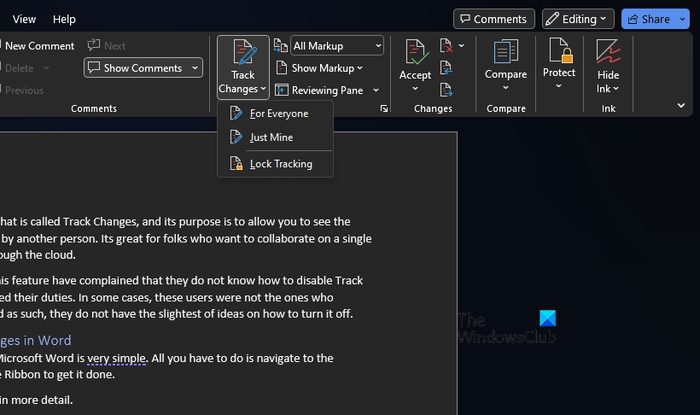 When it comes down to disabling the feature from being active, you must seek out the Track Changes icon via the Ribbon.
From there, click on it.
You will know it is disabled when the blue Reviewing button at the top-right changes to Editing with a different color.
READ: How to insert Images into Table in Microsoft Word
Can you customize track changes in Word?
If you want to customize how Track Changes markup looks in your documents, then go to the Review tab, and click on the Change Tracking Options button via the Tracking category. The button is the arrow at the bottom-right corner.
After that, click on Advanced Options from the small windows that appear. Now you can make the relevant changes.
How do I track changes in Word without showing them?
Tracking changes in Microsoft Word without showing on the screen will require the user to choose No Markup in the Display for Review box. That will help you see what the current document will look like when it's in its final stages, but changes will only show up again the next time a collaborator opens it.