Although the 'Action Center' in Windows 10 gives users quick access to commonly used settings, apps, and displays notifications, a barrage of them (notifications) aren't welcome. Especially, when you in the middle of some important presentation. So, if you are looking to stop these Windows 10 notifications while presenting something important or watching videos and playing games, read further. The method requires you to make changes to the entries under Focus Assist feature of Windows 10 i.e., configure 'Focus Assist Automatic Rules'.
Disable notifications during Presentations in Windows 10
Using the Focus Assist Automatic Rules feature, you can stop disable notifications from appearing during presentations or while playing games in Windows 10. By configuring a few options under Focus Assist in Windows 10, you can remove all the distractions. However, it is important to note that the method will yield the desired results only if you are giving the presentation or watching videos/playing games in the full-screen mode. If not, you will continue to get notifications in non-full-screen mode.
Fortunately, you don't need to turn off or disable all the notifications; just configure Windows 10 to not to show notifications while presentation, watching videos or playing games. Here is how to get it done.
1] Access Focus Assist from System
Focus Assist helps you get more done by easily blocking notifications, sounds, and alerts to create distraction-free work times. So,
Click on 'Start', choose 'Settings' and go to 'System'.
There, scroll down to locate the 'Focus Assist' section.
2] Configure Focus Assist Automatic Rules
This section allows you to choose time and activities when you don't want to be disturbed.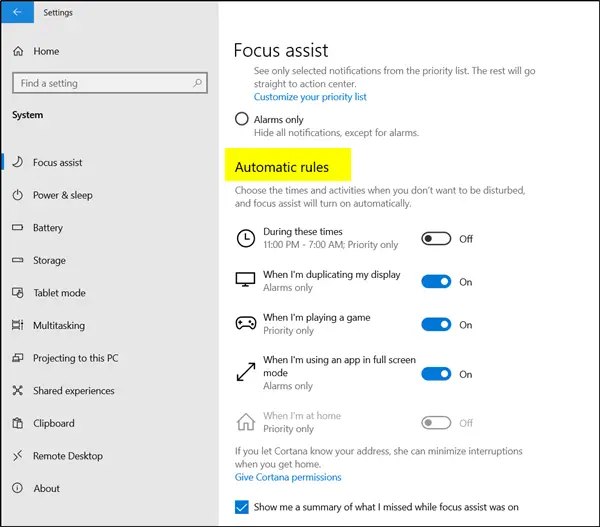 So, under the Automatic rules section, turn on-
'When I am duplicating my display' option. This action will stop notifications from appearing on your computer screen during the presentation)
'When I am playing a game'
'When I am using an app in full-screen mode' (for watching videos).
When done, change the focus level to 'Alarms only' as shown in the screenshot above.
Hereafter, you won't see any notifications appearing on your computer screen while performing your task in full-screen mode.
Read next: How to Prevent Laptop from going to Sleep during a Presentation.