Developers at Mozilla understand that how important it is for the browser to improve its compatibility and experience with extensions. As such, version 64 of the Firefox browser has introduced a newer concept of extension recommendations via Contextual Feature Recommender (CFR). Contextual Feature Recommender (CFR) is a system that proactively recommends Firefox features and add-ons based on the surfing behavior of the user. This behavior helps developers find and recommend features and extensions that they believe would simply the work of a user and offer additional value, thereby improving user engagement and retention. In a way, CFR aims to make Firefox personal.
Upon loading a website, known to offer a Firefox extension, Firefox browser will display a recommendation with a small puzzle icon in the address bar.
Clicking the icon will launch a popup with a message clearly marked as "Recommended Extension". It will feature a button to install the extension alongside a "Not Now" option to hide the message.
Besides suggesting, the popup will also give a small description of the extension, showing the following –
Name
Developer name.
Rating
Reviews
If you find this whole scheme unnecessary, Mozilla allows to disable it. Here's how!
Disable Extension Recommendations in Firefox
Launch the browser and head over to 'Menu' visible as 3 horizontal bars in the upper right corner and choose 'options'.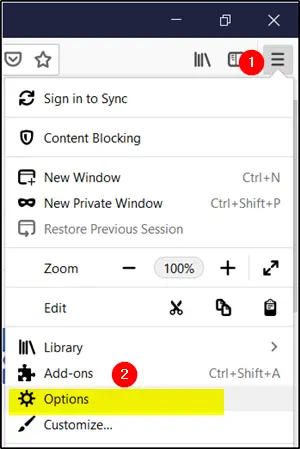 A new tab will open and display the 'Preferences' page.
There, scroll down a bit to locate 'Browsing' section.
When found, un-check the box marked against 'Recommend extensions as you browse' option.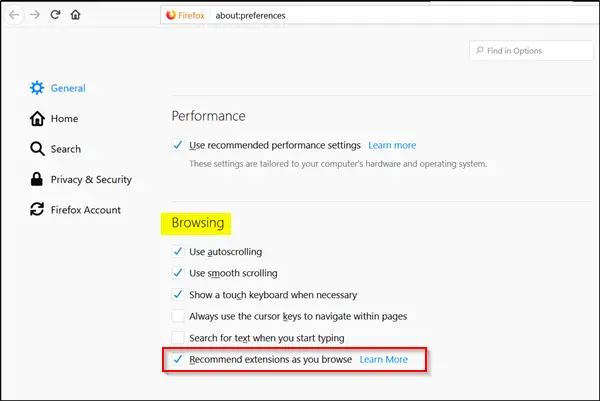 The action when confirmed will disable the extension recommendation feature in the Firefox browser. Mozilla explains that the extensions you see are manually picked by its editors. So, the apprehensions regarding the originality of the apps shouldn't bother the users.
Earlier, this feature was experimental and limited only to 3 extensions – Facebook Container, Enhancer for YouTube and To Google Translate. The roll-out of Firefox browser 64 changes this. Among other things, such as improved security and performance improvements, the new version of the browser also improves tab management.