FaceIt is a gaming platform where gamers can play several online multiplayer PvP games. Nowadays, cheating in games has become common as most games can be taken advantage of using some third-party tools. FaceIt anti-cheat has been very helpful in disallowing gamers on FaceIt from using cheats while playing games on the platform.
FaceIt users sometimes want to delete the program from their PC for different reasons, like fixing issues or just to prevent the program from accessing their computer. Meanwhile, they have been finding it hard to do that, which is why we've put together this article. If you want to delete Faceit Anti-Cheat from your Windows PC, here are ways to do so.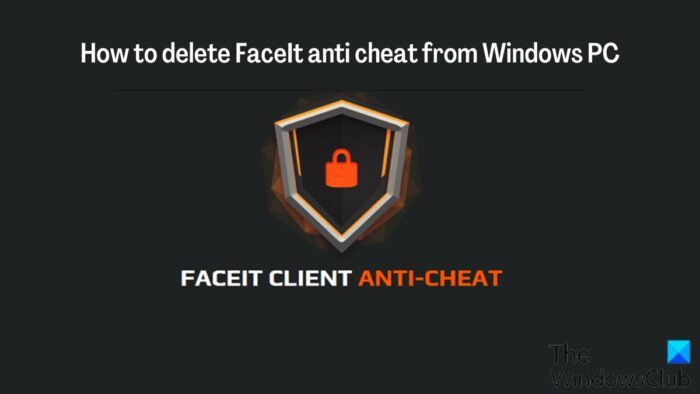 Delete FaceIt anti-cheat from Windows PC
Deleting this program will render some anti-cheat-supported games, and premium matches unplayable since anti-cheat is a core requirement to play them on FaceIt. But if you have no problem with the condition and you want to delete FaceIt anti-cheat from Windows PC, here is how to do it. You can delete or uninstall FaceIt anti-cheat from Windows 11/10:
Via Control Panel,
Via Windows Settings
Using Bloatware Removal Tool
Via Windows Registry
Via Faceit Program folder
Using a third-party uninstaller software.
let us see these methods in detail.
1] How to uninstall FaceIt Anti Cheat via Control Panel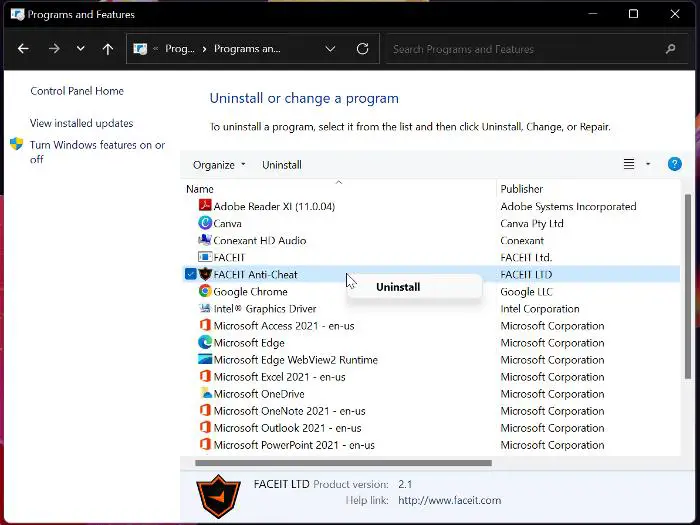 By using a general method for uninstalling apps on Windows through the Control Panel, you can delete FaceIt Anti Cheat from your PC.
Press Windows + R to open the Run Command Box.
Type control panel and press Enter.
On the Control Panel window, click on Programs.
Then right-click FaceIt Anti-Cheat and select Uninstall.
Select Yes in the next window to confirm the operation.
Read: How to uninstall Programs not listed in Control Panel
2] Via Windows Settings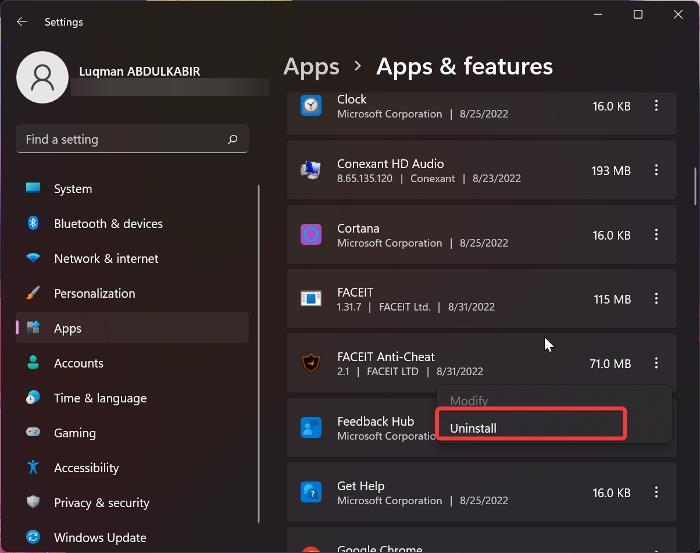 You can uninstall programs from your computer via the Windows Settings option, and this method can also be used to remove FaceIt Anti-Cheat. Here is how to uninstall FaceIt Anti-Cheat through Windows Settings:
Press Windows + I to open Settings on your computer.
Click on Apps and select Apps & features.
On the App list, navigate to FACEIT Anti-Cheat and tap on the three-dot icon in front of it.
Now, click on Uninstall.
3] Using Bloatware Removal Tool
Bloatware Removal Tool is an open-source application that can be used to uninstall third-party applications as well as Windows pre-installed using Windows Powershell. This program can be used to delete FaceIt Anti-Cheat on your computer, here is how:
Download Bloatware Removal Tool and extract the batch file.
Right-click the Bloatware-Removal-Utility.bat file and select Run as Administrator.
Select Yes and wait some time for the utility to load up.
Tick FaceIt Anti-Cheat on the program list and click the Remove Selected menu.
Press Y on the Powershell window to kickstart the process.
4] Via Windows Registry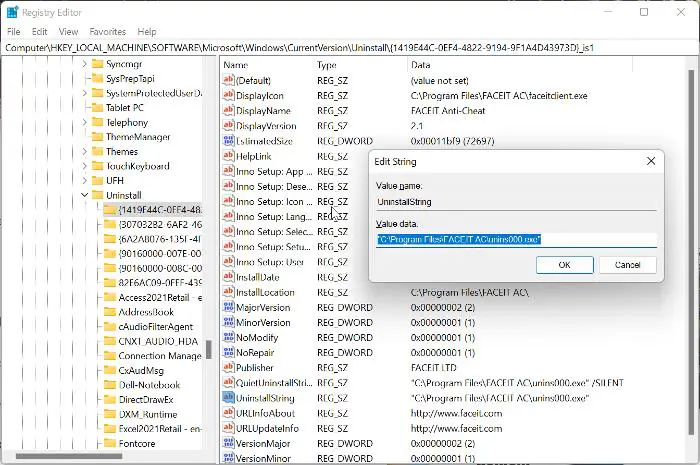 Instead of using any methods discussed above, you delete the FaceIt Anti-Cheat program from your computer using Windows Registry.
Press Windows + R to open the run command box, type regedit, and hit Enter.
On the Windows Registry, navigate to the path below:
HKEY_LOCAL_MACHINE\SOFTWARE\Microsoft\Windows\CurrentVersion\Uninstall
Programs on your PC will be shown under the Uninstall key, but some will be represented with a mix of numbers and letters, so you may not recognize FaceIt Anti-Cheat. You must then click on each key to identify FaceIt Anti-Cheat from the list.
After identifying FaceIt Anti-Cheat, left-click on it to show its details.
Double-click UninstallString on the right pane and copy its value which looks like what we have below.
"C:\Program Files\FACEIT AC\unins000.exe"
Now, press Windows + R again, paste the value you copied in the run command box and hit Enter.
Read: How to uninstall programs using Registry
5] How to uninstall FaceIt Anti Cheat from Program Files
You can delete FaceIt anti-cheat from your Windows PC through the Program Files. Here is how to do it:
Press Windows + R to open Run Command Box
Type C:\Program Files\FACEIT AC\unins000.exe and press Enter.
Select Yes on the resulting Windows popup to kickstart the process.
You can also go to the FaceIt AC Program File directly on File Explorer and run unins000.exe. However, you should know that the file path may differ depending on where your program files are saved in Windows File Explorer.
6] Using a third-party uninstaller software.
Another method you can use to delete FaceIt Anti-Cheat on your Windows PC is by using a third-party uninstaller software. Software like Revo Uninstaller serves greatly in uninstalling a program and are very straightforward to use.
Any of the methods above can be used to delete FaceIt Anti-Cheat on your Windows computer, depending the one you see fit.
Read: How to uninstall a program using Command Prompt
What does FaceIt Anti Cheat do?
The FaceIt Anti Cheat is a program built to help detect suspicious acts like cheating by gamers using the FaceIt software or site. It helps keep transparency by reporting relevant information about which gamers are using FaceIt on.
Can you play FaceIt without Anti-Cheat?
Yes, you can play some games on FaceIt without needing the anti-cheat but not all. Conversely, if you have been reported so many times on FaceIt for cheating in games, you'll be required to enable the anti-cheat before using the gaming platform.
Read: Fix FaceIt.sys, rzudd.sys or AcmeVideo.sys BSOD error
Is FaceIt Anti-Cheat better than VAC?
FaceIt anti-cheat is way better than VAC since it has more access to player computers, which makes it easier for it to detect anyone using cheats while using FaceIt to play games. On the other hand, VAC doesn't have much access to its players' PCs.
Read: What is EasyAntiCheat.exe and can it be removed?
How do I uninstall FaceIt on my computer?
If you want to uninstall FaceIt on your PC, here is how to do it:
Go to the Control Panel and set the View by option at the top right corner of the screen to the Small icon.
Click on Programs and Features.
Right-click on FaceIt and select Uninstall.
Then click Yes to confirm the action.
Is there any hack to cheat on FaceIt?
The plain truth is that there is no real hack for cheating on FaceIt, as it has a very strong anti-cheat program. Some gamers personally find ways around it, but they also ultimately get detected by FaceIt and blocked. All this makes it very hard for anyone to cheat on FaceIt, so it's better to play your games without using any cheat.