Paint is a simple graphics editor that comes by default with all Windows versions. Recently, Microsoft introduced Cocreator in Paint, which allows users to generate diverse and realistic images from any text description. In this post we will see how to create images using Cocreator in the Paint app. The feature is currently available in Insider Builds but will be rolled out to all soon.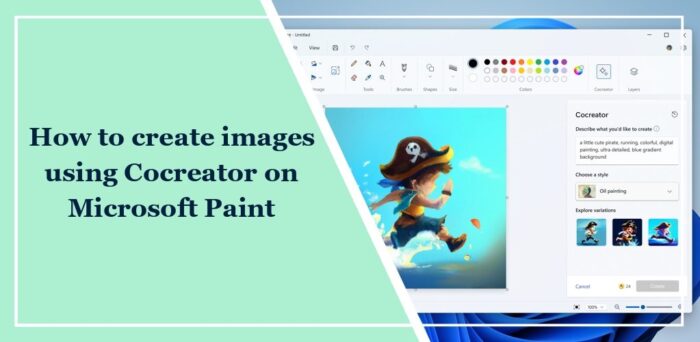 What is Paint Cocreator?
Paint Cocreator is a new feature that generates amazing and creative images with the prompt offered. It operates on a cloud-based AI model called DALL-E. To produce high-quality photos, it can understand complex concepts, such as objects, attributes, and actions.
How to create Images using Cocreator in Paint app
To create images using Cocreator in Paint app on your Windows 11 PC:
Open the Paint app on your device.
Click on the Profile icon at the top to ensure you're logged into your Microsoft Account.
Select the Cocreator icon on the toolbar to open the Cocreator side panel.
Enter a description of the image you want to create in the text box.
Next, choose a style for the image and click the Create button.
Cocreator will now create three images per the prompt
Click on your preferred image to enter it into Paint Canvas.
Read: How to remove Image Background using Paint app in Windows 11
How do I combine two images in Paint?
Paste both the images in Paint and save them in a .jpg format. Now, when you open the image, both images will open simultaneously.
What format does Microsoft Paint use?
Microsoft Paint uses formats like BMP, JPEG, GIF, PNG, etc. These can save color and black-and-white images, but not grayscale ones.
Read: How to convert Photo to Watercolor Painting in PhotoShop