Discord is more than just a tool for gaming, as we have said a million times before. Now, one of the most used functions of Discord is the ability for users to create Events. This can be accomplished in multiple ways, but it all depends on what the user wants to do. Events on Discord make it possible for members of your server to keep up with whatever is happening, and when. You can choose to create a Voice Event, which is the most popular, a Text Event, or a Physical Event.
Create, edit, and delete Events on Discord
Creating an event will require the user to make several clicks of the mouse, so do not expect to get things done in just a few seconds.
How to create a Discord Voice event
As we have stated above, a voice event is an option mostly used, so as such, we are going to focus more on it.
Open the Discord app, and from there, visit your server.
From the top of the screen, you will want to select your server's name.
When you see the Create Event button, click on it.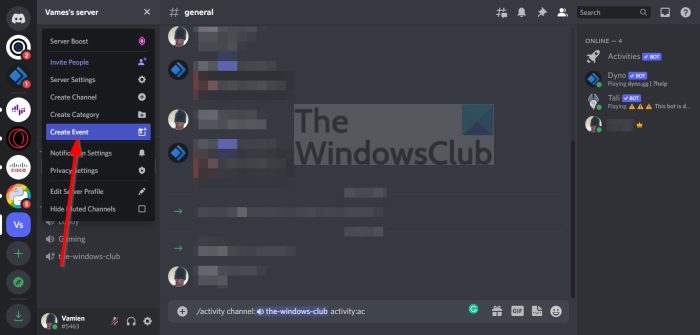 From the Where is your event section, select Voice Channel.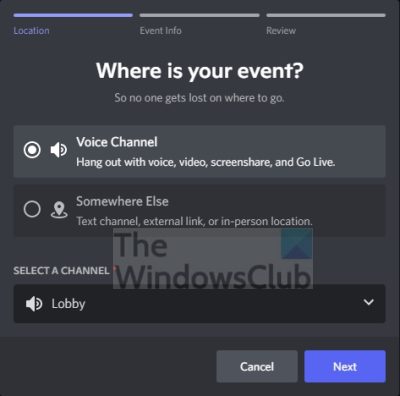 If you want to select another voice channel, please click on the arrow to reveal a list.
Enter the event information.
Upload a cover photo if you feel the need.
Hit the Next button to move forward.
Finally, click on Create Event to complete the task.
How to create a Physical or Text event on Discord
For those who are not interested in talking much over the Discord platform, then we believe you will all prefer to create text or physical events. Let us discuss how to create these events in record time.
As usual, you must launch the Discord app.
Select the name of your server from the list.
Navigate to Create Event and click on it.
This time, avoid Voice Channel and choose Somewhere Else.
Enter a location for the planned event.
The location can either be a physical location or a link to a chat channel.
Enter the relevant information for the vent.
If needed, upload a cover image.
Click on the Next button.
Finally, you can click on Create Event to complete the task at hand.
With the creation of your event, you can copy the provided link to share it with anyone on Discord or on the web.
How to edit Events on Discord
If you made a mistake when creating an event, you should not fret because the option is there to edit many of the details.
Open the Discord server promptly.
At the top of the screen, click on Events.
You should now click on the More icon, which is the three-dotted button.
Select Edit Event via the context menu.
Make the relevant changes to your event.
Finally, you will want to click on the Save Event button to complete the task.
How to delete Events on Discord
At some point you will want to delete the events you've created, so how can we accomplish that? It's relatively easy if you ask us.
First, open your Discord server.
You will see the Events button right away, so click on it.
If you see the three-dotted button, select it.
From there, click on Cancel Event.
The next step is to confirm you want to cancel by pressing the Cancel Event button.
Read: How to export Discord chat messages using DiscordChatExporter
What do events mean in Discord?
Discord events are great because they provide your community with the opportunity to receive advanced notice for things set to happen on the server. Whenever the event goes live, community members will also receive a notification.
How do you create events in Discord?
How to Create an Event in Discord on Desktop
First, you must open the Server Menu. From there, go to your server or a server you have privileges on. After that, click on the server dropdown menu.
Select Create Event.
Choose your Event Location.
Add all the relevant information.
Review what you've done, then click Create Event if you feel comfortable.
What activities can you do on Discord?
The activities below are available to users right now.
Poker Night
Chess in the Park
Sketch Heads
Letter League
Checkers in the Park
Spellcast
Blazing 8s
Land-io
Putt Party
Watch Together.
Also read: How to make Discord channel Read-only.