Chrome is one of the most popular web browsers in the world. It has unique features and a unique user experience. One of the features is the ability to have multiple profile accounts across devices. However, some users are unable to create a Chrome profile shortcut on their desktops. Creating these profiles is a great way to make it easy for you to access them, as each will be displayed on your PC. In this article, we will show you how to create a Chrome profile shortcut on your desktop in a few easy but little-known steps.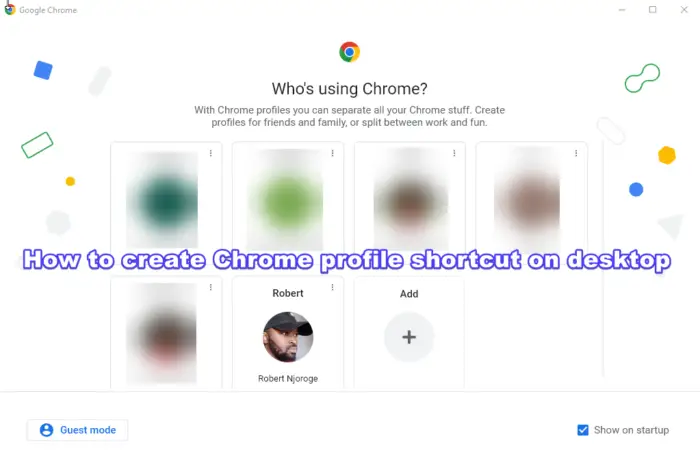 Individuals can own these accounts depending on their business or personal preferences, or different people might be using one desktop to access Chrome using their profile accounts. Each account has its own specific passwords, bookmarks, history, other Google services, etc. So when you log in using a certain profile, you won't see details or data from other accounts. This is why you need to create your profile account shortcut on your desktop to make it easier than selecting your account at startup.
How to create Chrome profile shortcut on desktop
There is only one straightforward way to create a shortcut to a specific Chrome user on a desktop, which is by tweaking the Chrome settings of each profile account. Once the account shortcut is created, you will see a Chrome profile icon on the desktop. To open the profile account, you can double-left-click or right-click the icon on your desktop. Make sure you have the Chrome app installed on your computer. If not, download, install, and launch it.
How to create a shortcut to a specific Chrome user profile
To create a Chrome profile shortcut on the desktop:
Log in to your Chrome account profile using your Google account credentials.
Once the browser is open and you can view your profile on the top-right, click the three dots next to your profile picture, if any.
A new drop-down menu will appear. Scroll down and locate Settings and click on it.
On the central panel on the new window, navigate to Customize your Chrome profile.
Scroll down until you see Create desktop shortcut. Toggle on the button to create a Chrome profile account shortcut on your desktop.
Go to your desktop and check if the shortcut has been created. That's it.
Note that if you have multiple accounts, you need to repeat the process on each Chrome profile. All shortcuts will be displayed on your desktop.
We hope this guide helps you create Chrome profile shortcuts on your desktop.
Read: How to stop Chrome from saving images as WebP format
Is a Chrome profile the same as a Google account?
The Chrome profile and the Google account are two profiles that share the same login information. Basically, your Google account is the primary profile that allows you to access all Google apps, including the Chrome browser. Your Chrome profile has all your browser preferences, like history, extensions, bookmarks, display settings, password management, etc. With your Google account, you can automatically access apps like Gmail, Google Docs, Google Sheets, Google Drive, Google Photos, etc.
Read: How to transfer Google Chrome profile to another computer
How do I run two Chrome profiles on one computer?
To run two or more Chrome profiles on one computer, you need to create the accounts first or sign in with each one of them. To create extra Chrome accounts, go to your browser. On the top-right side, you will see your profile icon; click on it and select Add another account. Use your sign-in details or create a new account using the on-screen directions. You can opt to connect to the new profile or continue with a different account. The latter will open a new Chrome window with independent settings and preferences.