In this article, we will talk about how you can create a fishbone diagram in a Word document. A Fishbone diagram aka Ishikawa Diagram aka Cause and Effect Diagram is used for brainstorming and representing the potential causes of a problem in your framework. The fish bones basically depict the causes with the upper body showing the effect or problem. It is primarily used in root cause and problem analysis in many industries.
Now, if you need to show a fishbone diagram in a Word document, how to do it? Well, no worries we got you covered! Here, I am going to mention step by step procedure to create a fishbone diagram in Microsoft Word. So, without much ado, let's get started.
Create a Fishbone Diagram in Word
There is no fishbone diagram template available in Word's online library. So, you will have to make the diagram manually. You can create a Fishbone Diagram from scratch using the Shapes tool. Although if you want, you can download a template from a good website and import and customize it in Word.
Here are the steps to create a fishbone diagram from scratch:
Launch Microsoft Word and create a blank document.
Prepare the basic structure of the fishbone diagram by adding basic shapes.
Insert text to define causes and effects.
Customize the fishbone diagram.
Save the fishbone diagram in the document.
Launch the Microsoft Word application and create a blank document or import a new existing document.
Now, we have to prepare the basic structure of your fishbone diagram. For that, go to the Insert tab and from the Illustration tab, click on the Shape drop-down option and select the Line Arrow shape. Add this shape to the middle of the document.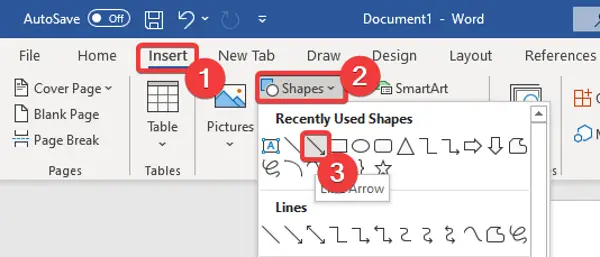 Now, right-click on the shape and click on the Format Shape option which will open up a Format Shape panel at the right. From here, increase the width of the line arrow.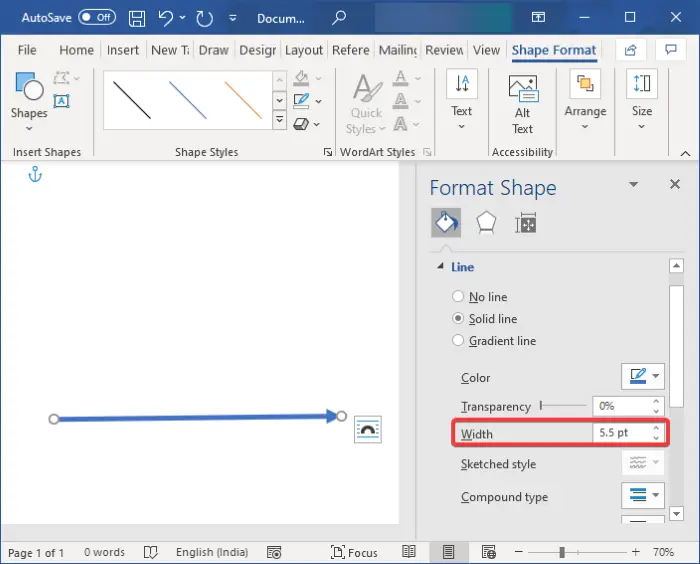 Next, add a pentagon arrow to enter the main problem or effect in your framework.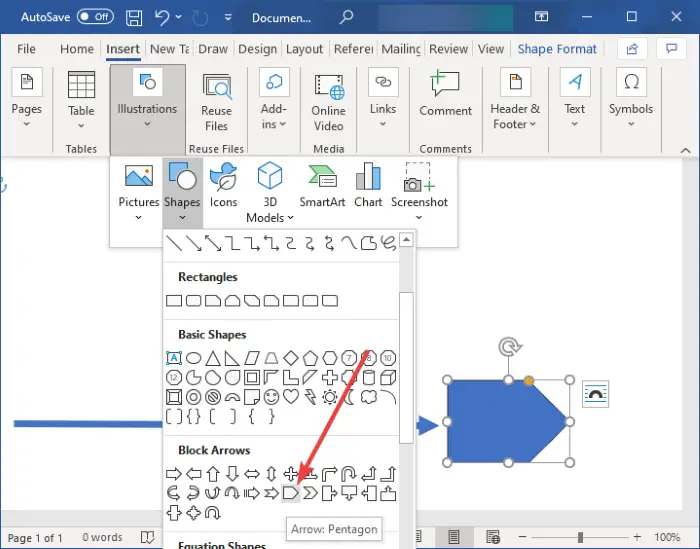 After that, to add causes to your fishbone diagram, add multiple lines to the arrow you added previously just like roots attached to a branch. And then, insert a rectangle shape to the top of each line.
To describe sub-causes in your diagram, you can attach more lines to the lines you drew for mine causes' lines. See the below screenshot for your reference.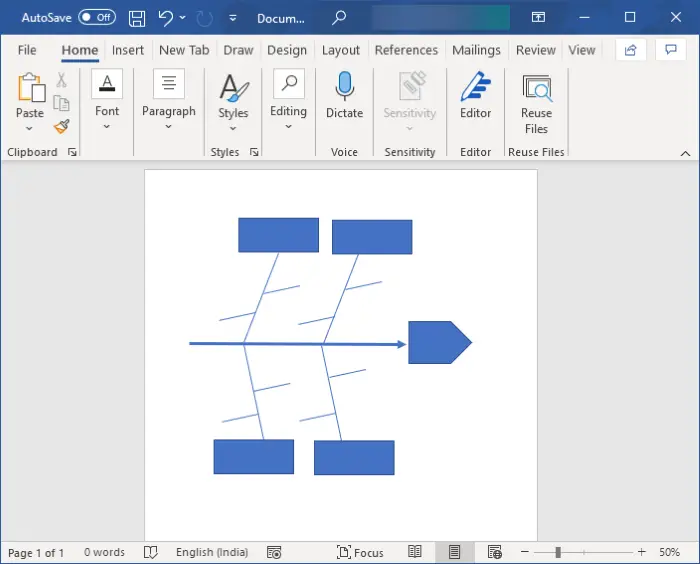 Congratulations, you just created the basic structure for your fishbone diagram. Depending upon the complexity of your fishbone diagrams, you can add more shapes to define causes.
Now, you have to enter the text to define the main problem and its causes. For that, right-click on the pentagon arrow shape and select the Add Text option to define the main problem. Enter your text and format it as per your requirements. Do the same with rectangle shapes to explain the causes in your diagram.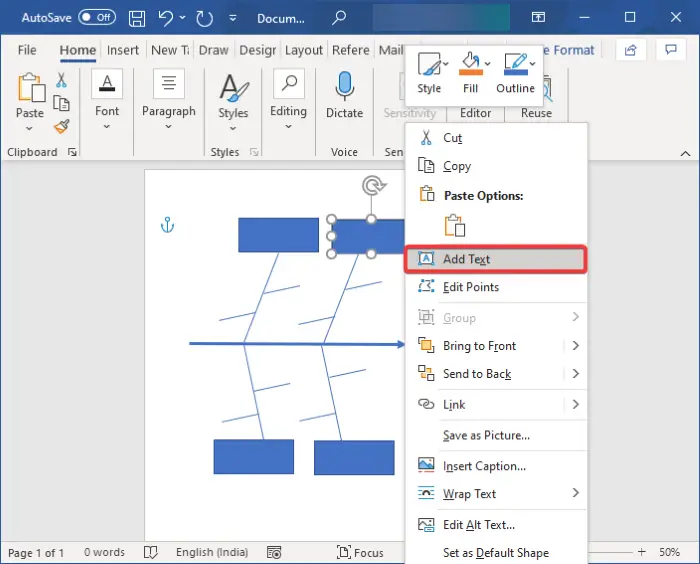 Your fishbone diagram will look something like the diagram shown in the below screenshot.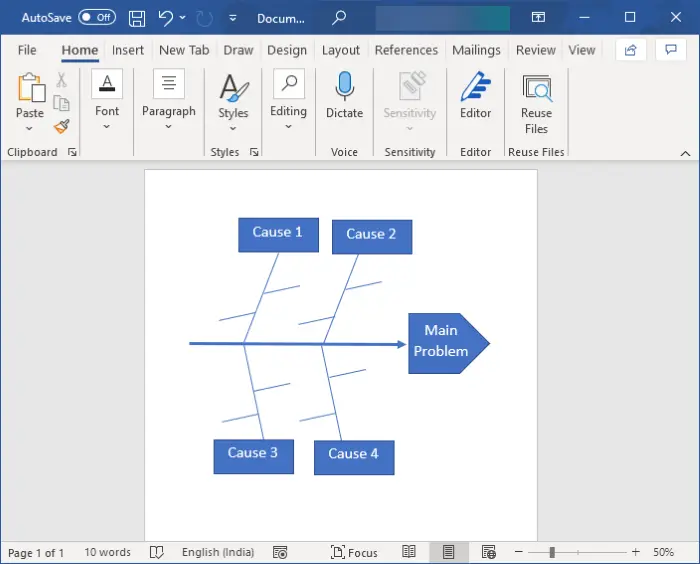 You can add the sub-causes by simply going to the Insert > Text menu and adding a simple text box with customized text.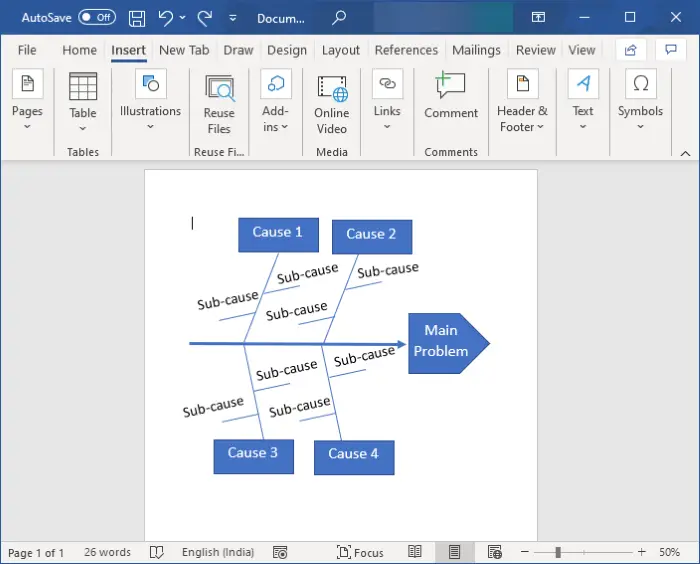 You are almost done with your fishbone diagram. Just to make it look more engaging or captivating, you just need to work around its styling. Go to the Shape Format tab and customize shape style, shape fill, shape outline, text style, and more.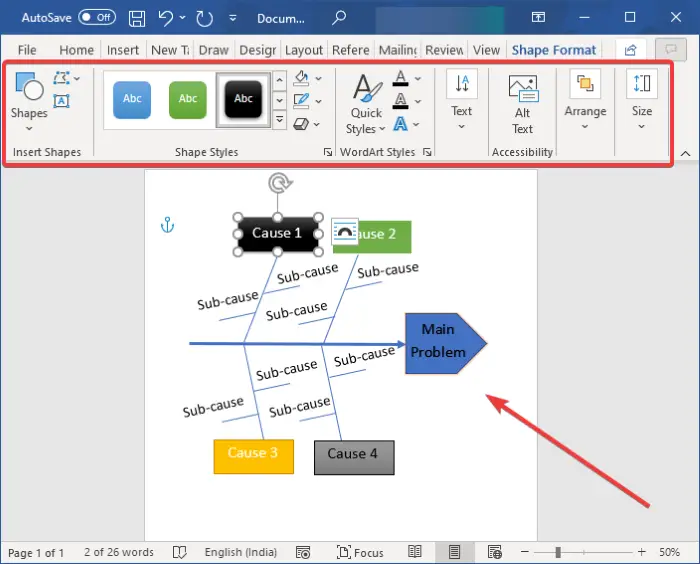 Save the fishbone diagram in any document format supported by Word including DOC, DOCX, PDF, HTML, ODT, etc.
So, this is how you can create a fishbone diagram or cause and effect diagram in Word using basic shapes.
Now read: How to Create a Flowchart in Word.