There are quite a few font formats out there, and two of the most popular are TTF and WOFF. Now, there are many users who would love to download and use WOFF fonts on their Windows 11 or Windows 10 computers, but that is not possible unless the WOFF font is converted to TTF. Since a lot of people are facing the particular issue, we've decided to explain how to convert WOFF font to TTF font in order to use them in Microsoft Word or any other document editing platform.
What is TTF font format?
For those unaware of the meaning of TTF, well, it stands for TrueType Font. This is a standard that was developed by Apple back in the 1990s, and so far, it has transformed into the most common font format used on Windows and macOS. One of the reasons TrueType Font has gotten so popular is due to Apple choosing to license the font format to Microsoft. It was first added to Windows 3.1, and every future version of Windows from thereon.
What is WOFF font format?
OK, so when it comes down to WOFF, it stands for Web Open Font Format, and as the name suggests, it was originally designed for use on web pages. Here's the thing, files based on Web Open Font Format are TrueType or OpenType fonts with applied format-specific compression along with XML metadata. The idea behind Web Open Font Format is for the computer system to distinguish between font files meant for the web from those designed for the desktop.
From what we've gathered, this format is relatively new compared to TrueType Font as the first draft was published back in 2009. In the year 2010, it was published to the World Wide Web Consortium by Microsoft, the Mozilla Foundation, and Opera Software.
How to convert WOFF to TTF font
When it comes down to converting WOFF to TTF on a Windows 11 computer, there are multiple ways to get it done. You will learn of these ways via the detailed information below, so you should keep reading.
Use Convertio's WOFF to TTF Font Converter tool
Convert WOFF to TTF using a Python script
Use Convertio's WOFF to TTF Font Converter tool
The first thing you will want to do here is to fire up your web browser. Windows 11 comes with Microsoft Edge preinstalled, and it is the default option for many users, so you can launch it.
After opening your web browser, you must then go to this page.
From this page, it is possible for users to easily convert WOFF to TTF with relative ease. So, let us look at how to get things done here.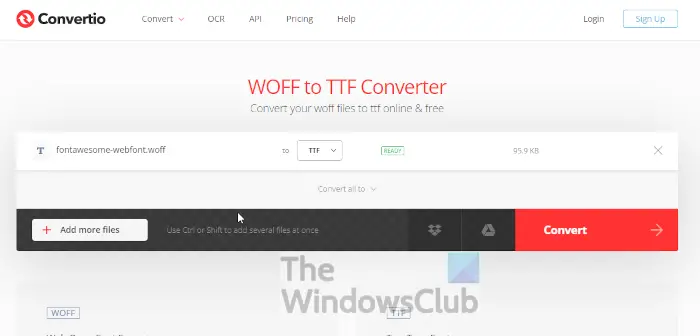 When the webpage is up and running, you will want to move forward by clicking on the big red button that reads, Choose Files. Doing this will open the File Explorer, and from there, you will need to locate the WOFF file.
Alternatively, you could click on the arrow situated on the red button. Do this only if you want to access your WOFF file from Dropbox or Google Drive.
Finally, after adding your WOFF file, you can either select the Add More Files button or click on Convert. When the conversion is complete, please save the newly created TTF file to your computer, and that's it.
Bear in mind you can install Convertio to Microsoft Edge and Google Chrome as an extension.
2] Convert WOFF to TTF using a Python script
Yes, the option is there to use Python to convert WOFF to TTF if you're not interested in using an online tool. You'll need to have Python installed on your Windows 11/10 computer for this to work. So, if you're not familiar with Python, then we suggest using the online method instead. It's easier and can be done in mere seconds.
Download woff2otf
Unzip the file to your preferred location
Open the PowerShell or Command Prompt tool
Convert WOFF to TTF
Alright, the first thing you should do in this situation, is to go to the woff2otf GitHub repository. From there, be sure to click on the Code button, then select Download ZIP to download the Python file in a .zip package.
The next step here is to unzip the woff2otf file by right-clicking on the archive, then select the Extract All > Extract options.
After extracting the woff2otf file, you must move along to opening PowerShell or Command Prompt. To do this, go to the folder containing the extracted files, then via the address bar, type CMD and hit Enter on your keyboard.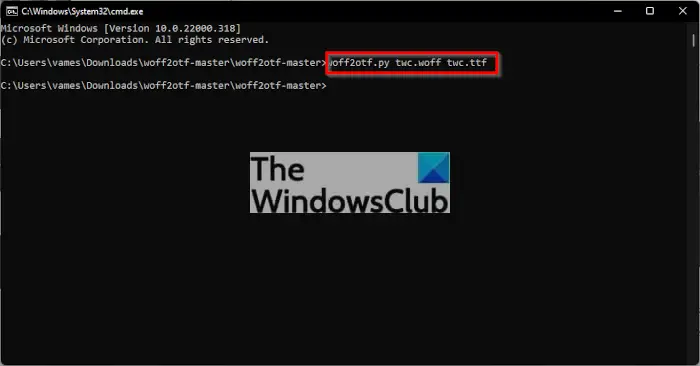 When the CMD tool is up and running, please add the following command and hit Enter to initiate:
woff2otf.py TWC.woff TWC.ttf
Right away the conversion should take place and the file saved to the same folder.
Which is better TTF or WOFF?
Now, in terms of which format is better, well, it is easy to tell. You see, there aren't many differences between TTF and WOFF, which is why we can convert WOFF to TFF without a lot of effort. However, when it comes to loading speed, WOFF is superior to TFF. We suspect this because WOFF was designed for the web, and as such, it needed to use less bandwidth.
How do I open a WOFF font?
Opening a WOFF font is something you've been doing every day. Because it is web-based, then whenever a web browser such as Firefox, Edge, and Chrome is used on the web, then chances are WOFF is used.
How do I install WOFF fonts?
Installing WOFF fonts on your computer is easier than you might think. There are several websites out there to download fonts, so for example, visit FontSpace, then download a font. Unpack the zip file, then right-click on the font file and select Open With > Windows Font Viewer.
Finally, hit Install, and that's it for that.
Read: Some of your fonts cannot be saved with the presentation in PowerPoint.