If you want to have a print of data contents in the PST file, the only way to do this is to convert it into PDF format. Apart from this, there are various other situations which call for the conversion of an Outlook PST files to the PDF file format. PDF (Portable Document Format) is largely independent of software, hardware or Operating System. As such, it enables the exchange of documents reliably. On the other and, PST is the extension for a primary data file used by Outlook to store email messages.
Convert Outlook PST to PDF files free
If you use Outlook, you might be aware that a user cannot easily open or view Outlook file into PDF and vice versa. To overcome this shortcoming, we need good software that does the job for us easily and in a flawless manner. Kernel for Outlook to PDF achieves the desired outcome within just a few clicks.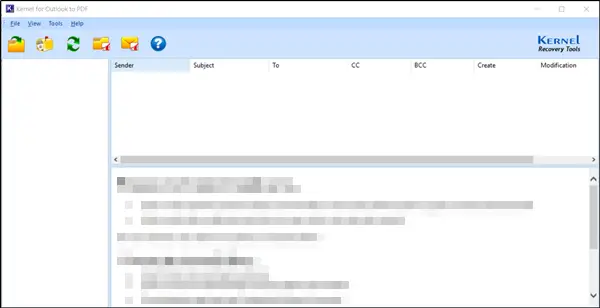 Unlike other software Kernel for Outlook to PDF is completely free for use. It is compatible with Windows 10. When installed, the tool allows you to convert Outlook PST files or all emails to PDF format either by folders or items. Let us take a look at the two scenarios.
1] Selected Folders
Just browse to the desired folders and select them by selecting the checkboxes marked against them.
After that click on the 'Convert Selected Folders' option located on the toolbar. Alternatively, you can click 'Ctrl+F' option to get the same result.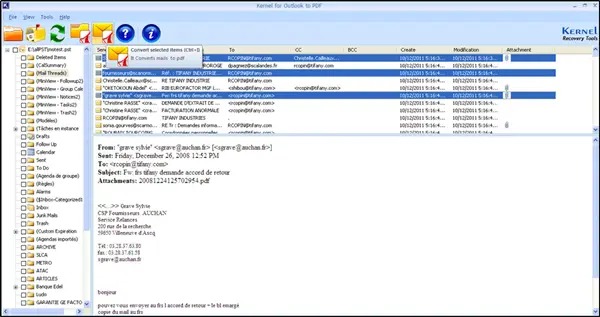 Finally, enter a destination to save the files converted. Enter a password. This feature is optional.
2] Selected Items
Open a folder to view its mails. Next, select one or more emails by using 'Ctrl' key on the keyboard.
Choose 'Convert Selected Item' option on the toolbar. Alternatively, you can use 'Ctrl+F' option to get the same result.
When done, specify the path for the file to be saved and exit.
To allow this program to work, make sure Outlook is installed and configured correctly. This software also batch-converts PST file to PDF format in just one click. It.  Also, as PST file contain all mail items including all email messages, contacts and other items, this converter software creates PDF from PST with all information contained in PST file.
How Kernel for Outlook to PDF works
Firstly, you need to perform the following actions to add PST file
1] Adding PST and Mailbox
Click the Open button from Toolbar or under the File menu. The action will open Select Source PST File dialog box.
Click the Browse button on the dialog box to locate the PST file.
Once the file is located, click Ok on the Select Source PST File dialog box to add PST file.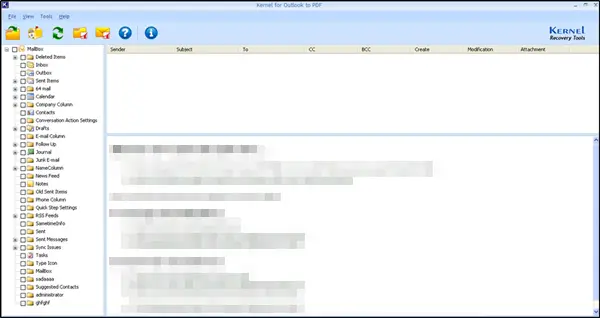 This will add the source PST file for conversion. All the folders of the PST files will be displayed in the left pane of the tool.
2] Adding Mailbox via Welcome Screen
Click on My Mailbox button from Toolbar or under the File menu. It will open Choose Profile dialog box.
The box will list all Outlook profiles configured on that system.
Select the required profile from the Dialog box and hit the OK button visible on the Choose Profile dialog box. You will notice the program will add the selected Outlook profile for converting into PDF and list all the folders of that profile on the left pane of the Welcome Screen.
Once you have added the PST file or Outlook Profile to the application, you can preview their content.
Click on Folder whose content you want to preview from the left pane.
After that, select the email from the list on the right pane.
3] Convert PST and Mailbox
Click on the Folder whose emails you want to convert.
Next, select all the emails that you want to convert. Use the Ctrl key for multiple selections.
Hit the 'Convert Selected Items' button under Toolbar and wait for few seconds.
This way, you can export mailbox items to PDF directly from Outlook profile and also from locally stored PST files – so if you want a safe and risk-free conversion process for converting .PST files into PDF files, use this freeware!
Posts that may interest you:
Convert MOV to MP4 | Convert BAT to EXE | Convert JPEG and PNG image files to PDF | Convert VBS to EXE | Convert PDF to PPT | Convert PNG to JPG | Convert .reg file to .bat, .vbs, .au3 | Convert PPT to MP4, WMV | Convert Images to OCR | Convert Mac Pages file to Word | Convert Apple Numbers file to Excel | Convert any file to different file format.