Connecting your Microsoft Surface device to a TV can be a problem for some, especially if they haven't done it before. Then you have those who believe this task is not possible, and to that, we say, keep reading and allow us to blow your mind.
HDMI port is not working on Surface
The HDMI port is an important aspect of the Microsoft Surface, which can be said for all laptop computers, really. However, recently some users have been complaining about an issue with the HDMI not working after a recent Windows 10 Update, so what's the problem? It could be a factor of many things, but from what we can tell, the issue is not hard to solve at all, and that's great. It means, even the biggest novice in the world should have no problems understanding what we're about to discuss.
What we have here is a problem that is very common, and like many common things, people tend to have a hard time figuring out how to get it under control. But not us, because we are the masters at solving all sorts of madness, and this is one of them.
HDMI or High Definition Multimedia Interface is an audio/video interface that can be used to interconnected multiple multimedia devices. The most common use for this is when a CPU is connected to a monitor and a projector. It can also be used to connect Bluray players and laptops to televisions or monitors.
Surface does not connect to TV
If your Surface device does not connect to a second screen, try these suggestions. They are sure to help you:
Check the HDMI connections
Run the Hardware and Devices Troubleshooter
Update the graphics driver
Reset your Surface device.
1] Check the HDMI connections
The first thing you need to do here is to check for any problems with the HDMI port itself to see if it is damaged. After that, look at the cables themselves to see if they are also damaged. We suggest trying a second HDMI cable if you have one laying around the house.
2] Run the Hardware and Devices Troubleshooter
To invoke the Hardware and Devices troubleshooter, all you need do is to launch the command prompt, then type or copy and paste the command below and hit Enter.
msdt.exe -id DeviceDiagnostic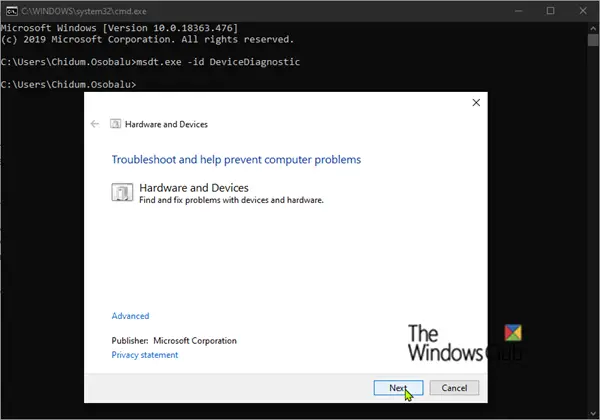 Once the troubleshooter displays, you can now proceed to run the tool as usual.
Follow the instructions to fix any problems with the HDMI.
3] Update the graphics driver
When your HDMI is not working, many of the times this has a lot to do with the graphics card driver. We suggest making attempts to update the graphics driver to see if doing so will solve all issues.
To get this done, press the Windows key + R, then type devmgmt.msc into the box and hit the Enter key. Doing this should launch the Device Manager right away. After that has happened, go to Display adapters, locate your graphics card, right-click it, then select Update Driver.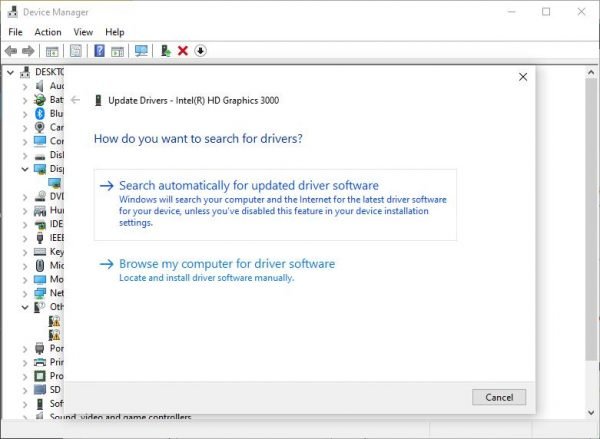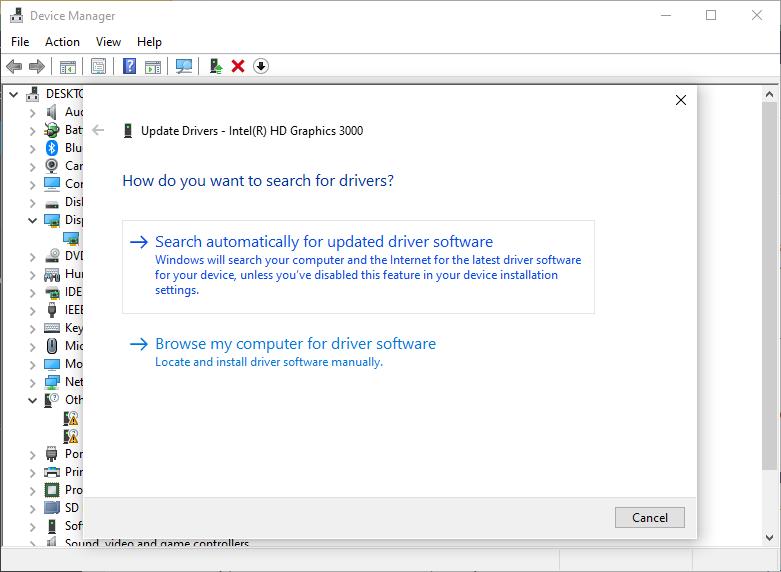 To end this step, choose Search automatically for updated driver software from the small list, and that's it.
4] Reset your Surface device

To reset your Surface device, press and hold the power button on your Surface for 30 seconds and then release it. After that, be sure to press and hold the Volume-up button and the power button at the same time for around 15 seconds, and then release.
Wait 10 seconds after releasing the buttons, then press the power button to turn on your Surface computer.
How to wirelessly connect Surface to a TV
The steps involved are:
Connect using Microsoft Wireless Adapter
Install the app
Connect tot he adapter
Connect with Miracast.
1] Connect using Microsoft Wireless Adapter
OK, so chances are you might want to connect to a TV using the Microsoft Wireless Adapter, and that's a great choice because it was designed to work specifically well for Windows 10 computers.
Before getting started, we should point out that the adapter works best when it is plugged into a charging port. Check if your TV has a USB socket, and then plug the USB section of the adapter into it to keep it powered. If there is o USB port present, then plug it into an alternative power supply such as battery pack, Surface docking station, or whatever else.
2] Install the app
The first step is to install the Microsoft Wireless Adapter app to your Surface computer. It can be found in the Microsoft Store, and as expected, it's free to download and use. Make sure you are signed in with your Microsoft account before attempting to download it.
3] Connect to the adapter
OK, the HDMI end of the adapter must be plugged into the HDMI port on your TV or projector. From there, you will need to set the input method on your TV to HDMI.
From the Surface device, navigate to the Action Center, and click on Connect. You should now see a list of devices, so select the one that has the name of your Wireless Adapter, and right away the should be completed.
4] Connect with Miracast
You should first check if your TV supports Miracast, and this can be done by either looking through the manual or visiting the official manufacturer website. If everything is up to scratch, then let us move forward in earnest, shall we?
What we need to do, is revisit the Action Center, and click on Connect once more. Wait for all available devices to pop up on the screen, and select the one you want to connect with. Bear in mind that some devices might request a pin number before going forward with the connection, so please look out for that.
We are pretty certain everything laid out here will solve your problems, but if for some reason you're still affected, please leave us a note in the comments. Furthermore, using the Microsoft Wireless Adapter is probably the best option, so if you have yet to purchase one, please do.