Most people have never logged into the router to play around with the security settings. They just leave on the default option, and that's fine for most situations because the majority of modern routers are secured enough right out of the box. But what if that is not the case and you have no idea how to make the necessary changes to get things done? Definitely, you'll be in serious problems with a Wi-Fi network that is compromised. Luckily, we can help, but only to a degree because every router brand does things a little differently from each other. In this post, we will explain how to enable the WPA2 protocol on a router to ensure improved protection from outside forces.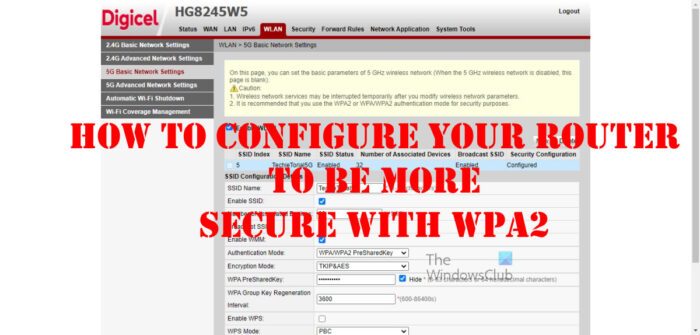 Configuring your wireless router to ensure WPA2 is enabled & used for security reasons is a good thing. Let us see how it is done.
What is WPA2 protocol?
WPA stands for Wi-Fi Protected Access, which is the predecessor to the much-improved WPA2. We should note that WPA3 is a thing, but it has yet to achieve mainstream adoption, and as such, WPA2 is still more widely used worldwide.
The folks at the Wi-Fi Alliance released WPA in 2003, but quickly got rid of it in favor of WPA2 due to several vulnerabilities. The biggest addition was Advanced Encryption Standard (AES), a military-grade security protocol that provides greater network security when compared to the likes of the Temporal Key Integrity Protocol (TKIP).
Still, that doesn't mean your WPA2 + AES network is 100 percent protected from outside interference. If a person has access to your router's username and password, they can cause a lot of trouble.
Read: Types of Wireless Network Security keys and how to secure them in Windows
When is it not possible to use WPA2?
Some older operating systems might not have support for the standard. For example, Windows XP SP1 and any other before it will not be able to connect to a Wi-Fi network protected by WPA 2. As it stands, then, you'll have to update to Windows XP SP2 to be in the safe zone. Another thing to consider is if you're using an older router from 2006 or earlier, then do not expect your network to be highly protected.
Read: Difference between WPA, WPA2 & WEP Wi-Fi Protocols
How to configure Router to use WPA2 and make it more secure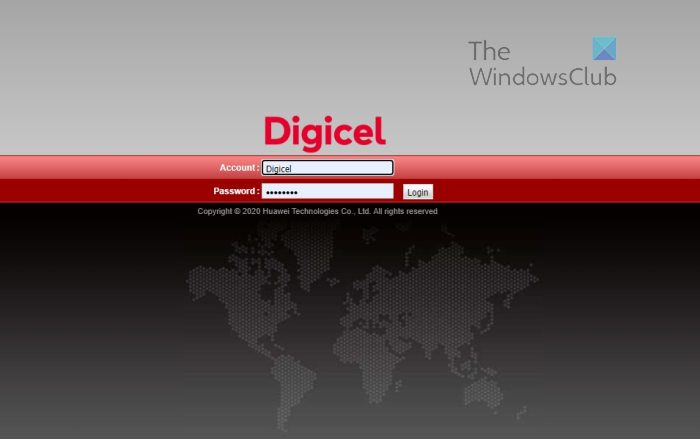 To make changes to your router to have WPA2 up and running, follow this method. The steps here may differ from router to router, so please keep that in mind:
Launch your web browser, type in the address bar the following: 192.168.0.1, or 192.168.1.1 and press the Enter key.
Log into your router using the default credentials. For those who changed their credentials and can longer remember it, press the reset button on the router.
From there, log in with the original credentials.
Click on WLAN from either the side panel or a tab.
From there, select either 2.4GHz Basic Network Settings, or 5GHz Basic Network Settings.
Ensure the Enable WLAN box is ticked.
Go to the section that reads, Authentication Mode.
Click the dropdown menu next to it.
Select the WPA2 option.
From the same page, look to Encryption Mode.
From that dropdown menu, choose AES.
Add a password.
Complete the process by clicking the Apply button.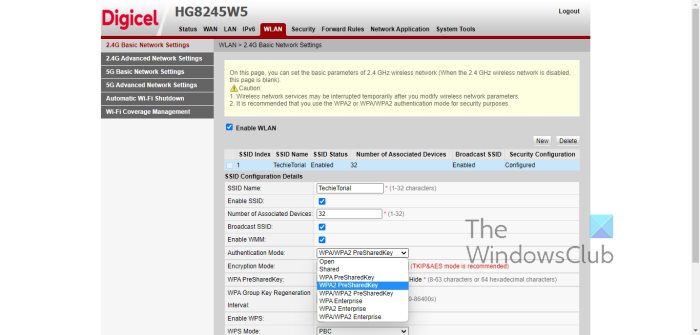 Once this is done, the router will refresh, and you may have to log in again. If you were connected to Wi-Fi, you will have to disconnect and connect again.
Read: Backup and Restore WiFi or Wireless Network Profiles
Should I use WPA3 or WPA2?
At the moment, most Wi-Fi devices might not have the means to connect to WPA3. Your Windows computer and smartphone might not be the latest, and as such, they may only support connecting to WPA2 and earlier. But that's fine because while WPA3 is far superior, WPA2 is still good enough, therefore, one shouldn't have much to worry about.
Does WPA2 slow Wi-Fi?
WPA2 when used properly, will not slow down your Wi-Fi speed. This tends to happen whenever WPA2 is paired with WPA and TKIS. Please try to avoid such pairings and you should be fine 100 percent. The best pairing here is WPA2 and AES, so please ensure things are well aligned accordingly.