When you install and activate Windows, the license is technically under your name or whoever owns the computer. But if you type winver in the Run prompt, the results will be surprising. It will say — The product is licensed under the Microsoft Software License Terms to the OEM or Windows User. In this post, we will show you how to change the registered owner and organization information in Windows 11 or Windows 10.
Before we begin, you should know that the license belongs to you, but that's how the default settings are in Windows – and using this method we will be only changing what is displayed.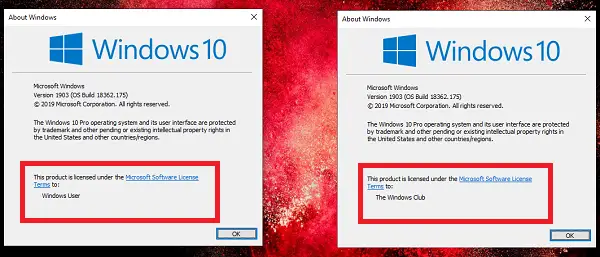 Change Registered Owner & Organization info in Windows 11/10
There are two ways of changing the registered owner and organization— Windows Ultimate Tweaker and Registry editing.  We suggest using the first option as it is much more comfortable. On top of it, our portable freeware Windows Ultimate Tweaker offers various tweaks which are not straightforward to find in Windows settings.
1] Using Windows Ultimate Tweaker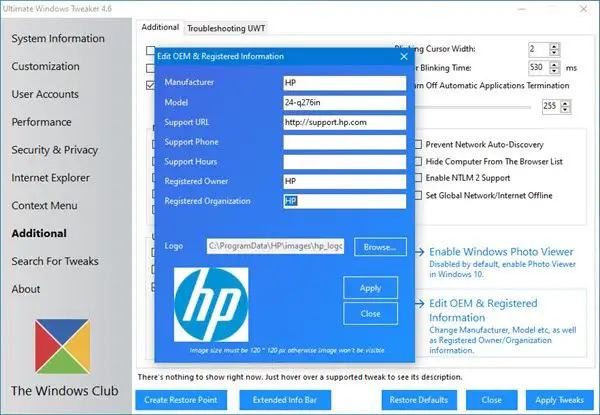 Download, and open the Ultimate Windows Tweaker. To change Registered Owner and Organization information, go to Additional, and click on Edit OEM Information link. It will open a pop-up window where you can change the following:
Manufacturer
Model
Support URL, Phone and Hours
Registered Owner and Organization information.
Make the changes and click on OK. Usually, a restart is not required, but if you don't see the changes, restart your computer.
2] Using Registry
When you install a fresh copy of Windows 10, you are usually prompted to enter an Owner Name and Organization or a Company name. Most of the time, we typically skip this step. To now change registered owner:
Open the Registry Editor by using regedit.exe in the run prompt followed by the enter key.
Navigate to HKEY_LOCAL_MACHINE\SOFTWARE\Microsoft\Windows NT\CurrentVersion key
Locate the key which says RegisteredOwner
Double click to edit it.
Now type whatever name you prefer to type and click on
Exit Registry.
Similarly, double click on RegisteredOrganization key, and add whatever you want to add there. Now when you type winver again, you should see the name you entered.
It is always a good idea to back up the Registry or quickly create a system restore point first before touching the registry.
Since this is a basic feature, it will not sync with your Microsoft account, and you need to change it every time you install the OS. If you are giving your computer to somebody after setting it up, you may choose to change the name of the owner to his or her name.