So, you're using YouTube, and it came to your attention that the language does not align with your own, or you just want to use the service in a new language you've recently learned. The question is, then, how does one request YouTube to change the language of its videos?
How to change Language on YouTube
Well, worry not because this is super easy. We're going to explain how to do this in great detail; henceforth, once we're finished here, you'll become a master at this.
Bear in mind that changing the language will not alter specific texts such as the title or description of a video. Furthermore, it is not possible to change the language on YouTube via the mobile app for both iOS and Android.
To change your YouTube language:
Visit the official YouTube page
Select the profile icon
Click on the Language section
Choose and set your preferred language
Let us discuss this topic in more detail.
1] Visit the official YouTube page
Okay, so before we begin, you must first open YouTube with your favorite web browser and then sign in with your Google credentials. This is basically your Gmail email address and password.
2] Select the profile icon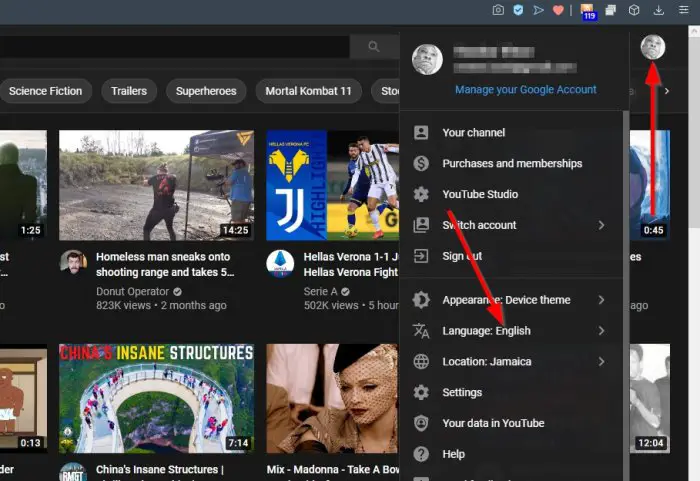 After you've signed into your YouTube account, you should now see the homepage. From there, click on the profile icon, then observe the dropdown menu that appears.
3] Click on the Language section
From the dropdown menu, you should see Language: (name of current language). Please click on it to see a list of supported languages.
Read: How to change YouTube subtitles language
4] Choose a language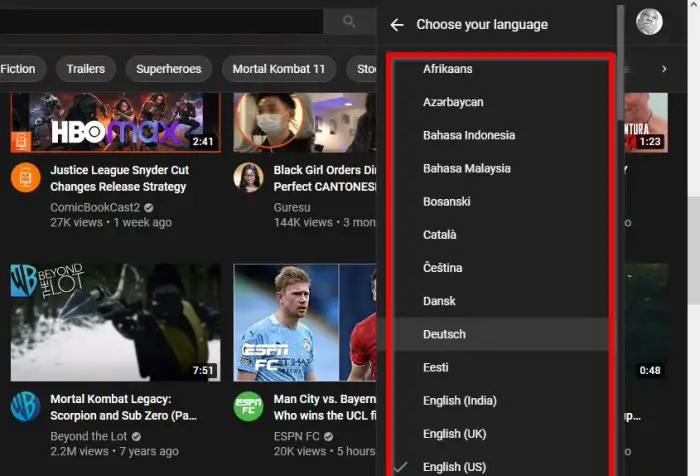 From the list, select the language that makes sense for you. YouTube will automatically refresh the page. So, if you've chosen Afrikaans, then much of the text on YouTube will be shown in that language.
We cannot say for certain if the change of language alters the videos recommended by the algorithm. Still, it is something you should pay attention to.
Read next: How to Disable Comments on your YouTube videos.