Mouse polling rate refers to the frequency at which the mouse tells the OS where the pointer is on the screen. That way, the OS can determine how often the pointer has changed position and is measured in Hertz (Hz). The faster the mouse reports to the OS, the better the accuracy, essential in fast-paced games. In this post, we will share how to change the mouse polling rate in Windows 11/10.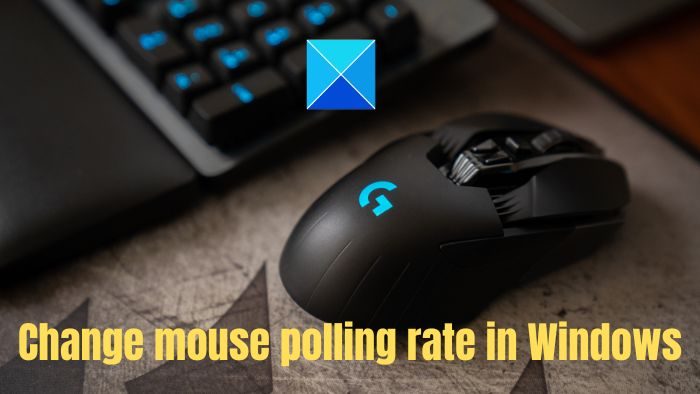 How to check current Mouse Polling Rate?
Windows doesn't offer any native method to determine the polling rate, so users are limited to third-party software. The common mouse polling rates range from 125 Hz to 1000 Hz, which the software or online tools can display. Sites such as Devicetests Mouse Rate test can be tried out here.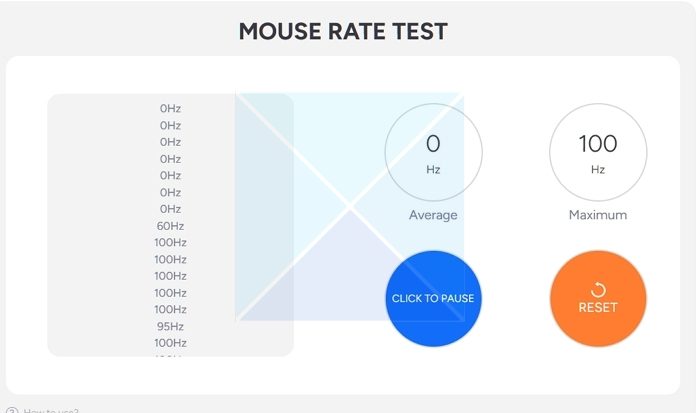 Before we start with the suggestions, be aware that changing the polling rate may not be possible in every mouse. It depends on how OEMs implement it and if they offer software that allows you to change it. 
How to change Mouse Polling Rate in Windows 11/10
There are three known ways to change the Mouse Polling Rate in Windows PC:
Software Utility
Keyboard Method
Hardware Button
You may need admin permission to execute these suggestions. 
1] Software Utility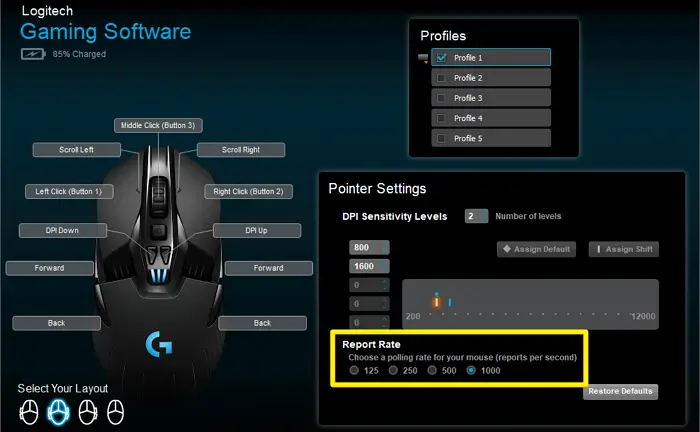 OEMs such as Logitech and Razer offer Logitech G Hub and Razer Synapse software that allows you to adjust your mouse's polling rate. You can switch between 125Hz, 500Hz, and 1000Hz. 
2] Keyboard Method
First, unplug the mouse, and leave it for a few seconds. Then follow the method as suggested below. Be aware that you must unplug and repeat the process every time you need to change. 
Change the polling rate to 125Hz: Hold down the mouse's side buttons (buttons 4 and 5) while plugging it into the USB port. 
Change polling rate to 500Hz: Press button 5 on the mouse while plugging it in. 
Change polling rate to 1000Hz: Press button 4 on the mouse and plug it in. 
If there is an indicator on the mouse, it will light up.
3] Hardware Button
Most gaming mouse allow you to switch to a higher polling rate with a button. When buying a mouse, make sure to check for videos and specifications that offer a button or allow you to customize existing buttons to change the rate and cycle between them.
In this post, we have shared how you can change the mousse polling rate, giving you a slight advantage when playing games or anything that needs more accuracy. However, according to many users, it may not make much difference.
What is a good polling rate for a mouse?
The best polling rate depends on different things and what you want to do. If you play games competitively or need precise movements, choosing a higher polling rate of 1000Hz is usually better if your computer and software can handle it.
Is a higher Mouse polling rate better?
A higher polling rate is generally considered better, especially for activities that require quick and precise movements, such as gaming or graphic design. You get better accuracy since it will result in smoother and more responsive cursor movements on the screen.