Device security in today's time has become paramount. Gone are those days when securing your computer addressed every security need. These days, hackers can access your wireless devices and exploit them in various ways. As a result, to enjoy a safe and secure experience, you must harden wireless keyboard & mouse security. This way, the hackers won't be able to access what you type and control what you want to click.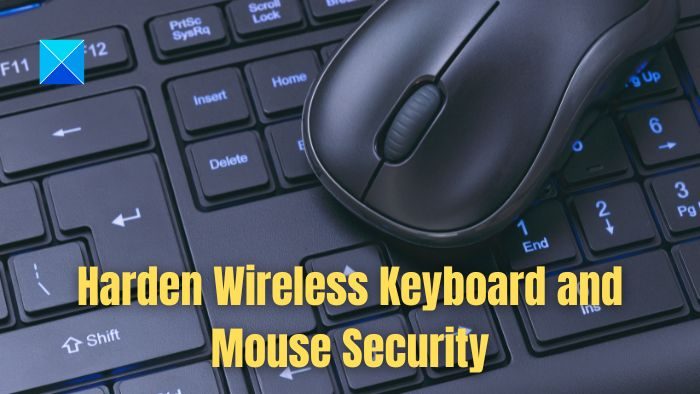 Harden wireless keyboard and mouse security to make it secure
Below are some quick yet best implementations addressing your wireless keyboard and mouse security.
Use a robust encryption protocol
Keep your software up-to-date
Change the default settings
Use a strong password
Avoid connecting to older Bluetooth versions
Turn off devices when not in use
Disable automatic pairing
Now let's talk about these methods one by one below:
1] Use a robust encryption protocol
If you want to secure your Bluetooth devices, the best way is to secure them at a device level. You must use a Bluetooth keyboard or mouse with AES or Advanced Encryption Standard AES 128-Bit Encryption. Encryption makes it much harder for hackers to intercept your keystrokes or mouse movements.
AES-level encryption is one of the top-level security standards available out there. A Bluetooth device with AES support would ensure that all the communications or connections between two wireless devices are fully encrypted.
Unfortunately, if you already use a regular Bluetooth keyboard, there is a good chance it doesn't have AES support. But you can always look for product descriptions online to verify them. Otherwise, it would be best if you bought wireless devices with AES encryption support to tighten your devices' security.
2] Keep software up-to-date
You should also keep your wireless keyboard and mouse driver up to date. You might already know that outdated drivers can pose a security risk to your system and may contain vulnerabilities or bugs that hackers can exploit. So it is a good practice to keep your device drivers up to date.
Even updating the drivers not only protects your system from any security threats. But it also improves the device performance, ensures the devices work fine with your operating system and contains various bug fixes.
3] Change the default settings
Next, you must change the default settings of your Bluetooth device. While connecting two devices, you don't usually see any password or encryption key for older Bluetooth devices.
But using any of the latest devices with authentication support requires passwords to pair up. Then make sure to change the default password and default encryption key to stay extra protected.
4] Use a strong password
If your Bluetooth device allows you to enter a password while establishing a connection, then use a strong password to protect the connection. Creating a 12-character long password that includes a mix of uppercase and lowercase letters, numbers, and symbols would be a good idea.
As a result, it will take more time or impossible for hackers to crack your password and gain access to your devices. You can use online password generators if you cannot come up with a strong password.
5] Avoid connecting to older Bluetooth versions
Additionally, you should also avoid connecting to devices with older Bluetooth versions. The latest Bluetooth versions support advanced security encryptions like SSP, AES-CCM, and others, whereas the older Bluetooth devices don't have these security encryption features.
As a result, if you are using an older version of Bluetooth, it would be easy for hackers to gain access to your devices.
Hence, it is a good practice to connect and use devices which has the latest Bluetooth devices. Also, you can check your existing device's Bluetooth version and see its encryption features. If anything seems outdated to you, you can consider replacing the device.
6] Turn off devices when not in use
Lastly, you should consider turning off your wireless keyboard and mouse when not in use. Leaving devices connected to your system can make the devices vulnerable to security breaches and hacking attempts. So it is always a good practice to turn off your devices when not in use.
Additionally, wireless devices are run on batteries. So turning off your devices would help you with energy saving, and it will also help in extending the overall lifespan of your devices. Some of the devices come with an auto sleep mode which will eventually ensure they are not available unless pressed or moved.
7] Disable automatic pairing
Some wireless keyboards and mice will automatically pair with any device in range that they have not previously paired with. This can be a security risk, so disabling automatic pairing and manually pairing devices with your computer is a good idea. You can use the OEM software or check for a hardware button to disable this setting.
Lastly, you can also consider creating a firewall setting on your PC to block unauthorized access to your keyboard and mouse. It will need detailed understanding, and we suggest taking the help of someone who can configure this for you.
Conclusion
So those were a few ways to harden wireless keyboard & mouse security. However, encryption and additional security options are only available to certain wireless keyboards and mice. For many keyboards and mice, you wouldn't see any encryption features. So the best way to secure your devices would be to switch to a secure keyboard and mouse combo if you don't already have one.
What features should I look for in a Secure Wireless Keyboard & Mouse?
When looking for a secure wireless keyboard and mouse, there are several things you must consider. For instance, it should have some sort of encryption, such as the AES 128bit or 256bit. It should also have some authentication that requires authentication before establishing a connection.
Can I use Encryption for my Wireless Keyboard & Mouse?
It depends on what kind of wireless keyboard and mouse you are using. Many modern wireless keyboard and mouse devices come with AES-128bit encryption, while the older devices don't offer such encryption features. So if your existing devices have encryption support, only you can use encryption features. Alternatively, if you are on the latest version of Bluetooth, it also offers encryption features.