Microsoft Office happens to be the best office software for a long time and will continue to do so till we do not get any other better text editor, sheets and balance manager, presentation maker and many other things. Microsoft office is being offered in many different languages, and even many regional languages of countries are also available for Microsoft Office.
If you have got a laptop recently which came with licensed Microsoft Office and licensed Windows than you will not be able to format the system fully just resetting the system and uninstalling the programs was the only option left for you. No matter what the default language is, Office can always be set to the language of your choice. This option is especially useful for the Non-English speaking regions. In order to change the language on the Microsoft Office 2019/2016 simply follow the steps detailed below.
Change Language in Microsoft Office
There are even times where you're friends or your children while working on your laptop might have changed the language now you want to revert it back. Or you might have selected the wrong language during installation and you want to change your language then here are the steps to do the same in any of the above cases.
Microsoft Office has three different areas where the language can be changed manually to any other language these three areas include:
User Interface,
Editing area,
Proofing tools.
Many will prefer having the UI and editing area having the same language while it can be different as per personal preference. Languages in all the three areas can be changed, in order to change check out the following steps,
With any of the applications of Microsoft Office 2016 select Options from the File ribbon. In the Options dialogue box select the Language tab. There must be a couple of languages that you can select and set as the default language. If you don't find your language then you can also click on the Add button.
See the Proofing tab if you have your language installed, if not then click on the Not Installed button and Office 2016 will take you to the page from where you can install the dedicated Language Accessory Pack.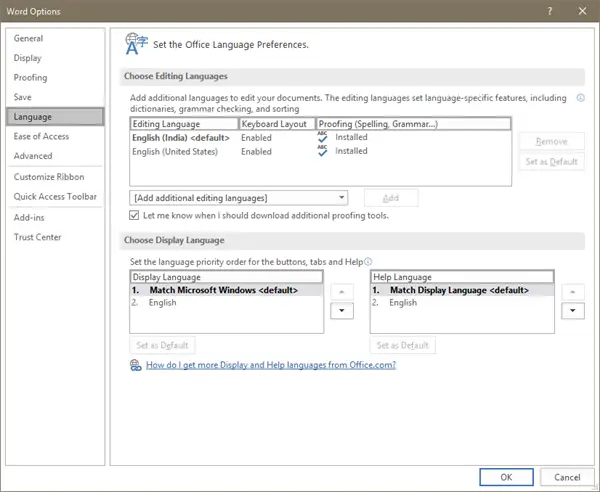 You can either Match Microsoft Windows language with your display language or can use the arrow key to change the same. Once you have changed the language, it will look something like this-
You can choose the languages of that particular region from the above steps still if you need any other help in changing the language then reach out to us in the comment section below.
We hope this article helps you in choosing the desired language in Microsoft Office 2019/2016.