Security is a virtue that the Telegram messaging app tightly integrates into its approach towards users. The app also offers many options to customize its interface for improving your overall messaging experience. If you are interested in knowing how to change the chat background in the Telegram app for Mobile or PC, read this short tutorial.
How to change chat background in Telegram
Your chatting session may appear less appealing or even boring if you don't have a proper background set for it. Telegram allows you to add effects, set any color as your background, apply a pattern, or tweak its intensity to suit your preferences. It is also possible to set any photo in the gallery as chat background.
Launch the Telegram mobile app.
Go to Settings.
Select Appearance.
Scroll down to Chat background.
Select the desired option.
Hit the Apply button.
Start messaging.
Let's cover the above steps in a bit more detail!
Launch your Telegram Mobile app.
Select Settings from the lower-right corner of your mobile screen.
Scroll down to the Appearance section. Choose Chat Background heading.
Now, Set a background image from the default collection or choose one from your image gallery.
Similarly, launch the Telegram app for Windows 10 PC.
Click the Menu button in the upper left corner of the app screen, visible as 3 horizontal bars.
From the list of options displayed, select Settings.
When the new window opens, select Chat Settings.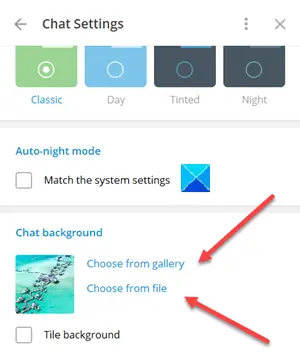 If directed to a new screen, move to the Chat Background section. There you will find 2 options to change the chat background.
Choose from File – Lets you set any photo from your gallery as your chat background. It also allows you to search the web for wallpapers.
Choose from Gallery – An option to simply set something nice real quick via backgrounds available in the official selection.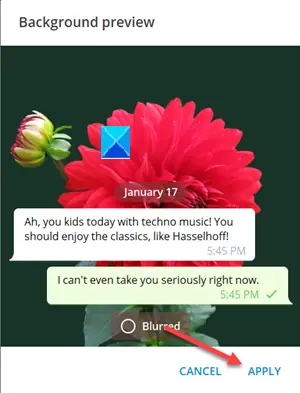 Select the desired option and preview the change in the background before hitting the Apply button.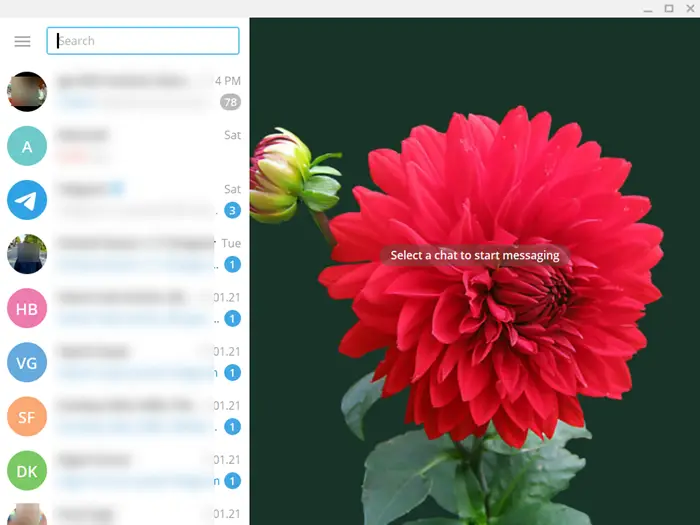 If all seems OK choose the background and start messaging!
Hope it helps!
Now read: How to hide Last Seen on Telegram.