In this post, we will show you how to add a recovery email address to Gmail. Gmail is a free email service by Google with more than a billion users worldwide.
Users can access Gmail via a web browser for its official mobile app. It stores users' data safely in the cloud and can receive messages from any device. Users can join or start a video meeting via Google Meet directly from Gmail. Also, by adding the chat feature to your Gmail inbox, you can chat directly in Gmail via the other person's email address.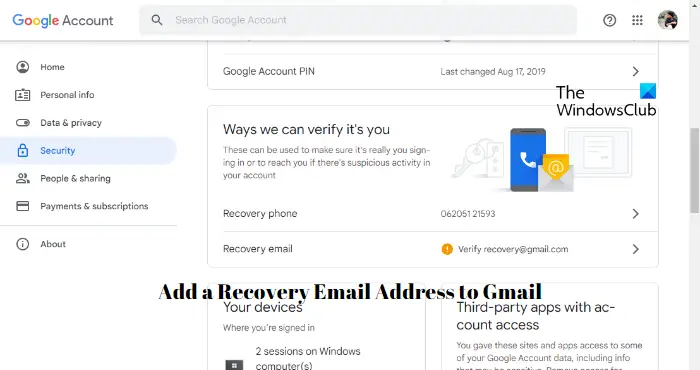 But what will happen if you have forgotten your Gmail password or if someone unauthorized is using your account? In this case, a recovery email plays a significant role. Adding recovery information to your Gmail account will help you get back into your Google account if you ever face difficulty signing in.
Is it necessary to have a Recovery email address?
A recovery email is not necessary, but it is beneficial to have one. This is because if something happens to your account, like someone unauthorized accessing your account or you may have forgotten the password, in that case, your email provider will send a verification email to your recovery email. This recovery email may contain a link or an OTP to help gain access to your account.
How to add a recovery Email Address to Gmail?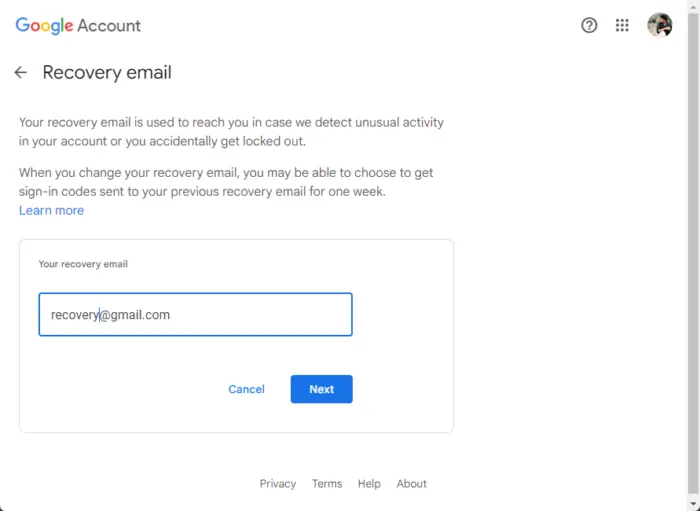 Follow these steps to add a recovery email address to your Gmail account:
Open Gmail on your preferred web browser.
Click on your profile picture at the top right corner and select Manage your Google Account.
Once your Google Account page opens, navigate to Security.
Scroll down and click on Recovery Email.
Google will now ask you to enter your account password.
On the next page, enter your recovery email and click on Next.
A 6-digit code will be sent to the recovery email. Enter the code and click on Verify to complete the procedure.
You've now successfully added a recovery email to your Gmail account.
Even after you have updated your recovery email, Google will still send a verification code to your previous recovery email address for seven days. This is to recover your account if someone starts misusing your account.
Can Recovery email see my emails?
No, your recovery email address will not be able to see your email or any other data. This is because the account is not linked to your email address. It will only be of use when you try to recover your account.