Depending on how often you use Gmail and how many emails are sent and received from your account, there is a good chance you'll come across a problem where the Gmail storage has run low. Whenever this happens, folks won't have the ability to send or receive new emails, so the question is, how can this issue be solved? We should note that Google provides free storage of around 15GB, but the problem is, that it is shared storage. That means, the 15GB is used not only for Gmail, but for Google Drive, Google Docs, Google Photos, and your WhatsApp backups if you own an Android device.
Gmail storage full?
How to fee up Gmail storage space
Now, folks can easily get around this problem by increasing storage with cash, but not everyone is in a position to pay a monthly fee, therefore, they have no choice but to manage the 15GB of space provided.
The good news is, that there are ways to recover storage, but doing so might not be the ideal solution for some because it requires the deletion of files. So, ensure what you're about to delete is backed up on a local hard drive or another cloud platform.
Delete unwanted emails
Change the quality of images on Google Photos
Delete files via Google Drive
1] Delete unwanted emails
The first thing we're going to do here is to delete emails you do not want or emails that are too large. The steps below will help you accomplish this task, so please read carefully.
Log into Gmail
First, fire up your favorite web browser.
Navigate to the official Gmail page.
Log in with the correct Google credentials.
Send emails to the trash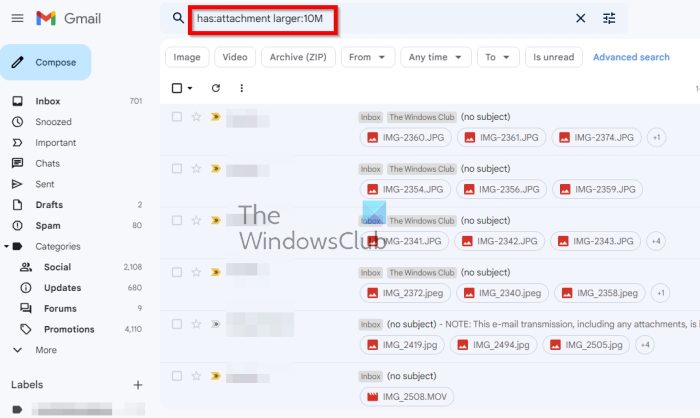 In the Gmail search bar, please type has:attachment larger:10M.
Right away you'll see emails with attachments larger than 10MB.
Select the emails you do not need.
Tap the delete button to send them to the trash.
Delete emails once and for all
Navigate to the trash area.
From there, click on the Empty Trash button.
All emails from the trash are now permanently deleted.
2] Change the quality of images on Google Photos
To continue, we now want to adjust the quality of pictures on Google Photos. This is just as easy as deleting emails from Gmail. Before we begin, you should backup all important photos if they're too large.
Log into your Google Photos account
Launch your web browser right away.
Next, navigate to the official GooglePhotos Settings
Log in with your Google credentials.
Change upload quality
After you've visited the Settings area, please click on Storage Saver.
Doing this will allow you to keep your photos, but the quality will be reduced to free up storage.
Alternatively, you can simply delete photos from your account once and for all if you want to free up additional space.
Related: Google Drive says Storage is full but it's not
3] Delete files via Google Drive
Another way to regain much-needed space is to delete files from Google Drive. But we're only going to remove the largest files, the ones that are more likely to put stress on your storage.
Navigate to the Quota page on Google Drive via your favorite web browser.
Next, log in with your official Google credentials.
From there, you should see a list of files.
The list begins with the largest files at the top.
Delete the ones you no longer want, and that's it, you're done.
Read: Gmail is not opening in Edge
Does deleting emails free up space on Gmail?
The answer to that question is yes. If you delete emails, you can free up space on your Gmail account. However, to see significant gains, you must delete emails with attachments. A typical email with no attachment doesn't take up a lot of space on your account, and as such, we suggest leaving them alone unless they need to go.
Why is my Gmail out of storage?
There can be several reasons why Gmail is out of storage. The most typical is maybe you have too many large files in your account. And we're not just talking about your Gmail account, but all other accounts that share the 15GB of free storage offered by Google. Solve this issue by deleting emails, and files, or spend some money to increase your storage to something more manageable.