Some users of Google Drive have been experiencing a strange error with their Google Drive account. The account shows that the storage is full, but that is not the case. This is likely happening because your Google Drive storage is shared across your Google account, which means files stored in Gmail, and Photos, also use your Drive space. There could be other reasons as well but worry not because we aim to discuss all plausible causes.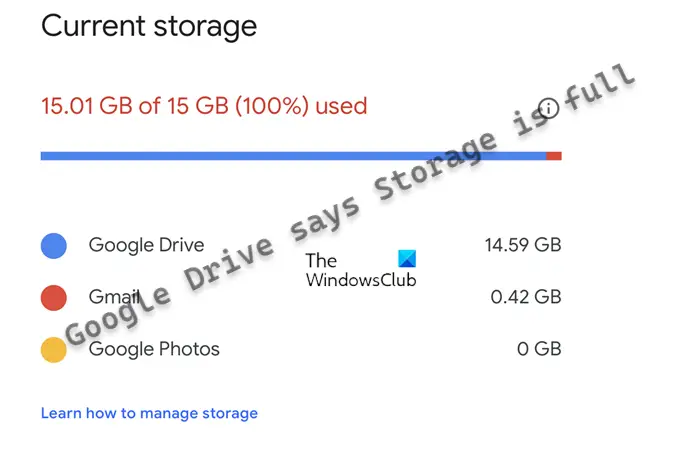 Google Drive says Storage is full but it's not
If Drive is saying the storage is full, even when you know that it is not, then your best bet is to delete large and unwanted files permanently. We explain in detail how to accomplish these tasks.
Clear the Google Drive Trash bin
Delete large files from your Google Drive storage
Delete app data located on Google Drive
Delete content from Google Photos
Delete orphaned files
Delete all unwanted emails from your Gmail account
1] Clear the Google Drive Trash bin
Just like Windows and every other desktop operating system, Google Drive has a Trash bin. When files are removed, they are instantly sent to the Trash where they will stay for 30 days before being automatically deleted.
You don't have to wait for the completion of the 30 days to have these files deleted. The option is there to get the job done yourself.
Launch your favorite web browser.
Navigate to drive.google.com.
Sign in with your official Google credentials.
From there, click on Trash located on the left panel.
Finally, click the Empty Trash button, and that's it.
2] Delete large files from your Google Drive storage
Now, if you are still having problems, then chances are you have one or more large files that need to go. The question is, how can we easily find these files, especially if there are hundreds located in your account? Well, we've got the answer.
From the Google Drive homepage, click the Storage button.
Via the top-right section, select Storage Used.
Ensure the arrow is pointing downwards.
You should now see your largest files at the top of the list.
Select the large files you want to delete.
Click the trash icon, then empty the bin once you're done.
3] Delete app data located on Google Drive
From what we have come to understand, Google Drive not only stores files from various Google services but also third-party apps as well. For example, we do know folks can choose to upload their WhatsApp data to their Drive account for use at a later date.
Navigate to Google Drive right away.
Click on the Gear icon located at the top-right.
From the dropdown menu, select Settings.
Go to Manage Apps via the sidebar.
Next, you must select Options for an app.
Finally, click on Delete Hidden App Data.
Do this for every app to fully clear your app data and potentially recoup large amounts of storage.
4] Delete content from Google Photos
Videos and photos stored in your Google Photos account can take up a lot of storage; therefore, it would make a lot of sense to delete photos and videos that are not important. If all goes well, the full drive error should disappear after this.
Navigate to Photos.Google.com via your favorite web browser.
From the left panel, select Photos.
Hover over each photo or video you want to delete and click on the tick.
Click on the Trash icon located in the top-right area of the page.
Next, click the Move to Trash button.
Finally, go to the Trash area and select Empty Trash to delete the files permanently.
Read: How to permanently delete all Google Drive files
5] Delete orphaned files
Sometimes, when you delete a folder from Google Drive, the files within it do not get deleted. To view such orphaned files search for the keyword is:unorganized owner:me. If files show up, you can delete them.
6] Delete all unwanted emails from your Gmail account
Emails do not take up a lot of space, but the ones with large attachments do. The plan here is to find emails that are larger than normal and have them removed.
Open your browser and navigate to Gmail right away.
Click on the Show Search option.
From the Size area, select Greater Than.
Enter the preferred size in MBs. We went with 15MB.
Click the Search button below.
You will see emails that are larger than 15MB.
Select them using the checkbox, then hit the Trash icon.
Clear the Trash folder in Gmail, and that's it.
If everything goes according to plan, then you should now have sufficient space in your Google Drive account.
Read: Google Drive for Desktop not syncing on Windows PC
Is there a storage limit in Google Drive?
Your Google Account comes with a maximum of 15GB, and it is shared across all Google services, which includes Drive. Google does offer increased storage space at a price that is useful for those who keep a large number of files and videos.
What happens when Google storage is full?
Simply put, you cannot send or receive messages via Gmail. Images and videos from your Android device will no longer be uploaded to Google Photos for safekeeping. You will be given options to upgrade to a higher storage plan or to free up storage space by deleting unnecessary files, photos, or emails.