Many HP users have complained that they received an HIDClass device driver update to their Windows 11/10 laptop/desktop in Windows Update but the update failed to install. While other updates are installed easily, this driver update remains failed and an HP HIDClass error 0x800703e3 message is displayed there. Even after pressing the Retry button and computer restart doesn't help in any way. Whatever may be the reason for this error, thankfully there is a solution to get rid of this problem. If you are also facing this update error, then the solution covered in this post might help you.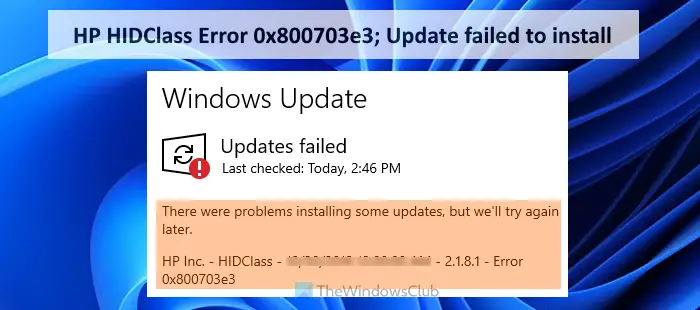 The error message that users receive for this HIDClass driver update looks like this:
There were problems installing some updates, but we'll try again later.

HP Inc. – HID Class – Error 0x800703e3
HIDClass Error 0x800703e3; Update failed to install
Here are the steps to fix this error 0x800703e3 for the HP HIDClass driver update:
Open the Microsoft Update Catalog website
Click on the Search box text field available on the top right part
Type hp wireless button
Press the Enter key or click on the Search button
A list of drivers with driver title (along with driver date, version, and time), classification, size, version, and other columns will be visible to you. Now, you need to find the driver that is compatible with your Windows OS version from that list. To make it easier, carefully look for the error message that you received (that includes the date, time, and driver version) in the Windows Update section. You will see the driver title in Microsoft Update Catalog search results with an exact date, driver version, time, and Windows version
Once you find the compatible driver, click on the Download button available for that driver
A separate box will pop up where you will see a download link for a CAB (*.cab) file. Click on that link and this will help you download the selected driver in a CAB format file to your computer
Access the folder or location where you downloaded that file
Double-click on the CAB file. A folder will open where you will see the list of all the content or files stored in that CAB file
Copy all the files
Paste all the copied files to a folder
Right-click on the WirelessButtonDriver.inf file
Click on the Install option
You may see a Security Warning box prompting you if you want to open that file. In that box, press the Open button.
That's it! Once the process to install that driver is completed, restart your computer.
After that, open the Settings (Win+I) app, and access the Windows Update section. Click on the Retry button if it is visible and Windows will check for updates like normally. This should solve your problem and that error message should be gone now.
How do I fix Windows Update error 0x800703e3?
Just like some users reported HP HIDClass error 0x800703e3 on Windows Update, in another case, some users receive the same error code for different Windows Update. For the first problem, the solution is covered in this post above. And, to fix Windows Update error 0x800703e3, there are a few solutions that might come in handy. These are:
Use Windows Update Troubleshooter
Manually install Windows Update
Reset Windows Update Components.
How to fix Windows Update not working?
Windows 11/10 users face Windows Update problems from time to time. Sometimes, they find that Windows Update is not working, stuck on checking for updates, or the Windows Update section becomes blank. If you also face such problems, then below is a list of fixes that might come in handy:
Delete the SoftwareDistribution folder
Install Windows Update Agent (if not already)
Run Windows Update Troubleshooter
Re-register DLL files that are needed to make Windows Update work properly.
Hope this will help.
Read next: Windows Update fails to install or will not download.