If Hearthstone is crashing and locking up your Windows 11/10 PC, then this post offers a few fixes that can help fix the issue and play the game with ease.
Hearthstone is a fun card game set in the world of Warcraft. It is a fun-to-play game between two players with 30 cards. Developed and launched by Blizzard entertainment, it has gained traction among the gamers for its design, characters, etc that are continued from the Warcraft game. Some of the gamers are experiencing a few glitches that cause Hearthstone to crash or lock up their PC. Let's see how we can fix it.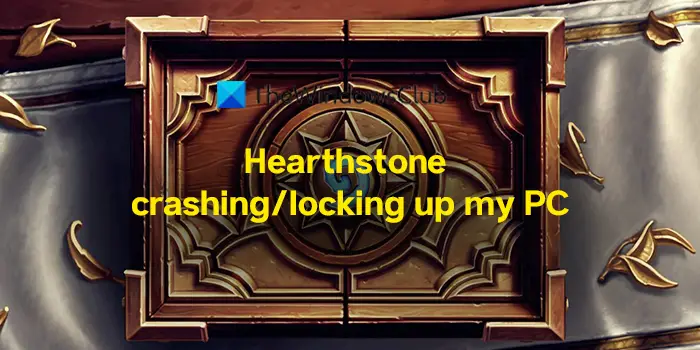 Hearthstone keeps crashing and locking up Windows PC
The following are the different fixes you can employ when you find Hearthstone crashing to locking up your PC. Before that make sure, none of the game files are corrupted. If you think, the game files are corrupted or missing, reinstall the game before trying any of the fixes.
Make sure your PC meets minimum requirements
Update Graphics driver
Delete Temporary Files
Alter Graphic settings
Reinstall Hearthstone
Let's get into the details of each method.
1] Make sure your PC meets minimum requirements
For Hearthstone to run on your PC without any trouble, there are minimum PC requirements laid out by the developers for improved performance while gaming. Make sure your PC exceeds or matches with it.
The minimum PC requirements for Hearthstone are as follows:
Operating System: Windows 11/10/8/7
Memory: 3 GB RAM
Storage: 3 GB available HD space
Processor: Intel Pentium D or AMD Athlon 64 X2
Video: NVIDIA GeForce 8600 GT or ATI Radeon HD 2600XT or better
Resolution: 1024 x 768 minimum display resolution
 2] Update Graphics Driver
The crashing might also be occurred due to the graphic driver on your PC. Make sure it is up to date. You need to update the graphics driver to the latest version and see if it has fixed the issue. You can also search for driver downloads for your system on the internet and then search for the driver's name on the site.
3] Delete Temporary Files
There are chances that the temporary game files of Hearthstone on your PC may cause it to overclock CPU which in turn result in locking up your PC. Delete temporary files on your PC before launching the game and see if it fixes the issue.
4] Alter Graphic settings
The other way to fix the performance of Hearthstone on your PC is to adjust the graphic settings on your PC through NVIDIA control panel or AMD Radeon settings which can be accessed through right-click context menu on the desktop. You need to set Power management to maximum and tweak a few settings according to the requirements of the game.
5] Reinstall Hearthstone
If the issue is not yet fixed, the only way is to uninstall the game from your PC, delete its traces, and reinstall it on your PC. You can do it through the settings app on your PC.
The fixes should have helped fix the issue by now.
Related: HearthStone Game keeps freezing, stuttering, disconnecting on PC.
Why does my Hearthstone keep freezing?
Hearthstone keeps freezing due to various reasons. Some of them may be for corrupted files, missing files, your PC configuration not matching the minimum requirements, conflicting programs, and many more reasons as such. That's why it is always important to check the minimum hardware requirements before purchasing a game.
How do I repair Hearthstone?
You can repair Hearthstone and other Battle.net games by using the Repair Tool. Before you run the repaired Tool, it is suggested to check for updates. To use the Repair tool, click on the cogwheel next to the Play and select Scan and repair. Now, select Begin scan. Wait till the repair process gets finished.
Related read: Best Activision Blizzard games you can play on your PC.