Microsoft publishes a server line for its operating system – known as Windows Server. It is meant to be run on servers specifically found in large-scale workspaces or organizations. If you are interested in knowing what are the hardware requirements to run Windows Server, this post is for you. Today, we will be discussing what are the Hardware Requirements for the latest Windows Server 2022 Edition.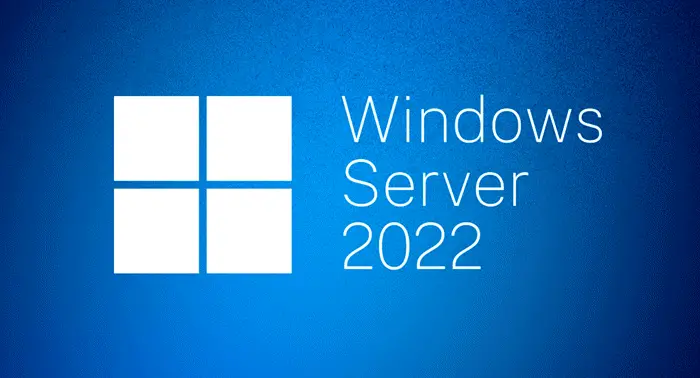 What are the Hardware Requirements to install Windows Server 2022?
We will list the minimum Windows Server 2022 hardware requirements for the following components:
Processor
RAM
Network adapters
Disk Space Requirements
Others
1] Processor
Two key factors are affecting a processor's efficiency; the cores & size of it and its clock frequency. To install Windows Server properly, your system has got to have at least a 1.4 GHz 64-bit processor that is compatible with an x64 instruction set. Additional security features like (DEP) and NX Bit should also be supported. If you want to check if your CPU complies with these requirements and where is it that it's falling short, you can make sure of Coreinfo.
2] RAM
The minimum requirement for the RAM on your PC is for it to be at least 512MB big (a commonality in all computers made these days). It is also required to be equipped with ECC (Error Correcting Code)
3] Network Adapters
The network adapters on your PC should consist of an ethernet adapter which should be capable of pumping at least 1 gigabit per second. Your network adapters should also comply with the PCI Express architecture specification.
4] Disk Space Requirements
The hard disc on your PC should be able to hold at least 32GB of data to run Windows Server, while the installation of the GUI requires an additional 4 gigabytes.
5] Others
There are some other requirements that you need to take care of as well. Your PC should be equipped with a DVD drive if you plan on installing Windows via disk media. Other requirements include:
UEFI 2.3.1c-based system and firmware that supports secure boot
Graphics device and monitor capable of Super VGA (1024 x 768) or higher-resolution
Keyboard and Microsoft mouse (or other compatible pointing devices).
Related: Windows Server 2022 vs 2019 vs 2016 Feature differences
What are the minimum specs requirement for Windows Server installation?
To install Windows Server properly, your system has got to have at least a 1.4 GHz 64-bit processor, 512MB RAM,32GB Hard Disk, and other requirements detailed in this post.
Read: Windows Server 2022 Editions compared.
Is TPM required for Windows Server 2022?
A Trusted Platform Module (TPM) chip is required in order to use certain features such as BitLocker Drive Encryption. It must meet these requirements:
Hardware-based TPMs must implement version 2.0 of the TPM specification.
TPMs that implement version 2.0 must have an EK certificate
TPMs that implement version 2.0 must ship with SHA-256 PCR banks & implement PCRs 0 through 23 for SHA-256.
PCR bank that can be used for both SHA-1 and SHA-256 measurements.
A UEFI option to turn off the TPM is not a requirement.
We hope that this article was able to sufficiently clear all the doubts you had concerning the minimum hardware requirements of the Windows Server 2022 edition.