It can be frustrating when your hard disk or partition is not detected when installing Windows 11 and you get to see an error message that says— We couldn't find any drives. To get a storage driver, click Load Driver.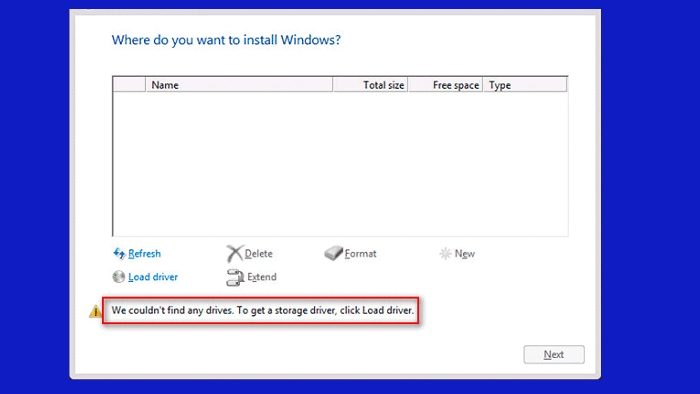 Even when you click on Load driver, you get an error that says, "No drives were found. Click Load Driver to provide a mass storage driver for installation."
The next question that may come to your mind is – Is my hard disk dead? In most cases, if your SSD or HDD doesn't get detected for various reasons, it doesn't mean it is damaged.
What is the Hard Disk or Partition not detected error about?
We couldn't find any drives error during Windows Setup occurs when it fails to identify any available hard disk drive or partition on your computer where it can install Windows. The issue can occur for many reasons, such as the inability to detect partitions, missing or outdated storage drivers, improver BIOS configurations, faulty SATA cables, and more.
Hard Disk or Partition not detected when installing Windows 11/10
First, if you are reinstalling Windows and your PC is normally booted up, your HDD works absolutely fine. However, if you are installing Windows for the first time, you cannot rule out the thought that your HDD is not working fine.
However, here are some quick troubleshooting methods that you can try out:
Use a different SATA Port
Check the Hard Drive in BIOS
Load Disk Driver
Disconnect all internal attached hard disks
We couldn't find any drives, To get a storage driver, click Load Driver
1] Use a different SATA Port
If you are using a desktop, consider using a different SATA port than the one you use. The SATA port connects your internal storage drives like HDD or SSD to the motherboard. And your computer's motherboard should have a few extra ports.
To remove the SATA cable from the existing port, press the side element at the end of the cable and pull it out. Then insert it into another port, boot up your PC, and see if it works for you.
Read: SSD not showing up in Disk Management or BIOS
2] Check the Hard Drive in BIOS
You should also ensure that your Hard Drive is being shown up in the BIOS and it has the correct settings.
To get into the BIOS menu, restart your PC and constantly press the Delete key. The Delete key should work for most desktops/laptops. But you can always search for the correct key combinations to enter the BIOS for your desktop or laptop model.
From the BIOS, go to the Advanced menu.
Then make sure that your SATA configuration is set at Enhanced.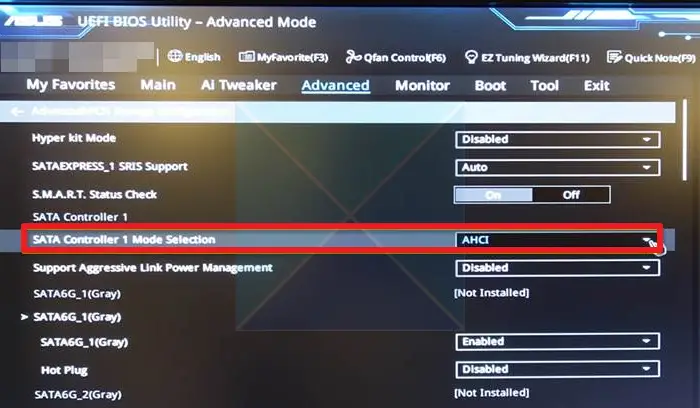 And your Sata Controller Mode setting is set at AHCI.
If these settings are correct, save the changes, reboot your PC, and boot up again to see if it works for you.
Also, if you don't see the HDD in your BIOS – there is a high chance that your HDD is faulty.
Note: The BIOS menu differs from one PC to another, so the steps may vary a bit for you.
Read: Internal SATA drives show up as Removable Media
3] Load Disk Driver
Before proceeding with this step, download the storage driver from the OEM website. You must use another PC and an additional USB drive to keep a copy of the driver on it.
In the Windows installation, select the partition window, and you should see a Load driver button.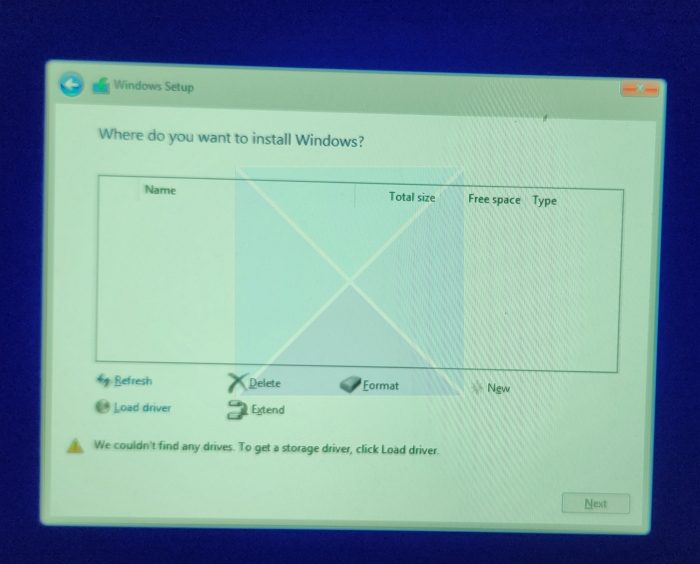 Click on the button, and it will perform a quick scan to look for any available HDD or SDD for Windows installation.
It will show no drives were found if it doesn't find anything. Click Load driver and the browser to select the driver.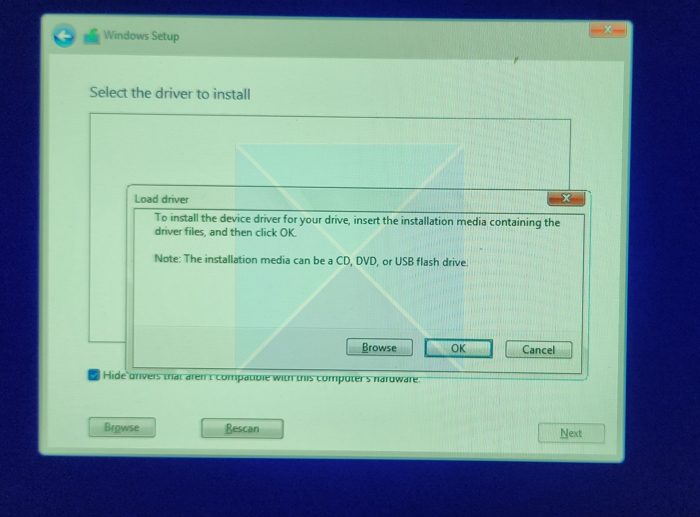 Click on Load driver again to see if it helps solve the issue. If it returns with No drivers were found. Click load driver to provide a mass storage driver for installation errors.
Fix: Hard Drive Not installed problem.
4] Disconnect All Internal Attached Hard Disks
Many use two disk drivers for their PC – an SSD and an HDD. The SSD is used for Windows installation, while the HDD serves the purpose of storing files.
If the same goes for you, it is advisable to disconnect all the storage drivers from your PC except the disk where you wish to install your Windows.
This way, if there is any glitch, it will get solved. Also, by doing so, you can remove any confusion in formatting the incorrect drive.
After removing all the drives other than the target drive, reattempt to install Windows. If it works, you can reconnect all your additional drives after installing Windows.
Read: Hard Drive not showing up on Boot Menu in Windows
Those were a few ways to fix hard disks or partitions not detected when installing Windows 11. As long as your HDD is not corrupted and it is being detected by BIOS, the above methods should help you out. Alternatively, you can recreate your Windows media installation disk and see if it works.
Read: BCDboot command fails with error Total identified Windows installations 0
Why is my HDD not detected in BIOS?
First, inspect the cables linking the HDD to the motherboard to identify any loose or defective connections. Make sure the power cable is connected correctly and attempt different power connectors. Confirm that the HDD is enabled in the BIOS configurations. If the problem persists, the HDD could be faulty or malfunctioning.
Read: Crash dump initialization failed, Event ID 46
How do I know if my BIOS is MBR or GPT?
To determine if your BIOS is using MBR or GPT, access the Disk Management utility in Windows. Right-click on This PC, select Manage and then click on Disk Management. Look for the Partition Style column, indicating whether it's MBR or GPT.