Group Policy templates used to be backward compatible in the earlier versions of Windows, but this has changed with Windows 11. Some of the settings that Windows 11 offer is not available in Windows 10, and changing them is not straightforward anymore. That said, Microsoft has recommended a set of policies that IT admins should not use for Windows 11 if they plan to upgrade.
What are Legacy Policies?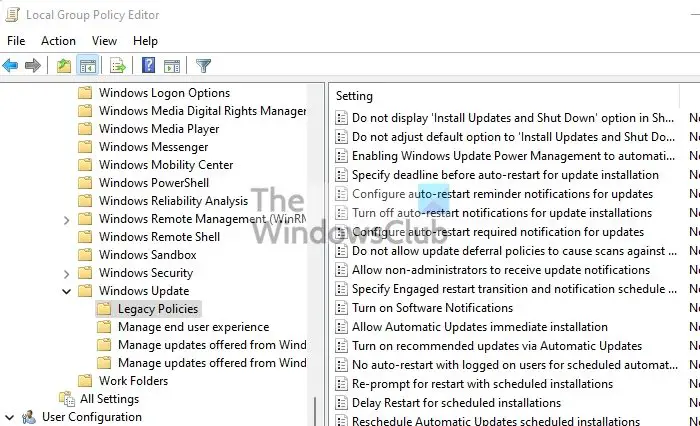 Windows 11 ADMX template offers a sub-section called Legacy Policies. These recommended policies will still work for Windows 10, version 20H2, and above. Microsoft has put up a set of recommendations where such group policies should not be used.
Group Policy settings you should not be using on your Windows computer
Here is the list of policies that you don't need to change, and even if you do, they will have no effect. Some of the policies do affect but negatively, such as dramatically reducing compliance and the velocity at which the device takes updates. That said, some have alternatives as well. So make sure to go through the description for each of them.
Do not display 'Install Updates and Shut Down" option in Shut Down Windows dialog box
Do not adjust default option to 'Install Updates and Shut Down' in Shut Down Windows dialog box
Specify deadline before auto-restart for update installation
Delay Restart for scheduled installations
Configure auto-restart reminder notifications for updates
Turn off auto-restart notifications for update installations
Allow non-administrators to receive update notifications
Specify Engaged restart transition and notification schedule for updates
Turn on Software Notifications
Allow Automatic Updates immediate installation
Re-prompt for restart with scheduled installations
Reschedule Automatic Updates scheduled installations
Configure auto-restart warning notifications schedule for updates
No auto-restart with logged on users for scheduled automatic updates installation
Select when Feature Updates are received
Defer Upgrades and Updates
Select when Feature Updates are received
Turn on recommended updates via Automatic Updates
Do not allow update deferral policies to cause scans against Windows Update
Update Power Policy for Cart Restarts
If you are looking for more insights on each of these, read more about it on microsoft.com.
Which ADMX policy should you deploy in your Enterprise?
Microsoft recommends that it will depend on your strategy. If you plan to move to Windows 11 with a few Windows 10 PCs around, you need to deploy Windows 11 ADMX policy in the Group Policy Store. For Windows 10, you can use the RSAT: Group Policy Management Tools to manage them.
Read: Which GPO ADMX to use for a Windows 11/10 Mixed Environment?
Why should we use Group Policy?
One of the most significant advantages of using Group Policy is that it allows you to manage and centrally deploy company-based or software-based policies over a network. So there is no need to configure each of the PCs individually. It is also handy to manage a set of old or legacy computers. You can use the Group Policy to achieve this.
Read: Recommended Windows Update policies Admins should be using.