If some of your Group Policy areas, settings, or folders are missing in Windows 11/10, then you need to re-register these DLL files. On a standalone computer, you normally use the Local Group Policy Editor, but on networked or AD computers you use Group Policy Management Editor.
This post is not about the Missing Group Policy Editor in the Home edition; it is about these areas that may be missing in the Group Policy of your system.
Group Policy settings missing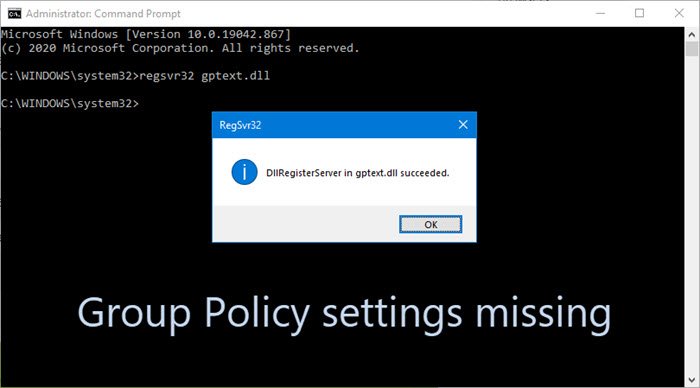 By default, all of the Group Policy related MMC snap-in DLLs can be found in %systemroot%\system32. To resolve this issue, you need to re-register the missing MMC snap-in DLL that implements the missing functionality.
To do so open an elevated command prompt and execute the following command:
regsvr32 <snap-in-dll>
Depending on which settings or folders are missing, replace <snap-in-dll> with the following names:
Administrative Templates and Scripts: gptext.dll
regsvr32 gptext.dll
Folder Redirection: fde.dll
regsvr32 fde.dll
Internet Explorer Maintenance: ieaksie.dll
regsvr32 ieaksie.dll
IP Security: ipsecsnp.dll
regsvr32 ipsecsnp.dll
Public Key and Software Restriction: certmgr.dll
regsvr32 certmgr.dll
Remote Installation Services: rigpsnap.dll
regsvr32 rigpsnap.dll
Security: wsecedit.dll
regsvr32 wsecedit.dll
Software Installation: appmgr.dll
regsvr32 appmgr.dll
Once done, restart Group Policy Editor and this should work.
Says Microsoft,
When you focus on the local GPO with the MMC Group Policy Editor snap-in, it is normal that some policy areas that you would normally see when editing an Active Directory-based GPO are not present. This is expected behavior because the local GPO only supports a subset of the features in an Active Directory-based GPO.
However, sometimes even in Active Directory-based GPOs, some settings that should be there might go missing because the concerned DLL file may have got de-registered. Re-registering the DLLs as mentioned above is sure to help you. If it doesn't, then you may need to use the DISM tool or use the Cloud Reset feature.
Similar posts that may interest you: