While visiting a website that has content written in a language other than English, you will see the Google Translate message instantly popping up under Chrome's address bar. This can be annoying especially when it's your native language and you have no problem reading the content. So, if this feature is of no use, you can disable it.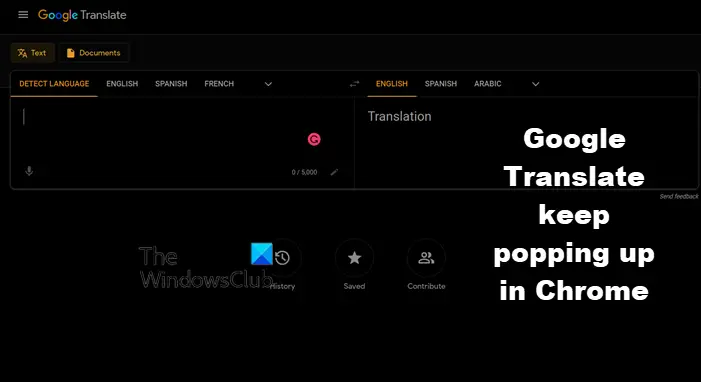 Google Translate keep popping up in Chrome
By default, the Chrome browser displays the popup to translate the text on Web pages into the language you've set as default. However, if you find this feature annoying and would like to disable the Google Translate popup completely follow these steps.
Launch the Chrome browser.
Hit the More button.
Choose Settings.
Select the Advanced option.
Click Languages and then Language.
Turn off the option – Offer to translate pages that aren't in a language you read.
The popup can be helpful for first-time users who do not know that such an option exists and would like to have quick access to it to translate the pages into their preferred language. But seeing this button every single time can be quite bothering.
Launch the Chrome browser.
Click the Customise and control Google Chrome button, visible as 3 vertical dots in the upper right corner of the browser screen.
From the list of options displayed, select Settings.
Next, Hit the Advanced drop-down menu seen under the sidebar on the left.
Choose the Languages tab. Switch to the right pane. There, click the Language drop-down button to expand its menu.
Scroll down a bit to go to the Offer to translate pages that aren't in a language you read heading.
Simply move the slider next to the heading to Off position.
This will disable the Google Translate pop-up completely and you will no longer see it appearing again.
What is the function of Google Translate?
As the name itself suggests, the main function of Google Translate is to translate text into the desired language. With its Google Translate app, you can translate handwriting, photos, and speech in over 100 languages. You can also use Translate on the web.
Can Google Translate be used offline?
Yes, if you're traveling somewhere and don't have access to the internet, you can still use the Google Translate app on Android and iOS when your phone is offline. If you do not have the app, you can download it.
Related: How to translate Google Docs documents into any language.