Here is an interesting extension for the Google Chrome browser, that lets users browse definitions of words just in some clicks! The main feature of this extension is that, whenever you are browsing the web and you come across any word whose meaning you don't know, you just double click and highlight the word – Google Dictionary will immediately show you the meaning of it.
Google Dictionary extension for Chrome
If you are not satisfied with it, you can also click on the More button and get additional information. Alternatively, you can also directly search meanings of words by entering your search terms in the top right corner.
With this extension, you can:
Double-click any word to view its definition in a small pop-up bubble.
View the complete definition of any word or phrase using the address bar dictionary.
Both features are configurable via the options page.
After you have installed it, you should see the icon on the top right corner of your browser :
Now that you've installed it properly, try double-clicking any word.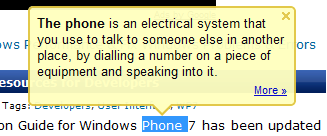 For installing this useful extension, head over to the Google Dictionary Extension's Install Page.