We click a lot of pictures on our phones, camera, tablets and what not. And then we even change our devices often. As our picture library keeps growing, it becomes difficult to maintain pictures in different folders and drives. Sometimes we even lose them. But say goodbye to the hassle of maintaining a perfect picture library without losing pictures. We already are familiar with backup service integrated with Google Photos on our mobile devices. Google has released the same backup tool for your Windows PC so that you can always backup all your documents, files, photos as well as your Windows desktop and save them to cloud on your Google Drive and Google Photo accounts. The tool is called Backup and Sync Tool.
Backup and Sync Tool from Google
This free software directly backs up your photos and files onto your Google Drive. The tool is completely free to use and all you need is a Google Account to get started. I will walk you through the process of synchronizing your pictures using this tool.
Once you've downloaded and installed Backup and Sync, the first step will be to sign-in using your Google account. And in the next step, you need to choose the folders from where you want to backup pictures and other data.
Backup files to Google Drive and Google Photo
For photos and videos, there are two available qualities. The 'High Quality' images are a size-reduced version of your original image but visually they look almost the same. If you choose 'Original Quality', the images will be uploaded as it is without any changes or rendering.
The best part about Google Photos and Google Drive is that you get unlimited storage for High-Quality pictures which is simply awesome. If you are uploading in original quality, the images would rather be stored on your Google Drive eating up your cloud storage space.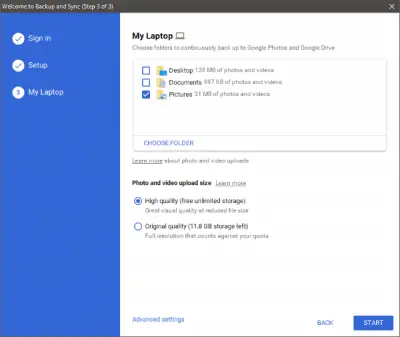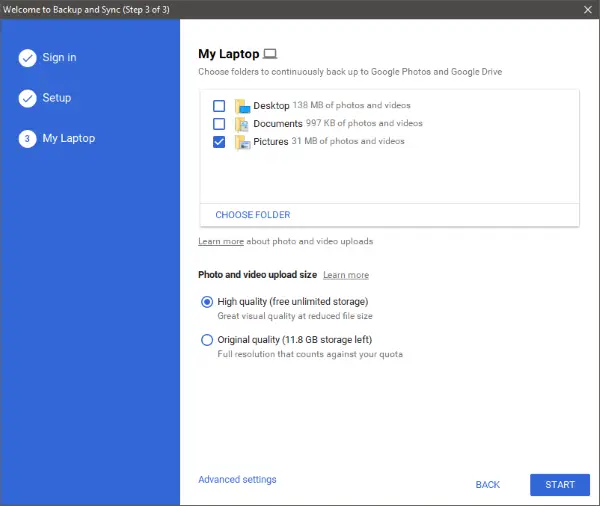 Once you are done with selecting your folders, hit 'Start' and the images and data are ready to be backed up. The tool completely operates from the system tray and has a minimal UI. It is very easy to operate and you can change your settings anytime. You can go to 'Preferences' and change your settings for photos and other data.
Backup and Sync can also automatically backup up pictures from connected USB devices and SD cards. The USB devices can be your cameras, card readers, and just anything. Also, you can change settings related to removing your items from local filesystem and cloud.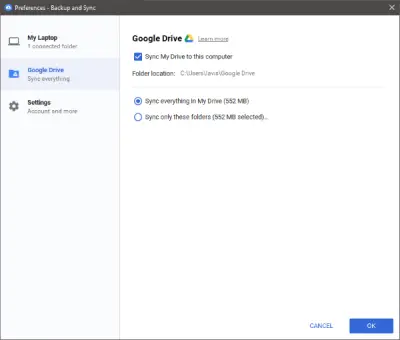 As I mentioned, the tool completely operates from the system tray. You will see a white cloud icon with a synchronization symbol when the synchronization is active. You can pause the queue anytime and resume it later.
Also, there are inbuilt shortcuts to your Google Drive folder and to Google Photos web app. The application also installs a Google Chrome helper extension that navigates you to Google Photos and Drive.
Backup and Sync from Google is a perfect companion application if you use Google Photos already. Even if you don't use Google Photos, you can back up the images from your computer directly to the cloud. Google Photos not only stores a backup of your images but also makes them accessible anytime, everywhere. You can sync all your photos from your computer, or from Google Photos on your mobile and Google will save all your memories safely.
Click here to download Backup and Sync from Google for Windows. Backup and Sync will be available for G Suite users shortly.
Read next: Fix Google Backup and Sync errors.