When you see the GOG Galaxy Launcher error Out of disk space – try moving the PC games to a different drive – that's the kind of workaround most gaming community members suggest but if you do not know the correct way to proceed, things can get difficult. Don't worry use this tutorial as your troubleshooting guide.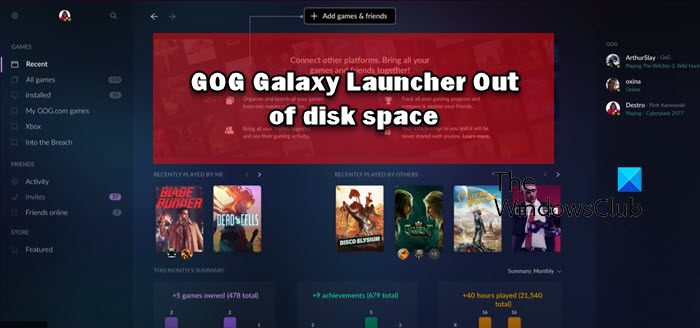 Fix GOG Galaxy Launcher Out of disk space error
It's a common sight to witness errors related to the installation of games on PCs due to insufficient space. To fix it, you'll need to create more space on your main drive or move the temp folders to different drives. Here's what you should do:
Open GOG GALAXY Settings panel.
Move to the Installing, updating tab.
Switch to other downloads folder.
Hit the drop-down button.
Choose the Custom folder option.
Do the same for the Temporary game update folder.
You can't install the game if you don't enough space on drive C. It requires 35 GB or more space.
When you install a game via GOG GALAXY, it will first download the game files to a temporary game download folder located at:
C:\Program Files (x86)\GalaxyClient\Games\!Downloads\temp
Now, when you get the Out of disk space error while trying to download the game, you will have to either free up some disk space on the C drive or change the Other downloads folder.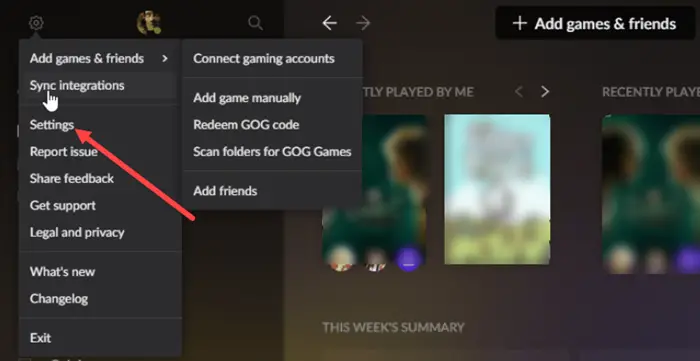 So, access the GOG GALAXY Settings panel by clicking the cogwheel icon in the top left, and choosing the Settings option.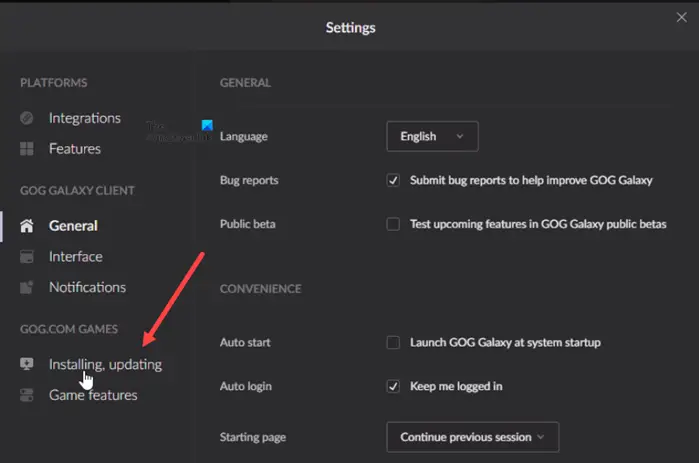 Next, switch to the Installing, updating tab visible under GOG.GAMES section. Here change the following entries.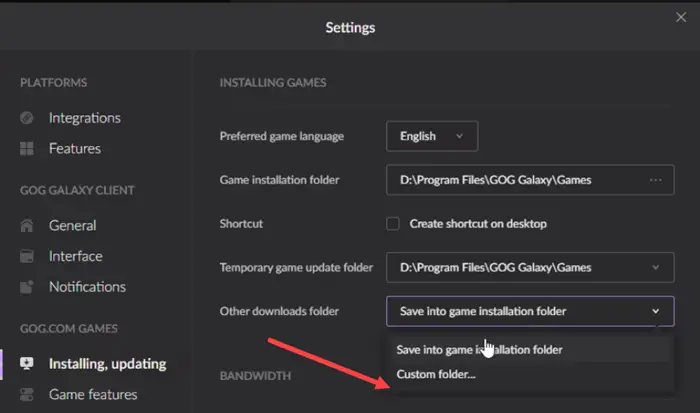 Temporary game update folder – It's the temporary download directory for installing games and updates
Other downloads folder – It's the folder dedicated for the downloads like the backup installer or bonus content.
Just hit the drop-down button next to the above 2 entries and select the Custom folder entry.
Read next: How to optimize Windows for PC gaming.
Is GOG Galaxy legal?
Yes, GOG games are all legally licensed. The company licenses games in two ways. First, as a standard retailer and second, by buying the rights of the games (usually the older games) outright. GOG is owned by CD Projekt Red, a Polish video game developer, publisher, and distributor based in Warsaw, well known for popular games like The Witcher and Cyberpunk 2077.
Is GOG Galaxy safe?
To sum it up quickly, Yes! GOG is a safe and legit site for game codes. It offers all the latest and greatest PC games. Plus, it has a vast catalog of classic PC games dating back to the early 1990s. It is quite popular.