If God of War Ragnarok is not working, loading, or starting on your PlayStation console, then this post may help you. God of War Ragnarok is an action-adventure game developed by Santa Monica Studio and published by Sony Interactive Entertainment. The game's story continues the journey of Kratos and his son Atreus as they travel the nine realms of Norse Mythology. But users have recently been complaining about the game not working and starting. Fortunately, you can follow these suggestions to fix it.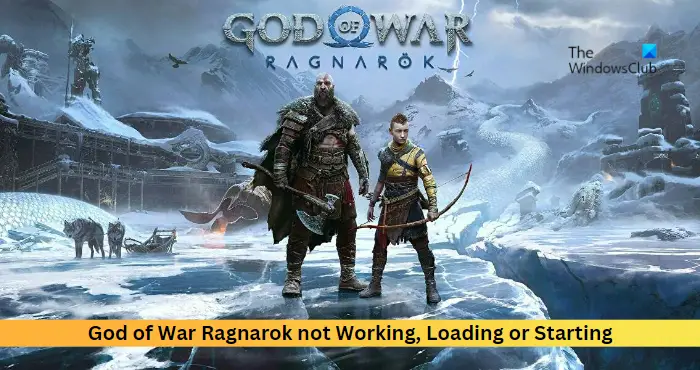 Is God of War Ragnarok only available on PlayStation?
Yes, God of War Ragnarok is a PlayStation-exclusive game. Only the users who own PlayStation 4 and 5 can play the game, as it is not available on other gaming platforms such as Xbox or PC. This is because the game's developer Santa Monica Studio is a first-party developer for Sony Interactive Entertainment, the parent company of PlayStation.
Fix God of War Ragnarok not working, loading or starting
If God of War Ragnarok has trouble loading or starting, update the game, restart your console, and see if it helps. If not, follow these tested fixes:
Check Internet Connection
Clear your Console's Cache Data
Update your Play Station's Software
Restore PlayStation Store Licenses
Restart your Console in Safe Mode
Reinstall the Game
Now let us see these in detail.
1] Check Internet Connection
Errors like this can also happen if you have an unstable Internet connection. Perform a speed test to check if anything is wrong with your Internet connection. If the internet speed is less than the plan you opted for, try restarting your router and modem. However, contact your service provider if restarting your router and modem doesn't work.
2] Clear your Console's Cache Data
Clearing the cache data of your console can help fix the game not loading or starting issues. Doing so will not delete any of your saved data. Here's how:
Switch off your console and wait for the light on top to switch off.
Unplug all the cables from your PlayStation and wait for a few minutes.
Now, plug all the cables back in and turn on the console.
Run God of War Ragnarok and see if the issue gets fixed.
3] Update your Play Station's Software
Games can crash on PlayStation if its software isn't updated to the latest version. For the best gaming experience, keep your PlayStation updated. Here's how to perform a system software update on your PS Console.
4] Restore PlayStation Store Licenses
God of War Ragnarok can keep loading or even crash if the PlayStation Store Licenses get corrupted. If so, restore these licenses and see if the error gets fixed. Here's how:
On PlayStation 5
On your PS 5 console, navigate to Settings > Users and Accounts > Other > Restore Licenses.
Select Restore.
On PlayStation 4
On your PS 4 console, navigate to Settings > Account Management > Restore Licenses.
Select Restore.
5] Run God of War Ragnarok in Safe Mode
The Safe Mode on your PlayStation allows booting your console with minimal functions. This feature is designed to troubleshoot minor bugs and glitches by rebuilding the console database storage. Here's how:
Turn off your console by holding the power button for three seconds.
Once your console is turned off, press and hold the power button until you hear two beeps.
Release the button after the second beep, connect the controller, and press the PS button on the controller.
Once your console restarts, run the God of War Ragnarok and see if the game runs normally.
6] Reinstall the Game
If none of these methods helped you, consider deleting the game from your console and reinstalling it from the PlayStation Store. This has helped most gamers to fix the error.
Fix: Not enough available memory error on God of War (GoW)
I hope this helps.
Why is my God of War Ragnarok not working?
God of War may not work or crash on your device due to game data corruption, hardware and software issues, outdated console firmware, and network connectivity issues. If anyone of these is a plausible reason, firstly restart your console. However, if that doesn't help, update the game and your console's software to the latest version available.
Can I play God of War Ragnarok without Internet?
The game's single-player story mode, including the shadow wars mode, can be played offline. However, a stable internet connection is required to access the online modes. These include online conquests, vendetta, and the market.