Gmail is among the popular email service used by many. Today, we will see some of the best Gmail tricks & secrets you want to know. These cool tips let you add different stars, get new mails notifications on your Windows desktop, and more using Gmail Settings.
Google provides us many tools that can be integrated and synchronized with Gmail; we can manage many things online easily. To access any of the Google products, just a Gmail ID is required. So, I thought of sharing a few Gmail tricks with you, so that it becomes handy to use Gmail efficiently and increase your productivity.
Gmail Tricks & Tips
Many of us are aware of few Gmail tricks and there are even more which make our life with Gmail even easier. Let us look at those few Gmail hidden tricks.
1] Set the Priority Inbox
We already know that we can view only Starred emails or only unread emails. But, you can even divide your inbox into sections such that Unread emails, Starred emails and the rest of the emails appear in different sections. This would be easy for you, to concentrate on unread emails and starred emails which are important.
Just head over to Settings and click on the Inbox section. Select Priority Inbox from the "Inbox type dropdown. Then divide the sections as Unread, Starred, and rest of the emails and click on "Save Changes" at the bottom of the page.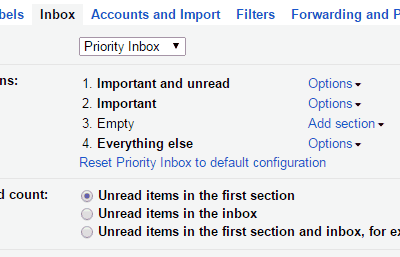 After setting the Priority Inbox, your inbox looks like this in different sections.
2] Personal Level Indicators
We receive many emails. Not all mail is addressed only to us. Some messages are sent only to you, and some messages might be sent to the whole mailing list. It can become a waste of time, looking at every mail. So, concentrating and spending time only on emails or messages sent only to us saves us a lot of time.
You can specify indicators besides emails you receive to know whether that mail was sent only to you or to the entire mail list. Indicator ">>" specifies that mail was sent only to you and the indicator ">" specifies that mail was sent to the list of members and not only to you.
Head over to Settings and in "General" tab scroll down till you find "Personal level indicator". Select the drop-down "Show Indicators" and click on "Save Changes" button.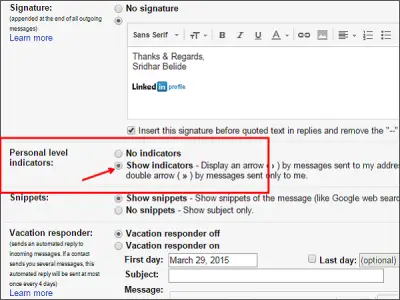 Now, you will get to know whether the mail was sent only to you or to a group of members.
Read: Gmail + email address trick for multiple accounts
3] Desktop Notifications
You can receive desktop notifications whenever you receive a new mail. Head over to Settings and scroll down to find Desktop Notifications. Select the radio button as you want.
If you want to receive desktop notifications for every new mail you receive, then select "New mail notifications on" and if you want to receive desktop notifications only for new important mail received and not for all new emails, then select "Important mail notifications on" and click on "Save Changes" button.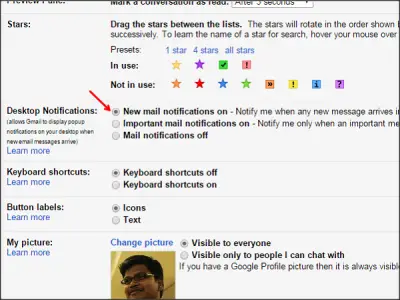 From now on, you will receive desktop notifications for new mail or new important mail you received based on the selected option.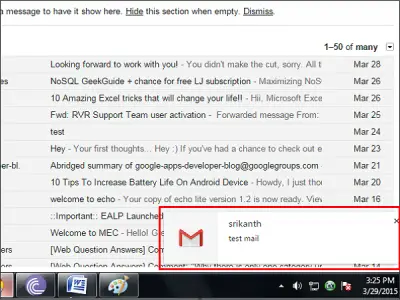 4] Access Different Types of Stars
We normally add a star to specific emails. Usually, we add the yellow-colored star, since many do not know that there are many more variety of stars to add to an email. Head over to Settings and scroll down till you find "Stars". In that section, you can see options like 1 Star, 4 Stars, and All-Stars.
Click on 4 Stars or All-Stars and it shows the available symbols. You can even drag the stars as you want. Select the category you want as 4 Stars or All Stars and click on "Save Changes" button.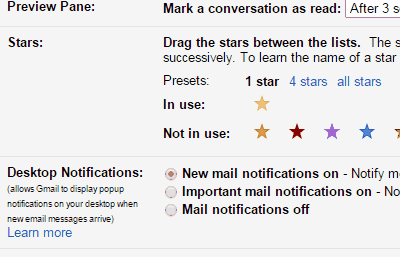 Now, click on the star mark beside the mail. It shows you the one-star symbol and clicks again to get the different star symbol. Keep on clicking the star symbol and you see that symbols keep on changing. Here are the different star symbols I used in my Gmail inbox. It looks colorful, doesn't it?
5] Delete Unwanted Mail Automatically
We know that we can filter out emails in Gmail based on the email addresses. Now, we will use the same techniques, to get rid of unwanted emails. When you no longer want to receive emails from a specific organization or website, you can unsubscribe from the mailing list. But, sometimes, you are still not able to stop receiving emails from such sources!
Select the mail which you do not want to receive any more and click on "More" button. Select "Filter messages like these".
The Filter box opens up. Specify the criteria for the mail you want to automatically delete. In this case, I just need to automatically delete all emails from a particular email address irrespective of other options.
So, I mentioned only the From email address and click on "Create filter with this search" link.
Now, you need to select the options to automatically delete emails from the particular sender. Check the options "Skip the Inbox", "Delete it" and click on "Create filter" button. That's it! From now on, emails received from that particular email address will be automatically deleted.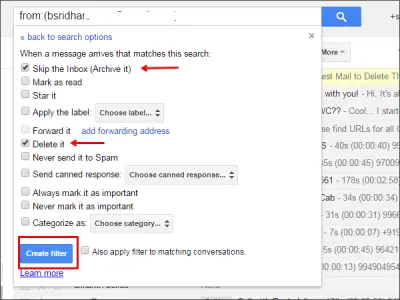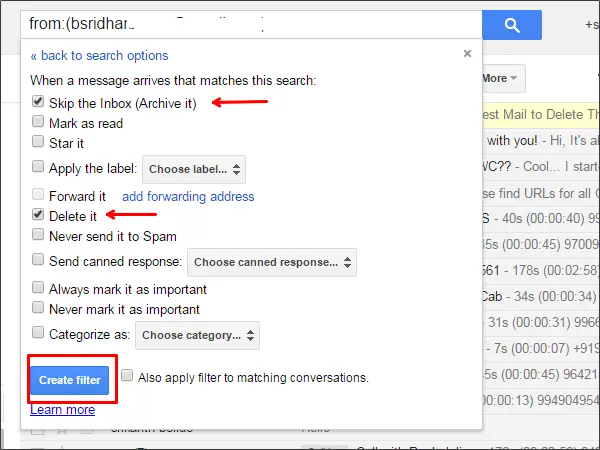 6] Un-send emails on Gmail
This is a real handy Gmail trick that can save you from blushes. Many times we send an email in haste, only to immediately realize that we should not have sent, or there was a modification required in the email content.
Don't Worry! There is a way that you can avoid this and in Gmail, you can actually stop an email after you hit the "Send" button.
Click on the "gear" icon in your inbox and go to "Settings".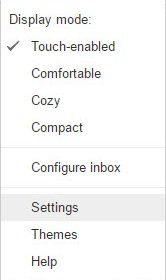 In "Settings" locate the "Undo Send" tab.

Click > "Enable Undo Send". You can set the "Send cancellation period" to a maximum of 30 seconds. The Send cancellation period is the time during which you can Un-send the message.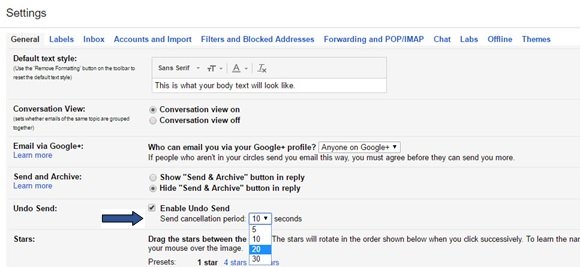 Now scroll down the page and click "Save Changes". You have completed the Settings changes.
Now, whenever you send an email, you will see an "Undo" option (as shown below ) using which you can stop the email. Do note, that Undo will be active only for a few seconds, precisely the time that you set in the cancellation period in "Settings". Hence, you have to hit "Undo" pretty quickly.
Once you have successfully stopped the message, you will have to get a confirmation pop-up that "Sending has been undone". Now you can modify or delete the original message as shown below.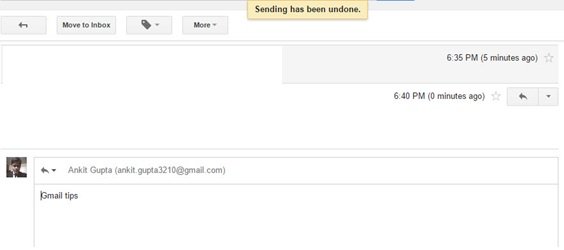 I am sure that you will like the above Gmail tricks. Do let us know if you benefited from them or you have more tricks to share here.
Now read: Gmail Sign In Tips. How to securely login to Gmail.