When you have tons of emails pouring in your inbox every day, it gets tough to manage. In a recent update, Gmail right-click Action menu now offers a lot of new actions and quick menu which will make your life a lot easier. The update is WEB-only right now, and if you don't see a lot of lists right now, it is still being rolled out.
Using Gmail right-click Action menu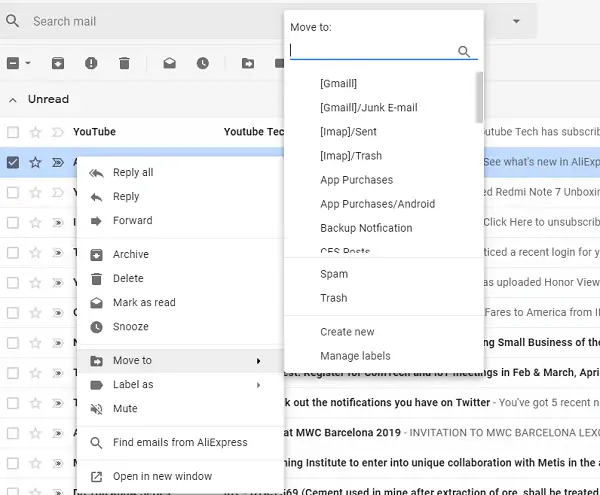 The right-click menu in Gmail is not new. Earlier it had had fewer options. Mostly Archive, Mark as read, Delete.
Now when you right-click on any email, you get following options:
Most common actions: Reply, Reply All, Forward
When you don't have much time: Archive, Delete, Mark as unread, Snooze
Folder actions which include Move to, Label as, and Mute.
Contextual options which change depending on the email. e.g., Find an email from the sender, Find the email with these subjects
Open in a new window.
What I liked are the real-time fliers associated with action menus. You can create new labels, search on the fly or open the manage labels.  The same applies to Folders. It is faster and more efficient than first having to open an email.
Multiple Selection Support in Gmail Right Click menus
Things get interesting when you select multiple emails. The right-click menu offers most of the options as when you choose a single email. Assuming you got emails from 3-4 people, and you need to reply to them all. Just pick them, and decide reply. All of them will open as an in-email window where you type, hit reply and be done with them.
While you can open any number of email using reply all or any other action, only two emails will be available for a response or forward. Rest of them will be minimized and will show up as you complete the open conversation.
Is that enough? Honestly, there is nothing as enough. Keyboard shortcuts, More Gmail Right Click menu, and I am sure Google must be working on more.  There are a few things I would love to see in the action menu. Option to add to Tasks, Notes, copy everything to excel sheet, print multiple emails, and so on.
This feature is turned on by default, and as of now, I don't see any setting that can turn it off. So either I don't see it, or it's not there.
Do you think so many options are overload? Should they come the option to turn Gmail Right Click menus off? Let us know in the comments.