Gmail is Google's email client, which is today widely used by people as their first-choice emailing platform. If you're a Gmail user, you may have noticed the buttons at the top of the Gmail UI or the formatting buttons when you write an email. You may face an issue where these Gmail buttons may go missing, in which case composing an email or browsing through your emails and sorting to read them can be a cumbersome task. In this article, we will look at how you can fix the issue where Gmail buttons are not working or have gone missing.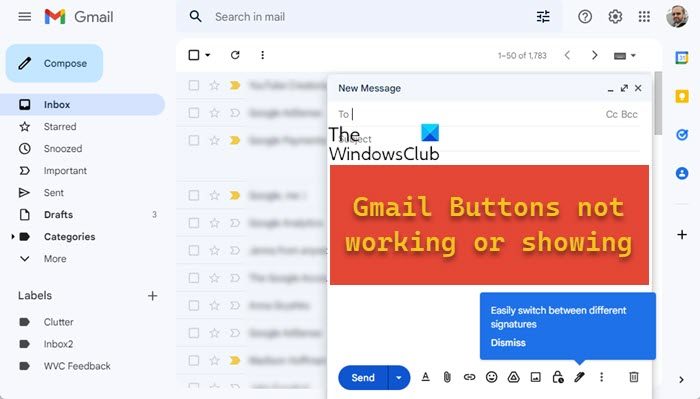 Fix Gmail buttons not workingg or missing
As intuitive and easy-to-use as Gmail's interface may be, it is still far from being perfect. When its buttons refuse to work, then you may find yourself in all kinds of trouble while using Gmail. This issue's most common causes include a faulty web browser, bugs, or third-party extensions. Let's have a look at some of the potential fixes that you can implement.
Check the Gmail Servers
Clear browser cache and cookies
Update or change your browser
Flush your DNS
Remove browser extensions
1] Check the Gmail Servers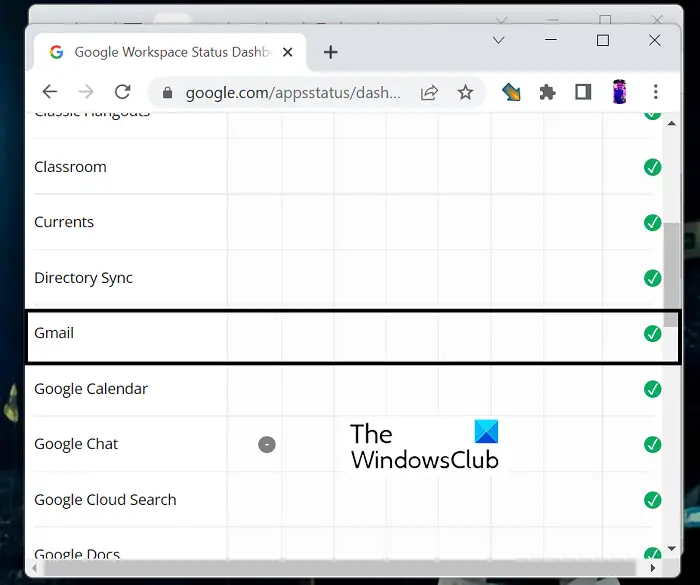 Before you go about making any changes or uninstalling any extensions, you should check whether Gmail's servers are up and running or not. Any downtime error on their end can cause the Gmail buttons to malfunction as well. You can do this by visiting Google's Dashboard, which lists all its utilities and whether they're running or not.
2] Clear browser cache and cookies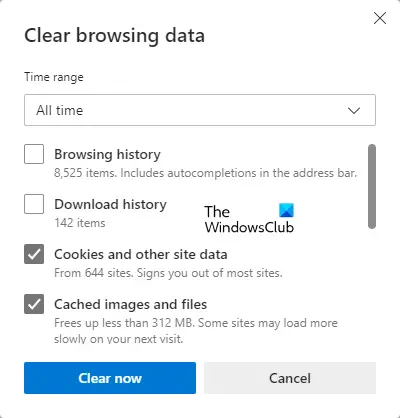 You may face this error because of the presence of some bad cache and/or cookies, and if that is the case, then you are best off deleting them. Since most Gmail users use it on Chrome, here's how you can get rid of its cache and cookies.
Click on the triple-dotted icon at the top-right corner of the browser window
Select More Tools > Clear Browsing Data
Select the time horizon to be 'All Time' and check the cookies and cache boxes in this window
Restart your browser and check if the buttons are working now or not.
3] Update or change your browser
If clearing up your browser's cookies and cache doesn't do the job for you, then it is possible that your browser isn't fully compatible with Gmail. In this case, you should check if there's any available browser update available or, if not, switch to a different browser. There are several options at your disposal like Firefox, Edge, Brave, etc. if you're facing this issue on Chrome.
4] Flush your DNS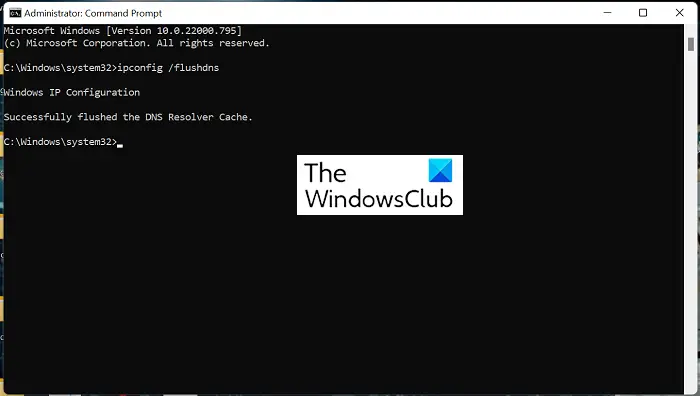 Issues with your DNS cache can also cause hindrances while trying to connect with Gmail or other related websites. DNS Stands for Domain Name System and the DNS cache is the temporary storage of DNS lookup information made on your browser. Sometimes, clearing this cache out can also do the job for you.
Search for Command Prompt from the search menu on the Taskbar and run it as the administrator
Now, enter the following command:
ipconfig /flushdns
Press Enter and wait for the DNS cache to get cleared out
Once done, reopen Gmail on your browser and check if the buttons are working properly or not.
Read: How to clear or flush Google Chrome DNS Cache
5] Disable your browser extensions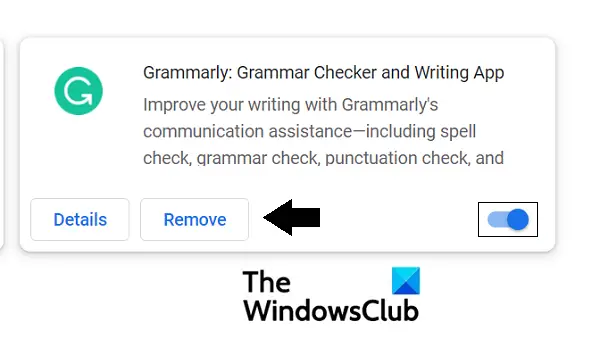 Lastly, you can also try and disable the browser extensions, if they are the ones that have been causing trouble with your Gmail buttons. If any counteracting extensions are running on your browser, you're recommended to get rid of them.
To do so, launch your browser settings
Now, click on the Extensions tab from the menu. This will present to you a list of all the active browser extension
Toggle off to disable a browser, or you even uninstall them completely
Once you don't have any browser extensions enabled, check if the Gmail buttons have started to work properly or not.
How do I get my toolbar back in Gmail?
The Toolbar on Gmail is the hub of options you need to properly operate this email client, which may disappear by some changes in the settings, or maybe accidentally. To get it back, select the View Toolbars option from the Menu bar. Here, if you find the Show toolbars option turned off, turn it on to get back your toolbar in Gmail.
Read: Awesome Gmail address tricks to get more out of your email ID.
How do you get the action buttons to appear in Gmail?
Under the search bar on Gmail are a bunch of buttons that allow you to take action on your messages, called action buttons. These buttons appear in the left corner of the Gmail window and can be formatted as per your suiting. All you have to do is click on the Manage Labels option from the left-side menu and select the action buttons you want to appear on your Gmail window. You can also choose to show these action buttons as text. In order to do so, go to Settings > See all settings > Button labels > Texts.
We hope that you find this guide helpful and won't have any trouble using the Gmail buttons in the future.