Most people use Outlook, as it makes it easy to manage multiple email accounts. It also becomes tedious when you have too many emails, and notifications keep showing up in the action center now and then. While one is to reduce the notification by turning them off, but that's not everyone can afford. Some emails and contacts are crucial, and you need to receive notifications about them. In this post, we will share how you can get notifications for selected contacts in Microsoft Outlook.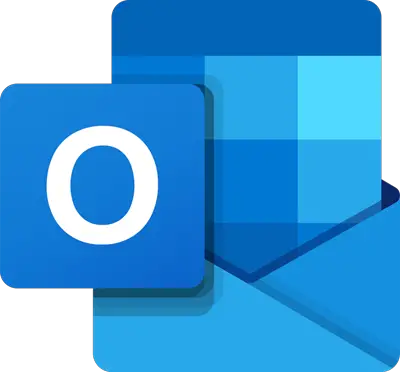 Get notifications for selected contacts in Outlook
The method involves using  Email Filters. So to test it completely, you need to first turn off all the notifications from Outlook. So when in Outlook, Click on File > Options > Mail section. Under Message Arivale, turn off the option which says Display a Desktop Alert.  Done that, lets set up the rule for selected notifications.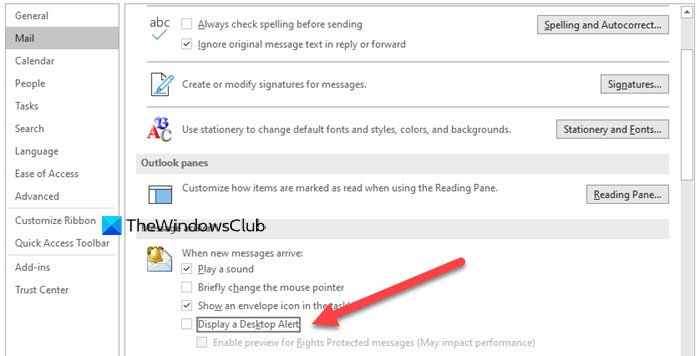 So the first step is to find the email from the contact for which you do not want notifications to appear. Once you have it, you can click on the Outlook search box, type RULES, and it will reveal the Rules under Action menu with the option to create a new rule. You can also find the same under Home > Move section or right-click on the email, and click on Create Rule.

Note: You will have to create a rule on an individual basis i.e., for individual contact
Next, you will have options to declare subject, sent to, move to folder, and the most important "Display  in the new item alert window." You can choose to add sound for better attention.  Then click on the Advanced button, and it will open the Rules Wizard.  Check the box which says from "the selected contact." It will add it to the Step 2 box. You can always click on the contact name and change it.
Click Next, and select display a specific message in the new item alter window. Here you can customize the message with a text choice of yours. It will help you identify that email from the contact is important.  Finally, set the rule name, and apply it for the current mailbox. Yes, it has to be applied on a per-mailbox basis. So if you want to apply ti for another mailbox, you will have to recreate it.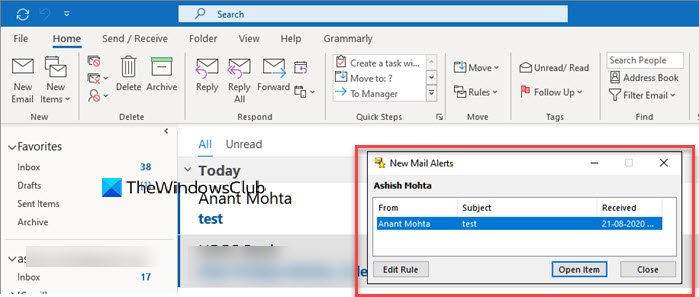 Next time when the email arrives, you will get a pop-up notification about the email instead of it appearing through the action center. This makes it useful as you will receive the notification even if your notifications are turned off.
That's it, once you process this for all the contacts, you will only get alerts for those contacts.