We all want to play and enjoy our video games on Windows 11/10, but that can be difficult if games won't go full-screen and cannot play in full-screen mode. It's a problem a lot of users have faced and are still facing, but luckily, there are ways to get everything under control. A single solution might not work for everyone since folks tend to have different computers with different specifications. Like most of our problem-solving sessions, we'll talk about multiple ways the full-screen bug can be fixed.
Games minimizing to Desktop on Windows 11/10
If games won't go full-screen or maximize, or if your full-screen games are randomly minimizing to the Desktop in Windows 11/10, see if any of these 5 suggestions help you stop this and fix the problem.
Run a malware scan
Disable Notifications
Disable Game Mode
Update Graphics drivers
Disable Wermgr.exe.
Games won't go full-screen on PC
Before you begin, make sure that you have updated Windows 11/10 and the Game itself to the latest version.
1] Run a malware scan
One of the first things you should get done in a situation like this is to run a Malware scan as soon as possible. It's safe to say that many computer issues have been caused by a hidden virus or malware, and as such, the same could be happening here.
Now, to perform a scan using Windows Defender, simply press the Windows key + I to launch the Settings app. From there, be sure to click on Privacy & Security > Windows Security > Open Windows Security.
Right away the Windows Security app should appear. If you want to scan your computer for problems, please select Virus & threat protection. Finally, click on Quick Scan, then wait to see if Windows Defender picks up any form of security issues.
After the scan is complete, try the game again to see if the issue has been solved. If not, well,  move on to our next solution.
2] Disable Notifications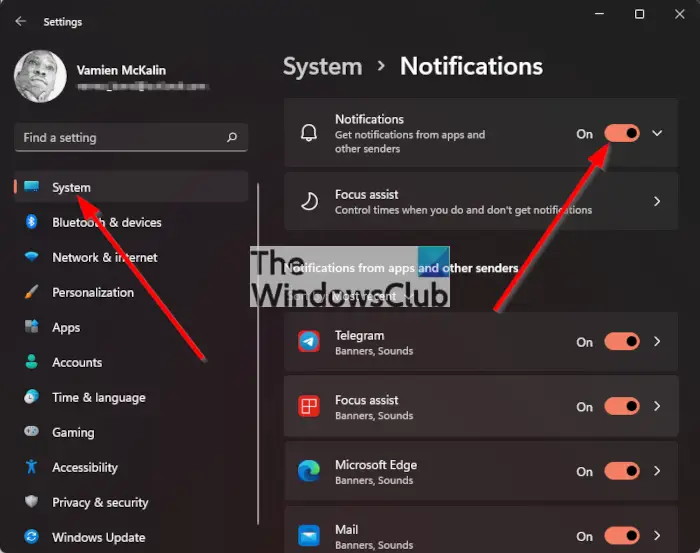 When it comes down to disabling notifications in Windows 11, the task is easier than you might think. All you have to do here, is press the Windows key + I to open the Windows 11 Settings menu, and from there, you will want to select Systems, then look to the right section and click on Notifications.
Finally, click the toggle button to disable all future notifications. Click it again to enable the feature.
Bear in mind, from this section you do not have to turn off notifications right across the board. Scroll down and you'll see the option to disable individual apps from sending notifications.
Windows 10 users may need to disable Action Center and other notifications which may be causing an interference. This post will show you how to customize Notifications.
3] Disable Game Mode
Game Mode is a feature in Windows 11/10 that tries to free up resources and give it to any game that is running. It's not proven to work, but gamers use it anyway in hopes to gain the best possible experience. Chances are, you're using Game Mode right now, and it might be causing the full-screen bug.
To disable it in Windows 11, launch the Settings app again then click on Gaming.
After you have done that, select Game Mode, then turn it off from the other screen.
To disable it in Windows 10, press the Windows Key + G, then select the Settings icon.

Next, you'll just need to untick the Game Mode box to turn it off.
4] Update Graphics drivers
When it comes down to updating your graphics card driver, it's a simple affair, to be honest.
You could do it via Settings > Windows Update > Optional Updates. Alternatively, just click the Search button and type, Device Manager. When it comes up, select it, then proceed to search for the name of your card. The next step is to right-click on the driver, then choose Update Driver from the options. Finally, select "Search automatically for updated driver software."
5] Disable Wermgr.exe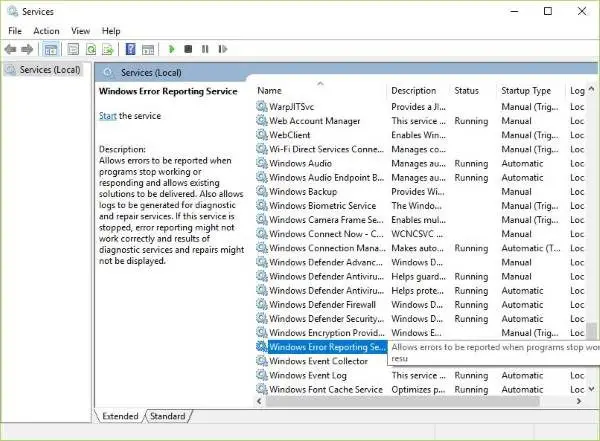 Press the Windows Key + R to bring up the Run program. From there, type services.msc into the box and select OK.
The next step, then, is to scroll down to Windows Error Reporting, double-click to edit, and select Disable from the drop-down menu.
Restart your computer and from there, you're good to go.
Why do my applications keep minimizing?
Screen display problems or software incompatibility can make your apps minimize to the taskbar automatically. If open windows are automatically minimized to the taskbar & the program or applications continue to stay minimized & clicking on its icon does not maximize the window, then try these suggestions:
Restart Explorer
Perform a malware scan
Check in Clean Boot State
Perform an SFC Scan in Safe Mode
Turn off Tablet Mode
Other suggestions.
How do I force a windowed game to full screen?
Try pressing the Alt + Enter hotkey when playing in full-screen gaming. Else turn off Table Mode or disable Wermgr.exe and see.