Sometimes, when you launch a game, you get Game Security Violation Detected error out of nowhere. This can ruin your interest in the game completely. So, to fix it you'll need to find out which issue is triggering the warning message. The steps outlined in the post help you to fix this error message while playing Fortnite, Apex, Rust, etc. on Windows 11/10.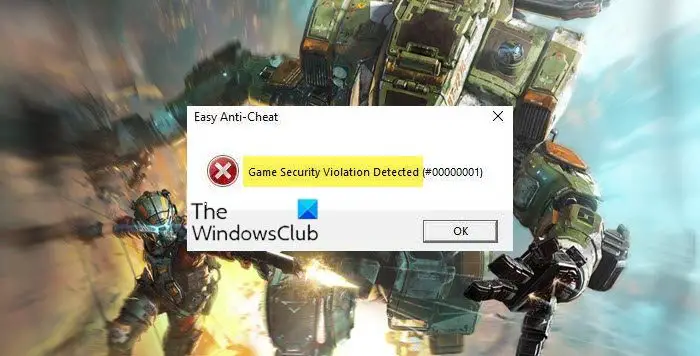 Fix Game Security Violation Detected error
The error can prevent you from playing your favorite games like Fortnite and many other games that come with Steam, Ubisoft, etc. This error is usually accompanied by a combination of special characters and numerals ( # sign followed by seven zeros and a numeral – eg. # 00000006).
The most common culprits of Game Security Violation Detected errors tend to be either mouse/keyboard processes or specific RBG controllers. To fix this error, you'll need to carry out 3 steps:
Disable/Uninstall or Update RGB Software
Terminate these processes
Update Your Games and Game Launcher Software
Check your Antivirus Software.
1] Disable/Uninstall or Update RGB Software
A simple solution for this problem if the error message shows an executable name is to disable/uninstall or update RGB software. The software runs LED lighting on your video card or motherboard. If there are any LED lights on your rig, chances are this is the cause of the error. To fix it, you can update your drivers by visiting your computer manufacturer's website.
2] Terminate these processes
Also, open your Task Manager and if you see SelLedV2.exe, RGBFusion.exe or LightingServices.exe processes, terminate them and see if that helps.
3] Update Your Games and Game Launcher Software
It is always a good idea to keep your game or your game launching software (Epic, Steam, Ubisoft Uplay) up to date. Most games auto-update, but verifying the same is a good practice. So, to check it, access 'Settings', navigate to 'Help' > 'About' and check for updates. You can also restart your game launcher to force the update to install.
4] Check your Antivirus Software
A botched software update of your Antivirus program could cause a compatibility issue. As such, updating might help.
Hope this helps.
Related read: How to fix Easy AntiCheat Errors properly.