Gadwin PrintScreen is a very easy-to-use freeware screen capture utility that allows you to capture any portion of the screen, save it to a file, copy it to the Windows clipboard, print it or e-mail it to a recipient of your choice.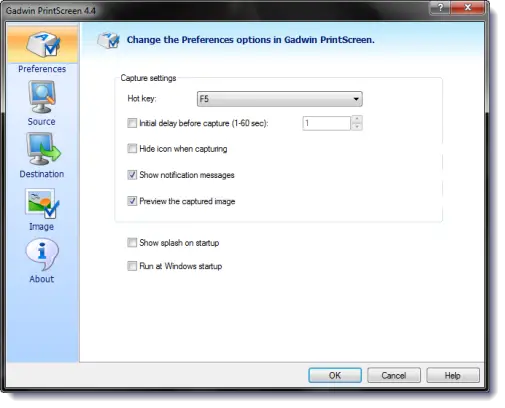 Gadwin PrintScreen Freeware for Windows PC
Gadwin PrintScreen can capture the entire Windows screen, the active window, or a specified area when the hotkey is pressed. The hotkey defaults to the PrintScreen key, but users may also define other keys to initiate a capture.
There are several hotkey combos to choose from. Once you've chosen your favorite combo, head to the Destination tab and have the screen print out instantly, copy the capture to the clipboard, save it to a specific folder, or even send it through e-mail.
You can perform full-screen captures, or only capture a specific window.
There are also six different image formats to choose from, and each one can be resized.
Download Gadwin PrintScreen Freeware version from here.
It's a 2.75 MB download and works just fine on Windows 11/10/8/7 too!
You may also want to check out our freeware Windows Screen Capture Tool that allows you to capture full screen, selected screen area, windows, webpages, and more. You can also add watermarks to your captured screenshot or edit the image using its basic image editor.
Go here if you are looking for more free Screen Capture Software For Windows.