When you come back from a trip and have tons of photos, I am sure you must have thought of one big photo which can have some memorable pictures together. Yes, I am talking about a Collage, and in this post, I will share free Photo Collage makers. I will list online tools and software which can do the job for you. Rest assured that the collage you download or save using these tools will not have any watermark.
Free Photo Collage maker for PC
While these are free, they do have limitations. Some of them will not let you use all the templates, while some will only make you use a set of templates.  Since we have four in the list, use a combination of them to get desired results.
Adobe Spark
BeFunky
Fotojet
Photoscape
We researched a lot of software, but most of them either limited or leave a watermark. We even downloaded software that claimed to have no limitations but turned out to have a trial period. So these are your best options.
1] Adobe Spark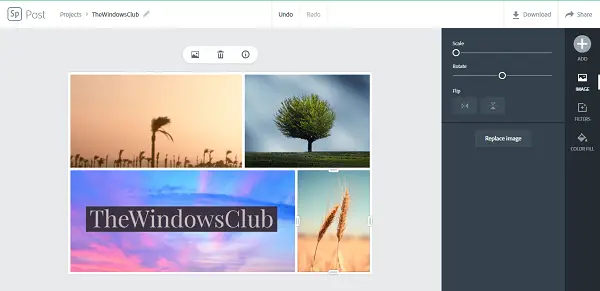 It is the best Collage maker in the whole bunch. Not only does it offer an online tool but is also available on smartphones. Even better, there are no limitations if you do not upgrade. The software does add a watermark, but you can choose to remove it before exporting it. Also, once you signup with them, it will keep all the colleges online.
Supports templates and resolutions for popular social media, including YouTube, Facebook, Instagram, etc.
Exhaustive layouts, templates, color combination, magic text formatting, font selection, color picker, and more.
You can even create short videos by using effects.
Spark does charge, but only when you want to use premium templates — otherwise, no hassles. Also, if you apply your branding, you can choose their premium plan.
A watermark is applied when you start editing. It is a small logo in the bottom right corner. To remove you can click on it, and choose to remove it. You will have to do it every time before you export the image to remove it.
Adobe uses it to bring their premium plan to your focus, and nothing else. Check out more at adobe.com. We recommend you try this one first.
2] BeFunky
Another free online tool that offers limited templates. You can figure out the templates which have an open tag on it. If you have a bunch of images, you can import them from your computer, drag, and drop to make the collage right away. While you can customize text, editing images is limited to resizing.
Similar to adobe it offers templates for Facebook, Pinterest and so on. You can choose to create your template as well.
Check out BeFunky.com
3] Fotojet
It is both an online tool and software. You can choose whatever you are comfortable with. The free set of feature let you use only a few templates and doesn't let you save it online. While it doesn't offer a dedicated Collage creator, it does offer templates where you can add multiple images.
You will have to make use of those templates, and replace the existing image with yours. While the online tool allows you to download images without the watermark, the Windows software version ads watermark so it's not much of use.
Check out Fotojet.com
4] PhotoScape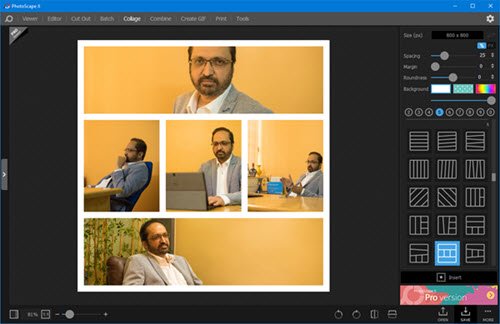 Photoscape is a popular image editor which allows one to attach multiple photos vertically or horizontally to create one final picture. It's like a freestyle tool where you also get a template. You can choose margin, create a frame, and filters. You can make various adjustments in images such as add balloons, bubbles, frames, brightness, contrast, etc. Create a collage of your choice and then save it to your desktop. It leaves no watermark.
Download from Photoscape.org– It is also available in the Microsoft Store.
Shape Collage is another freeware you have – but it adds a watermark!
TIP: Also, check out our list of free photo editing software.