Free PDF Compressor is a freeware that can help you in converting your large PDF files into email attachable ones. It can also convert them so that they can be viewed properly on screens with low resolutions. Free PDF Compressor is a great utility that can help you reduce the size of PDF files and save disk space, bandwidth (while using them on the internet), and other resources.
Free PDF Compressor
What Free PDF Compressor software basically does is that it compresses images contained in PDF files to an acceptable quality, so that you can reduce the size of PDF files without losing the clarity and the pleasure of reading that PDF file on a device like Mobile Phone, Tablet, etc.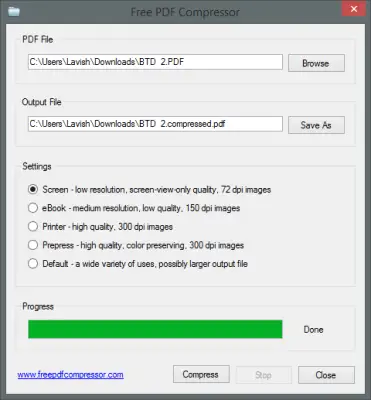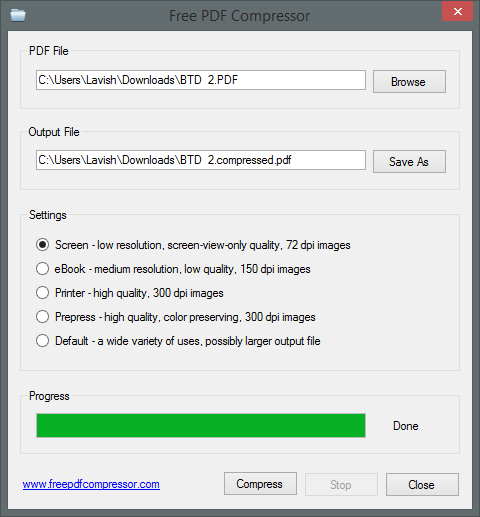 Free PDF Compressor is easy to use – you simply need to select the source file, the output file, and the desired compression setting. The program will also show the side-by-side progress of the compression process.
Reduce PDF file size
There are five settings to choose from:
Screen: This setting is generally used to compress PDF file to a lower quality one so that it can be easily viewed on devices with low resolution like Mobile Phones, Tablets, Monitors with low resolutions, etc. It compresses all the images to 72 Dpi. Remember PDF files converted using this setting will not be suitable for printing due to low resolution.
eBook: You can use this setting if you want to publish your file over the internet or if you want to email it to someone. This setting will not let the PDF file lose its quality, and it will even compress to a size that is practicable to download and upload. This setting is again not suitable for printing as it would be half the quality required for Printing. It would maintain a 150 Dpi resolution of the images.
Printing: This is the most suitable setting for printing PDF files. It compresses PDF files in such a way that they have the best quality and the appropriate size. They might have a bit greater size than the first two settings but still the size gap worth the quality required for printing. It maintains a 350 Dpi resolution.
Prepress: This setting will compress PDF files in such a way that they are the most suitable for printing in large numbers. It would balance and optimize color for printing a large number of copies of a PDF file. It would also maintain 100% quality of the PDF file.
Default: Minimal compressions are performed using this setting. This setting will result in larger file size but would have the best quality, and the file can be used for various purposes.
Once you are done with choosing the most suitable setting for you, you need to hit the 'Compress' button – that's all. Free PDF Compressor will do its job on your PDF file, and you will see the same PDF file in a much lesser size. You will be amazed by the results.

Click here to download Free PDF Compressor.
Here are some more freeware to compress PDF files.