High-quality live video streaming should have been easily available by now. But most of the good quality software products are expensive. There are way too many free software options but it takes some digging to get to the right ones for your Windows 11/10 PC.
Free Live Streaming software for PC
Don't worry, you don't have to waste your time hunting down free live streaming software. We have done it for you. Here is a list of the best live streaming software for Windows 11/10:
NVIDIA ShadowPlay
OBS Studio
Streamlabs OBS
You can try them all, or choose what fits your requirements. Here is everything you need to know about them to take your pick.
1] NVIDIA ShadowPlay
NVIDIA ShadowPlay is preferred by gamers because of its performance. The software encodes in the GPU, unlike other software that encodes in the CPU. This helps the software stream your games without the slightest performance lag. This software is dedicated to gameplay. The video recording tool is impeccable. Don't miss out on anything. Download the app right here from the official website.
You can use the hotkey to save the previous 30 seconds of gameplay directly to the hard drive. You can record the gameplay videos continually without interruption. The hardware-accelerated software does not meddle with performance even when it is running in the background. You can create 15 second GIFs, share key moments on social media platforms. This software helps you be present everywhere.
NVIDIA ShadowPlay comes bundled with the drivers in a GeForce graphics card. That is the best way to use this software. You can also use the NVENC encoding with OBS if you want more flexible streaming options.
2] OBS Studio
OBS Studio is arguably the most powerful open broadcaster software. This open-source streaming tool outperforms some paid streaming software. Use OBS Studio for Windows 10 because it is very stable software that gets timely updates.
Some people find the setup a tad overwhelming but you can follow the instructions. You can stream from multiple sources like webcam, images, and text. You can throw some catchy audio into the mix. You can stream directly to YouTube, Facebook, Twitch, and various other platforms. You can also stream to multiple platforms simultaneously.
Download the software and enjoy its collaborative creativity with a powerful API. Enjoy seamless switching between numerous scenes. Enjoy real-time audio and video capture.
3] Streamlabs OBS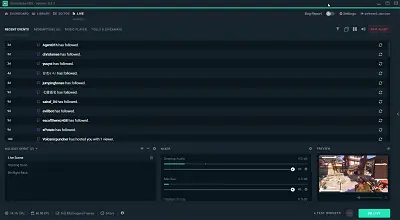 Streamlabs OBS is very similar to OBS Studio in behavior. Both software products are built on the same foundation. Streamlabs OBS has a more user-friendly and flexible interface. You get automatic optimization and a smoother interface.
Currently, both OBS Studio and Streamlabs OBS are at par with each other performance-wise. However, Streamlabs OBS is still in the beta stage. So, it could bring many new features to the table.
You can download the Streamlabs OBS software here and use it for your Windows PC. The software does not have a studio mode – something OBS Studio has already mastered.
These 3 software products are the three best free live streaming tools for Windows 11/10. You can try them all to find out which one is the best fit for you.